Coram Deo is a Latin phrase that means "in the presence of God."  As Christians, we understand that we currently live in His presence spiritually. But one day, we will also live in His presence bodily.
Coram Deo Positonally Because of Jesus
In the beginning, Adam and Eve were in the presence of God. He walked with them in the Garden and there was a union between them unlike anything since.  When they sinned, that union was broken, and now it is only because of Jesus' substitutionary sacrifice on the cross that anyone is able to enter into the presence of God while still on this earth. It is by the Lord's blood that our sins were paid for and we can be forgiven.  But it is not the Lord's blood that makes us worthy to enter into the presence of God.
Forgiven to Become Righteous
Jesus said, "Be ye therefore perfect, even as your Father which is in heaven is perfect" (Mat 5:48). Yet we know that we can never be perfect. Praise God, Jesus was perfect for us.
When a repentant sinner turns to Jesus, knowing and believing who He is and trusting in His finished work for payment of their sins, Jesus is faithful to forgive that person.  In doing so, their sins are washed away by His blood (Rev 1:5).  But it doesn't stop there.  He gives the forgiven sinner His righteousness.  This is called imputed righteousness (Read What is Imputed Righteousness?). 
It is because we have the Lord's righteousness, imputed to us (meaning credited to our account), that we are worthy to enter into the presence of God — coram deo!
Coram Deo in His Rest
Mat 11:28-30 Come to Me, all you who labor and are heavy laden, and I will give you rest. Take My yoke upon you and learn from Me, for I am gentle and lowly in heart, and you will find rest for your souls. For My yoke is easy and My burden is light.
This was Jesus' call to all sinners during His earthly ministry.  At the very beginning of His ministry, in His Father's house, Jesus told what His mission was. And He told of the purpose and plan of the Father's sending Him to earth:
Luke 4:18-19  The Spirit of the Lord is upon me because he has anointed me to preach the gospel to the poor; he has sent me to heal the brokenhearted, to preach deliverance to the captives, and recovering of sight to the blind, to set at liberty them that are bruised, To preach the acceptable year of the Lord.
It's clear that in His ministry, Jesus was coram deo (in the presence of God).  The second Person of the Trinity always has been, and  always will be, in perfect union with God. But in His humanity,  Jesus set aside His divine power; and so the Spirit of the Lord came upon Jesus to strengthen Him and empower Him to be of service to God for His plan of redemption and purpose of reconciliation. 
The Same is True For Man
Man was CREATED in the image of God, but since the fall of Adam, all have been BORN in the image of Adam (Gen 5:3)  We are sinners in need of redemption and reconciliation. When a repentant sinner trusts in Jesus, he enters into that rest that Jesus promised and the Holy Spirit comes inot him to empower him to live for God and serve others. 
Heb 4:3For we which have believed do enter into rest…
1 John 2:27But the anointing which you have received from Him abides in you…
Col 1:27  To them God willed to make known what are the riches of the glory of this mystery among the Gentiles: which is Christ in you, the hope of glory.
Acts 1:8  "But you shall receive power when the Holy Spirit has come upon you; and you shall be witnesses to Me in Jerusalem, and in all Judea and Samaria, and to the end of the earth."
Coram Deo Practically Because of Jesus
Positionally, in our justification, we are always in the presence of God (coram deo).  And practically, in our sanctification, we are also always in the presence of God. (Read The Gift of SalvaTION: Justification & Imputation,   What you need to know about Sanctification & Glorification)
Coram Deo Under His Authority
In salvation, we acknowledged Jesus as our Saviour, the Forgiver of our sins, the Redeemer of our souls, and the Reconciler of our person to God.  Furthermore, we also accepted Him into our lives as the Lord of our lives.  But do we always live that way? 
As we live positionally in the presence of God (having been justified), we are also to live practically in His presence (growing in sanctification).  For this reason, God gave us an inerrant, preserved book that tells us all we need to know about how to live.  The Bible shares God's precepts and principles, so we can live in accordance with them — in His presence and for His glory, being a light unto the world.  
God has also given us the Holy Spirit to teach, direct, convict, encourage, and empower us (John 14:26, John 16:7-8)
Coram Deo in His Service
Our service to the Lord is defined by our purpose and our mission.  Our mission is best understood when we consider the Lord's mission on earth.
Jesus came to:
seek and save the lost (Luke 19:10).

 

minister to others (Matt 20:28, Mark 10:45)

live a righteous life making Him the pure sacrifice for sin (1 Pet 1:19, 2:22, 1 John 3:5)

die for sinners like you and me (2 Corinthians 5:21)

open the way to the Father (John 14:6)
Our mission is to be the mouth, hands, and feet of Jesus. And we are to:
Go out into the world with the gospel ( feet shod with the preparation of the gospel of peace.

 

Eph 6:15).

 

Speak His words to reach the lost and encourage the saved (…open my mouth boldly, to make known the mystery of the gospel, For which I am an ambassador in bonds: that therein I may speak boldly, as I ought to speak. Eph 6:19 )
Minister to others (our hands are to touch others with the love of God to bring them to the Lord in faith.

 

And all things are of God, who hath reconciled us to himself by Jesus Christ, and hath given to us the ministry of reconciliation. 2 Cor 5:18)
Serving God means loving others and that love is demonstrated by serving them.  God does not need our good works, but our neighbor does.
James 2:8  If you really fulfill the royal law according to the Scripture, "You shall love your neighbor as yourself," you do well.
Coram Deo for His Pleasure
Rev 4:11  Thou art worthy, O Lord, to receive glory and honour and power: for thou hast created all things, and for thy pleasure they are and were created.
As Christians, we are in His presence for His pleasure.  So, what does "for His pleasure" mean?  
The Greek word is "thelema" and it expresses a determination, a desire, a choice (specifically, purpose, decree; abstractly, by volition, will).  We were created "for God's pleasure." It was His desire to create all things, and it pleased Him to do so—even knowing that sin would enter His perfect creation and separate Himself from those whom He had created in His image.  
In His love, God created, and it pleased Him. in His mercy, He forgave, and it pleased Him.  (Read Why did God create man knowing he would sin?)
Coram Deo for His Glory
God created man to magnify His Person throughout all of creation.  The angels could not do that. The stars could not either.  Nor can unregenerate man do that.  But God, in His redemption of repentant sinners, has made it possible for His children to magnify His Person and thereby glorify His name. 
As Christians, we are forgiven sinners who are in Christ, and God has made us as a new creation and empowered us with His Holy Spirit to live in His rest, under His authority, in His service, for His pleasure and for His glory, until the day when we are …
Coram Deo Perfected
In the bodily resurrection of the Body of Christ, we will be made fully perfect in His presence (coram deo).  Until that day, let us always remember what Jesus has done for us and in us. Let us also remember all that He desires to do through us. And may we always be …
Coram Deo in Prayer
Prayer is the holiest exercise of the soul.  It takes us spiritually into the presence of God. And when we enter into His divine presence, we lose sight of our problems and worldly distractions dissipate. Our hearts are filled with the love and grace God gives us through His Holy Spirit (Rom 5:5).  Then, the Holy Spirit can, and will, work in and through us to do God's will and to give us rest.
Final Thoughts
A pastor friend of mine recently described imputed righteousness as the faithfulness of Jesus given to us in this way:
Because "This is My beloved Son in whom I am well pleased"  (Mat 3:17, Mat 17:5) was true of Jesus,
"Well done good and faithful servant" (Mat 25:23) is true of us.  
Because of what Jesus has done (lived, died, and rose again), He has opened the way to the Father for us and brought us Coram Deo (into the presence of God).
As Christians, we are already living Coram Deo, positionally.  But are we living Coram Deo, practically? Are we daily resting in His presence, submitting to His authority, and serving Him for His glory?
How to do that?

 
Love the Lord your God with all your heart, and with all your soul, and with all your mind. (Mat 22:37)

Love your neighbor as yourself. (Mat 22:39)

Love one another; as I have loved you. (John 13:34)
By this shall all men know that you are my disciples, if you have love one to another. (John 13:35)
<*}}}><
Jesus is the Reason this Ministry Exists
We continue to reach people worldwide with the truths of God's Word and the gospel of the Lord Jesus Christ. Your generosity is both a blessing and encouragement. Our mission is to glorify God by equipping, encouraging, and empowering YOU to understand the Bible and grow in faith. If our online resources have blessed you, please support Reasons for Hope* Jesus. Our ministry outreach has grown significantly and . . .
Please support Reasons for Hope* Jesus with a donation of $5, $10, $20, or more. A donation of any amount is needed and greatly appreciated.
CLICK TO DONATE
to Reasons for Hope*Jesus(a 501c3 Ministry)
Use a Credit Card or PayPal for safe, secure giving.
***A Hidden Message in Psalm 23?***  
Hidden in the six verses of Psalm 23 are 11 names for Jesus.
When you subscribe to our newsletter, we'll send you
The Names of God in Psalm 23 PDF
that reveals all 11 names and Scripture verses of comfort and hope (link will be sent in your confirmation email).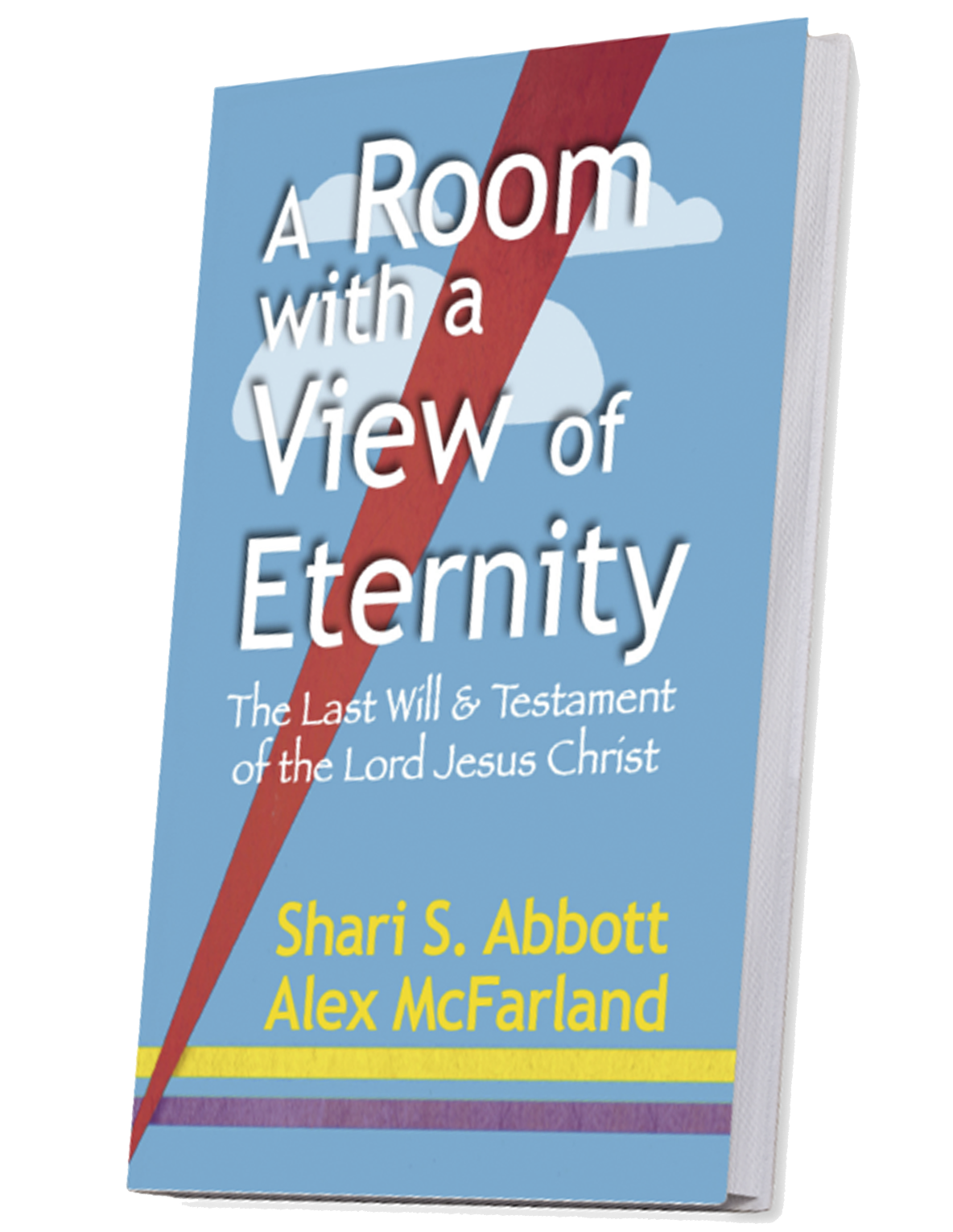 A Room with a View of Eternity—The Last Will & Testament of Jesus Christ   Take a seat at the Master's table. Learn about the riches He gives to all who are His. This book will bless and encourage you, give you hope, and help you live in the joy of your salvation and the riches of Christ that are yours.
Summaries of Warren Wiersbe's list of 77 questions abridged from
Fbcgodfrey.org.