What is your interpretation of Acts 8:12-17 in regards to the people receiving the Holy Spirit and Simon the Sorcerer?
Acts 8:12-17 might seem confusing, or it might even appear to be a contradiction of salvation doctrine The raises a question regarding the Holy Spirit: if the people believed and were baptized (verses 12-13) why didn't they receive the Holy Spirit?  
Beginning in Acts 8:4 and reading through verse 25, let's try to understand the historical account of these three things:  1) Philip's instruction, 2) Simon the Sorcerer's profession, and 3) Peter's correction.  The account takes place after the martyrdom of Stephen when the disciples of Jesus scattered beyond Jerusalem because of persecution.  (Note: Philip in Acts 8 is not the apostle Philip who was chosen by Jesus. This was the disciple introduced in Acts 6:3-6.)
Philip's Instruction 
Acts 8:4-8  Therefore those who were scattered went everywhere preaching the word. 5 Then Philip went down to the city of Samaria and preached Christ to them. 6 And the multitudes with one accord heeded the things spoken by Philip, hearing and seeing the miracles which he did. 7 For unclean spirits, crying with a loud voice, came out of many who were possessed; and many who were paralyzed and lame were healed. 8 And there was great joy in that city.
Simon the Sorcerer's Profession
Acts 8:9-13  But there was a certain man called Simon, who previously practiced sorcery in the city and astonished the people of Samaria, claiming that he was someone great, 10 to whom they all gave heed, from the least to the greatest, saying, "This man is the great power of God." 11 And they heeded him because he had astonished them with his sorceries for a long time. 12 But when they believed Philip as he preached the things concerning the kingdom of God and the name of Jesus Christ, both men and women were baptized. 13 Then Simon himself also believed; and when he was baptized he continued with Philip, and was amazed, seeing the miracles and signs which were done.
Peter's Correction
Acts 8:14-25  Now when the apostles who were at Jerusalem heard that Samaria had received the word of God, they sent Peter and John to them, 15 who, when they had come down, prayed for them that they might receive the Holy Spirit. 16 For as yet He had fallen upon none of them. They had only been baptized in the name of the Lord Jesus. 17 Then they laid hands on them, and they received the Holy Spirit.  18 And when Simon saw that through the laying on of the apostles' hands the Holy Spirit was given, he offered them money, 19 saying, "Give me this power also, that anyone on whom I lay hands may receive the Holy Spirit." 
20 But Peter said to him, "Your money perish with you, because you thought that the gift of God could be purchased with money! 21 You have neither part nor portion in this matter, for your heart is not right in the sight of God. 22 Repent therefore of this your wickedness, and pray God if perhaps the thought of your heart may be forgiven you. 23 For I see that you are poisoned by bitterness and bound by iniquity."  24 Then Simon answered and said, "Pray to the Lord for me, that none of the things which you have spoken may come upon me."  25 So when they had testified and preached the word of the Lord, they returned to Jerusalem, preaching the gospel in many villages of the Samaritans.
What the Bible Says
Philip went down to the city of Samaria to preach to the people about Jesus (vs 5)

The people there believed what he told them about "the kingdom of God and the name of Jesus" (vs 12).

The gospel message that the apostles understood and were preaching at this time was, "repent and be  baptized…."
Acts 2:38  Then Peter said to them, "Repent, and let every one of you be baptized in the name of Jesus Christ for the remission of sins; and you shall receive the gift of the Holy Spirit.
Something to note in Acts 8:12, regarding what Philip preached is how it differs from the gospel the apostles preached. Philip was preaching " the things concerning the kingdom of God and the name of Jesus Christ." Philip failed to tell them to "repent" and be "baptized in the name of Jesus Christ for the remission of sins," and that they would "receive the gift of the Holy Spirit."  The understanding of one's sin and the need to repent is important for one to come to faith in Jesus. 
We know Philip failed to preach the full gospel of salvation because he was preaching about "things concerning the Kingdom of God and the name of Jesus." There's no mention of repenting and trusting in Jesus for the forgiveness of sins. We are also told that the people believed what Philip preached but they did not receive the Holy Spirit until later when Peter and John came and laid hands on them (Acts 8:14, 17).   Listening to Philip, the people "had received the word" (vs 14), but not the Holy Spirit (vs 15).
God Alone Gives the Spirit
These verses support the understanding that salvation (regeneration from death to newness of life in Christ) is a work of God and that water baptism does not impart the Holy Spirit.  We must also remember that neither does the laying-on of hands or the prayers of another impart the Spirit (Acts:8:15,17). 
We know this for certain, from more explicit Bible passages, that it is God who forgives man's sins (1 John 1:9) and only when one repents and trusts in Christ's finished work for the payment of his sins (Romans 5:8).  Then God saves the sinner (Eph 2:5), washes him clean in the blood of Christ (Rev 1:5), imputes (credits) to him the righteousness of Jesus (the Glorious Exchange, 2 Corinthians 5:21), and gives to him the indwelling Holy Spirit (1 Corinthians 6:19, 2:16). Then, they are to be baptized in the name of Jesus.
Conclusion
Although these people in Samaria believed and were water baptized (vs 12),  they were not saved (regenerated) until later (vs 17).  They may have believed, but clearly, it was not "unto righteousness." Nor did they confess faith "unto salvation" (Romans 10:17). Believing what Philip preached about the spiritual Kingdom of God, is not the same as believing in the King of that Kingdom who can forgive man's sins.  The evidence of salvation is their having received the Holy Spirit.
We can safely conclude the apostles preached a complete gospel message and the people responded in faith (a trusting belief).
What about Simon?
We are told that Simon "believed also?"  It's clear that he didn't have salvation in verse 13, and it is doubtful that he received it later (vs 17) because he asked that he would be able to purchase the power to give the Holy Spirit to others.  This request does not reflect one who has been saved by Christ.  It is evidence of desiring worldly gain for personal power.
Psalm 49:6-7  They that trust in their wealth, and boast themselves in the multitude of their riches; None of them can by any means redeem his brother, nor give to God a ransom for him.
Peter rebuked Simon and told him, "…for your heart is not right in the sight of God" (vs 21).  Simon responded with, "Pray to the Lord for me, that none of the things which you have spoken may come upon me" (vs 24).  
Simon's Motive?
Was Simon simply asking that his money be kept from perishing with him (vs 20).  It doesn't sound like this was repentance because Peter then commanded Simon to repent of his wickedness and pray to God for forgiveness (vs 22), for he was "poisoned by bitterness and bound by iniquity (vs 23)?
Simon seems to have been more concerned about his comfort than God's glory.  Sadly, we do not read anything about Simon repenting and asking for forgiveness as Peter commanded him to do.  Instead, Simon asked Peter to pray for him.  But we know that no one is saved by another's prayer on their behalf. 
So What Happened to Simon?
Did Simon pray to God? Was he saved?  We don't know for certain.  Only God knows.  The Bible tells us nothing more about Simon the Sorcerer, so we simply do not know what became of him. 
Profession v. Possession
Remember, there is a difference between the profession of a belief about Jesus and the possession of a relationship with Jesus Christ. When sharing the gospel of saving grace with those who do not belong to Jesus, be certain to make it clear that salvation is received by their repenting (turning to Jesus in faith) and trusting what He did to pay for their sins.  
A true confession of sin comes from a mind that believes who Jesus is and what He did, and a heart that desires forgiveness. 
Rom 10:9-10  … if you confess with your mouth the Lord Jesus and believe in your heart that God has raised Him from the dead, you will be saved. For with the heart one believes unto righteousness, and with the mouth confession is made unto salvation.
Find a "Simon" today.  It probably won't be a sorcerer who crosses your path, but there will be many who need to hear about God's grace. Tell them about the love of Jesus, the forgiveness He offers, and the redemption that can be theirs TODAY!
…behold, now is the accepted time; behold, now is the day of salvation. (2 Corinthians 6:2)
<*}}}><
Jesus is the Reason this Ministry Exists
We continue to reach people worldwide with the truths of God's Word and the gospel of the Lord Jesus Christ. Your generosity is both a blessing and encouragement. Our mission is to glorify God by equipping, encouraging, and empowering YOU to understand the Bible and grow in faith. If our online resources have blessed you, please support Reasons for Hope* Jesus. Our ministry outreach has grown significantly and . . .
Please support Reasons for Hope* Jesus with a donation of $5, $10, $20, or more. A donation of any amount is needed and greatly appreciated.
CLICK TO DONATE
to Reasons for Hope*Jesus(a 501c3 Ministry)
Use a Credit Card or PayPal for safe, secure giving.
***A Hidden Message in Psalm 23?***  
Hidden in the six verses of Psalm 23 are 11 names for Jesus.
When you subscribe to our newsletter, we'll send you
The Names of God in Psalm 23 PDF
that reveals all 11 names and Scripture verses of comfort and hope (link will be sent in your confirmation email).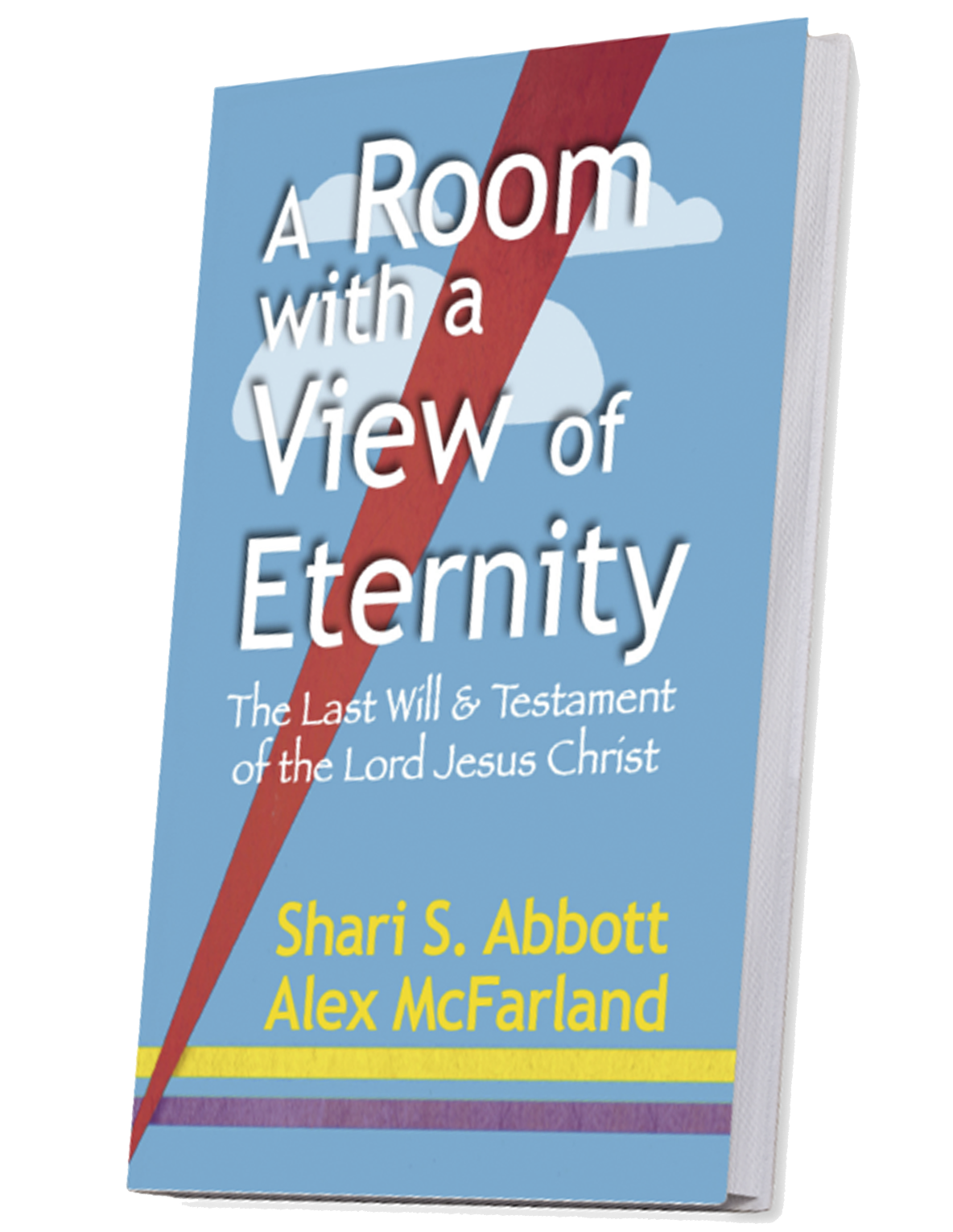 A Room with a View of Eternity—The Last Will & Testament of Jesus Christ   Take a seat at the Master's table. Learn about the riches He gives to all who are His. This book will bless and encourage you, give you hope, and help you live in the joy of your salvation and the riches of Christ that are yours.