In 1989, Hollywood released the film, Field of Dreams.  In the movie, an Iowa farmer, Ray, hears a mysterious voice one night in his cornfield saying, "If you build it, they will come."  Ray builds a baseball diamond on his land, turns on the lights, and watches the ghosts of great ballplayers of the past emerge from the cornfield to play.  He interacts with some of them and watches in amazement as they eventually go back into the cornfield and disappear.  The film is a fun-filled fantasy for nostalgic baseball fans (like me), but even though it makes a compelling movie, it is bad theology.
Revelation of Afterlife
Jesus pulled back the mysterious curtain of death in Luke 16. He told of the death of two men, the rich man and Lazarus, and their experiences in the afterlife.  The rich man woke up in Hell and was tormented in the flames.  Lazarus was in Paradise, being comforted in the bosom of Father Abraham.  Unlike the fictional depictions of Hollywood or the wishful thinking of human authors or philosophers, Jesus told how it really is.  He confirmed the reality of Hebrews 9:27 where the Bible says, "…it is appointed for men to die once, but after this, the judgment."  
How is Lazarus doing after being in Paradise for 2000 years?  What is he doing now?  Inquiring minds would like to know, right?  The Bible does give us a surprising amount of information about these and other questions.  In a previous article we answered the questions, How many saints are in glory?…Where did they come from? and Where are they now? Let's now consider, how do they look? and what are they doing?
*How Do They Look?
The apostle John got a prophetic glimpse of a future scene in Heaven and he wrote:
Rev. 7:9. "I looked and behold, a great multitude which no one could number…clothed with white robes, with palm branches in their hands…"   
According to John's vision, the saints in glory are standing before the throne of God in Heaven, and they are looking sharp!  They are gloriously arrayed in sparkling white robes, apparently the spotless uniform of heavenly saints.
 Another preview is given in the account of the Transfiguration of Christ.  In Mt. 17:1-3, we're told that the face of Jesus suddenly shone like the sun and His clothes became blazing white.  Then it says that Moses and Elijah also appeared and talked with the disciples.  Jesus is clearly the central figure, but it's noteworthy that two of the Old Testament saints were also present.   Moses and Elijah lived on earth about 400 years apart, and many centuries before Christ.  But centuries later, they appear with Jesus to the wondering disciples Peter, James, and John.  Comparing this passage with others we can conclude several things about the saints in glory: they are very much alive, they are recognizable, and they are able to communicate.
When you put together the descriptions of these passages of scripture, it is obvious that the saints in glory are alive and well, recognizable, able to talk with Jesus and others, and are clothed with dazzling white robes as they stand before the throne of God.  In other words, they look wonderful,    
*What Are They Doing?
Shouting Praises to God
Rev 7:9, 10  …I [John] looked, and behold, a great multitude…clothed with white robes… and crying out with a loud voice, saying, "Salvation belongs to our God who sits on the throne, and to the Lamb!"  
They are "crying out with a loud voice saying, 'Salvation belongs to our God who sits on the throne, and to the Lamb.'" None of the saints in Heaven are boasting about their earthly exploits.  They are singing and shouting praises to God for who He is and for what He has done.  This lines up with the scriptural truth that salvation is all of God and none of man.  Eph. 2:8-9 says, "For by grace you have been saved through faith, and that not of yourselves; it is the gift of God, not of works, lest anyone should boast."  In Rev. 5:12-13, John describes another scene in heaven where the saints are… "saying with a loud voice, 'Worthy is the Lamb who was slain to receive power and riches and wisdom, and strength and honor and glory and blessing…glory and power be to Him who sits on the throne, and to the Lamb, forever and ever!'"
Standing Before the Throne of God
Rev 7:9  I [John] looked, and behold, a great multitude…standing before the throne and before the Lamb…
The saints in glory are… "standing before the throne and before the Lamb…"  There are other passages where we find the saints in glory in other postures, including sitting, kneeling, and falling on their faces before God. At the final judgment of unbelievers, we are told that every knee shall bow, and every tongue will confess that Jesus Christ is Lord (Phil. 2:10-11).  Obviously it is very appropriate to bow, kneel, or fall on one's face in the presence of Almighty God.  But when the saints in glory are described as a group or multitude, they are most often depicted as standing before the throne of God.
That reminds me of the honor given to dignitaries in our country.  Before a judge enters the courtroom the bailiff says, "All rise," and everyone stands as a gesture of respect for the judge and the law the judge represents.  At a wedding ceremony, once the bridal attendants have entered, climatic music signals all to rise to their feet in honor of the bride and the sanctity of marriage.  Just before the State of the Union address to Congress and the country, the sergeant of arms of the House of Representatives shouts, "Mr. Speaker, the President of the United States!" signaling all in attendance to rise to their feet and give a standing ovation honoring the President and the office.  How much more breath-taking and majestic must be the scene in Heaven as an innumerable multitude of saints in glory are standing to give honor, praise, and the glory that is due to the Most High God!
Serving Continually Before God
Rev 7:15 "Therefore they are before the throne of God, and serve Him day and night in His temple. And He who sits on the throne will dwell among them."
What an amazing thought that is!  This means a lot to me because I have been given the high and holy privilege of being a pastor, shepherding a congregation and preaching the "unsearchable riches of Christ."  I can identify with the apostle Paul who marveled at the grace of God in allowing him to be an ambassador for Christ, and he put it this way:
1 Tim. 1:12  "I thank Christ Jesus our Lord who has enabled me, because He counted me faithful, putting me into the ministry."   
It's a marvelous thing to be a son of God, a child of the King. It's an even greater privilege to be a servant of Christ; to be called upon to serve the King of Kings and Lord of Lords!  In a real sense, every child of God is called not only to salvation but also to service.
Paul wrote most earnestly to the saints:
Roman 12:1  "I beseech you therefore brethren, by the mercies of God, that you present your bodies a living sacrifice; holy, acceptable to God, which is your reasonable service."
It is only reasonable and commendable to live for the One who died for you.  The old chorus says:
How can I do less
than give Him my best
and live for Him completely
after all He's done for me
Continuing Service
 It should give us who are blood-bought Christians inexplicable joy to know that our service for God does not end when we take our last breath on earth. Scripture indicates that the saints in glory will continuously serve God through-out eternity,  "day and night." 
In the last chapter of the Bible we read,… "and His servants shall serve Him" (Rev. 22:3).  After many years of being a Christian, I often find myself saying, "To know Him(Jesus) is to love Him; to love Him is to obey Him; to obey Him is to serve Him." 
I will serve Thee, because I love Thee,
You have given life to me;
I was nothing before You found me,
You have given life to me.
Heartaches, broken pieces,
ruined lives are why You did on Calvary;
Your touch is what I longed for,
You have given life to me.
(I Will Serve Thee by Bill and Gloria Gaither
Read More:
Jesus is the Reason this Ministry Exists
We continue to reach people worldwide with the truths of God's Word and the gospel of the Lord Jesus Christ. Your generosity is both a blessing and encouragement. Our mission is to glorify God by equipping, encouraging, and empowering YOU to understand the Bible and grow in faith. If our online resources have blessed you, please support Reasons for Hope* Jesus. Our ministry outreach has grown significantly and . . .
Please support Reasons for Hope* Jesus with a donation of $5, $10, $20, or more. A donation of any amount is needed and greatly appreciated.
CLICK TO DONATE
to Reasons for Hope*Jesus(a 501c3 Ministry)
Use a Credit Card or PayPal for safe, secure giving.
***A Hidden Message in Psalm 23?***  
Hidden in the six verses of Psalm 23 are 11 names for Jesus.
When you subscribe to our newsletter, we'll send you
The Names of God in Psalm 23 PDF
that reveals all 11 names and Scripture verses of comfort and hope (link will be sent in your confirmation email).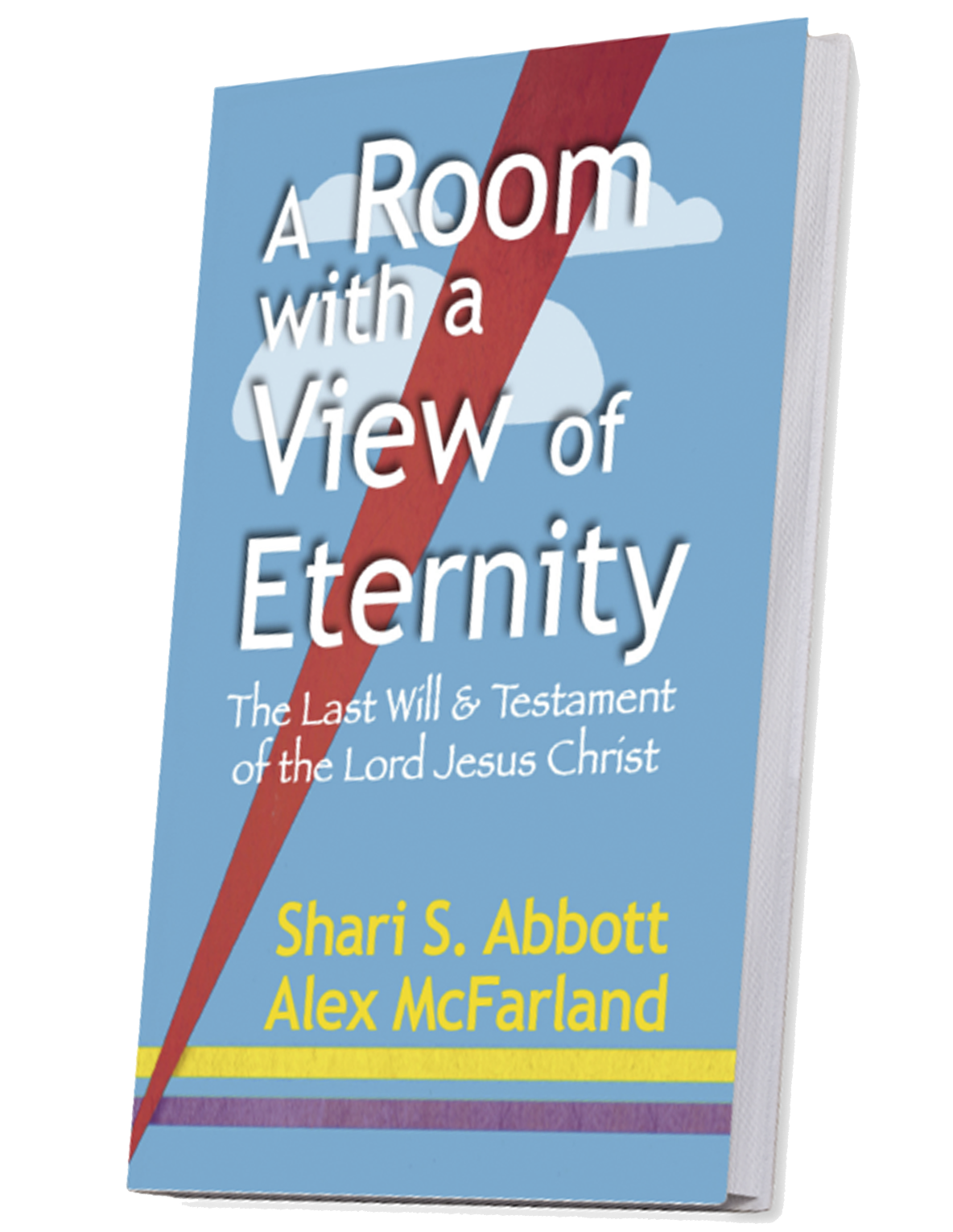 A Room with a View of Eternity—The Last Will & Testament of Jesus Christ   Take a seat at the Master's table. Learn about the riches He gives to all who are His. This book will bless and encourage you, give you hope, and help you live in the joy of your salvation and the riches of Christ that are yours.