The Bible is not silent on this subject.  Though God doesn't tell us everything (Deut. 29:29), there is a surprising amount of information about the saints in glory (Heaven) and their activities.  In this 4-part series, we will seek to answer several questions that naturally come to our inquiring minds
How Many Saints in Glory
?
In the last book of the Bible, the apostle John is given a vision of Heaven. He saw a vast multitude of saints in the presence of Jesus, the eternal Lamb of God.  
Rev. 7:9… "After these things I looked and behold, a great multitude which no one could number…"  
So the biblical answer to "how many" is… an innumerable multitude. Now, that's a lot!  
Presently, the earth's population is 7.6 billion people.  The three most populous countries in order are; China- 1.6 billion, India- 1.4 billion, and the USA- 331 million (1/3 billion).  That's a lot of people!  
What is the population of Heaven?  How many saints are there in glory?  Scripture tells us it is "a great multitude which no one could number."  It's comforting to know there are a lot of people in Heaven.  Of course, there are a lot of people in Hell also. One could surmise there may be more in Hell than in Heaven.  After all, Jesus said:
Mt. 7:13-14, "Enter by the narrow gate; for wide is the gate and broad is the way that leads to destruction, and there are many who go in by it.  Because narrow is the gate and difficult is the way that leads to life, and there are few that find it."   
We don't know the exact number of people In Heaven or Hell, but the most important thing is knowing where you are going in the after-life.  There is room in Heaven for all who repent of sin and believe in the Savior, Jesus Christ.  Jesus said (John 6:37), "All that the Father gives Me will come to Me, and the one who comes to Me I will by no means cast out."  There's room at the cross for you!
From Where
Have They Come?
Rev. 7:9,15… "a great multitude…of all nations, tribes, peoples, and tongues…"   
The saints in glory are made up of people from literally all over the world—from every tribe, tongue, and nation!   After all, the golden text of the gospel (John 3:16) says, "For God so loved the world that He gave His only begotten Son, that whoever believes in Him should not perish, but have everlasting life."  Jesus is an equal-opportunity Savior!  The door into eternal life is narrow, but anyone can enter.  There will be no racism in Heaven.  There should be none on earth either because we are all created by God in His image and are of "one blood" (Acts 17:26).  There is really only one race of people, the human race.  
So it stands to reason that Heaven will be populated with saints from literally every tongue, tribe, people-group, and nation.  One might ask, but how is this possible?  Has the gospel reached every country, every language, and dialect, every tribe on the planet?  Has the earth been saturated with the gospel?  Not exactly, but God is able "to do exceedingly, abundantly, above all that we can ask or think."
Scripture indicates that God has revealed Himself to everyone by His creation and laws (Psalm 19), by His prophets (Heb. 1:1), by His Son (Heb. 1:2-4), and by His church (Eph. 3:14-21).  Furthermore, the Bible teaches that babies and children who die before having a chance to hear and positively respond to the gospel are safe in the arms of Jesus (2 Sam. 12:23, Mt. 18:1-5, 19:14), and so they also make up the vast multitude of the saints in glory.
Where 
Are They Now?
Rev 7:9… "a great multitude…standing before the throne and before the Lamb."  
Wow, what a thought!  All the saints in glory are standing before the throne of God. And Scripture tells us that Jesus is on His throne, seated at the right hand of God.  The saints in glory are in a glorious place, standing with glorified brothers and sisters, and seeing the glorious face of the Prince of Glory! 
I remember in 2004 going to the state fairgrounds in Des Moines, Iowa, in hopes of seeing and hearing then-President George W. Bush.  My wife and I stood in line, went through security, then entered a packed building that seated thousands of people.  We were fortunate to get a middle-section seat and were able to be about 40-50 feet from the most powerful man in the world at that time!
Can you imagine standing in the presence of the most powerful Being in the universe—the One who created the universe, the Heavens, and the earth?  He is the self-existent One who spoke and the worlds were framed (Heb. 11:3).  Well, this all-powerful God gave the apostle John a glimpse into Heaven, and John wrote down in vivid detail what he saw.  We can read about it in the last book of the Bible, Revelation.  We don't have to use our imagination.  God revealed these things to John.  He wrote it down as he was moved by the inspiration of the Holy Spirit, and God has preserved it in His inerrant Word, the Bible.  
Imagine
Many people have tried to imagine what the afterlife might be like, but unfortunately, their imaginations are colored by their opinions or philosophy.  One person who did this was John Lennon, of the Beatles.  The Beatles were arguably the most popular rock group of the '60s and '70s, and perhaps ever.  John Lennon wrote and sang, "Imagine," a pretty melody with a tragically misleading message. 
Imagine there's no Heaven, it's easy if you try…
No Hell below us, above us only sky.
Imagine all the people, living for today…
Imagine there's no countries, it isn't hard to do…
Nothing to kill or die for, and no religion too.
Imagine all the people, living life in peace…
You may say I'm a dreamer, but I'm not the only one;
I hope someday you'll join us, and the world will be as one.                              
John Lennon called upon his listeners to join him in imagining that there is no Heaven, no Hell, and no religion.  The problem is, just imagining that Heaven and Hell don't exist, doesn't make it so. Everyone will go to one place or the other. But it's not religion that will get someone into Heaven. It's a relationship with Jesus.
Yes, I also like to use my imagination.  But my imagination is couched in the glorious descriptions of scenes in Heaven that are revealed in the Bible.  I hope you are prepared to join Jesus Christ.  If not, now is the time to repent of your sin, receive Jesus as your Savior and Lord, fully relying on Him alone to forgive and save you (Visit our Salvation Page).  Then you can look forward to joining the saints in glory before the throne of God.
Read More:
Jesus is the Reason this Ministry Exists
We continue to reach people worldwide with the truths of God's Word and the gospel of the Lord Jesus Christ. Your generosity is both a blessing and encouragement. Our mission is to glorify God by equipping, encouraging, and empowering YOU to understand the Bible and grow in faith. If our online resources have blessed you, please support Reasons for Hope* Jesus. Our ministry outreach has grown significantly and . . .
Please support Reasons for Hope* Jesus with a donation of $5, $10, $20, or more. A donation of any amount is needed and greatly appreciated.
CLICK TO DONATE
to Reasons for Hope*Jesus(a 501c3 Ministry)
Use a Credit Card or PayPal for safe, secure giving.
***A Hidden Message in Psalm 23?***  
Hidden in the six verses of Psalm 23 are 11 names for Jesus.
When you subscribe to our newsletter, we'll send you
The Names of God in Psalm 23 PDF
that reveals all 11 names and Scripture verses of comfort and hope (link will be sent in your confirmation email).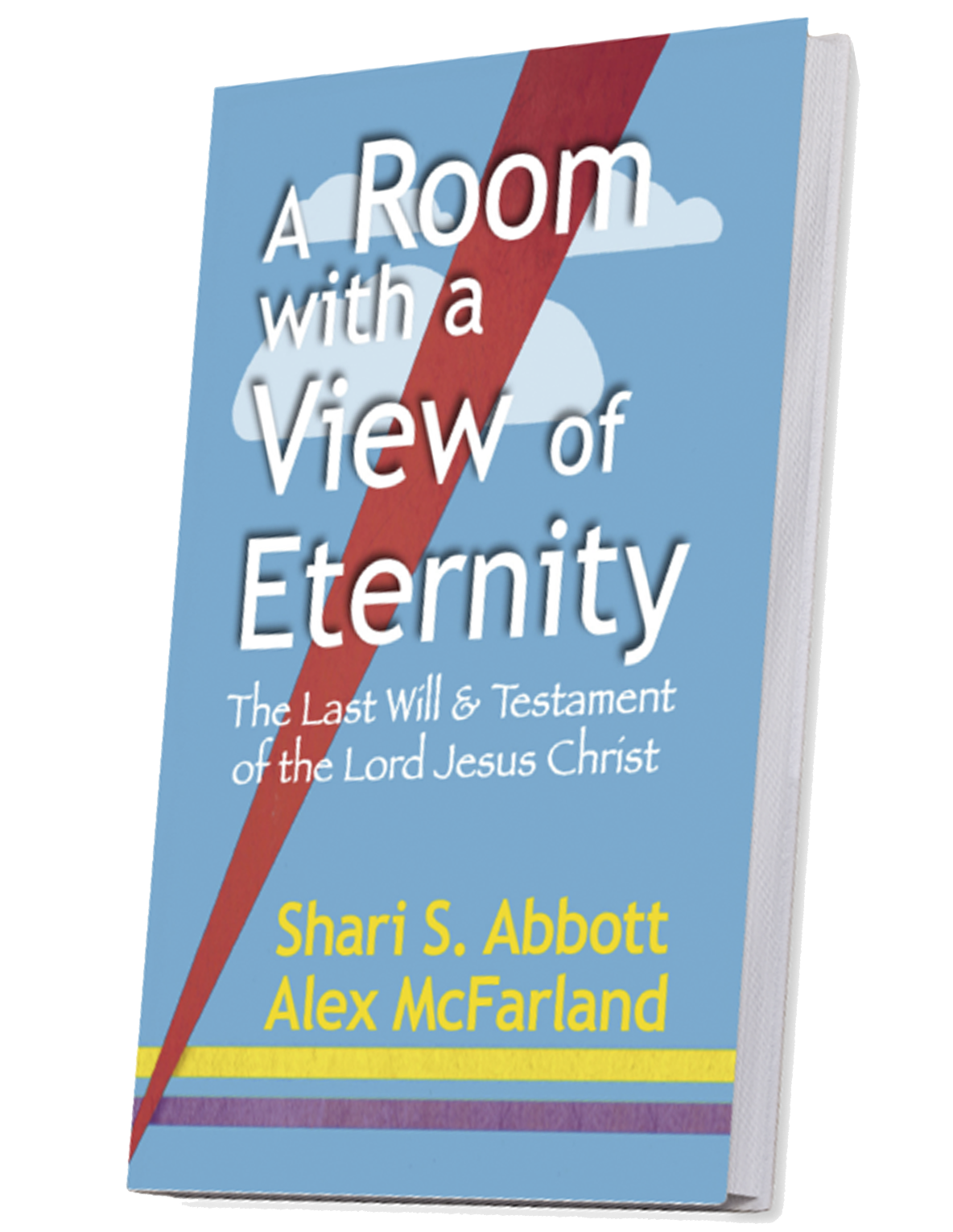 A Room with a View of Eternity—The Last Will & Testament of Jesus Christ   Take a seat at the Master's table. Learn about the riches He gives to all who are His. This book will bless and encourage you, give you hope, and help you live in the joy of your salvation and the riches of Christ that are yours.