At the mention of never-never land, most people will think of the fictional story of "Peter Pan."  It was created by Scottish novelist and playwright J. M. Barrie in 1904, and it's the story of a young, mischievous, and free-spirited boy who lives on the mythical island of Neverland. Peter Pan is immortal,  joy-filled, and forever young.  In fact, it's his desire to never grow up.
Oh, the joys of childhood. If only we could live in the never-never land of innocence and protection. But of course, that cannot be. Since the fall of Adam, the mortality of man has been characterized by an aging body and mind, a life of trials and tribulations, and existence in a world of death and decay.
Never-never Lands in the Bible
While the existence of a never-aging youth cannot be found in the Bible, there are two "never-never lands"  in the Bible. Unlike Peter Pan's Neverland,  these two Neverlands are not imaginary. They are very real. And although they exist outside of our physical reality everyone, by choice, will go to one of these two places at death,
They are, of course, Heaven and Hell.  Both places can be considered a Neverland because both are characterized by a "never" existence.  And just like Peter Pan's  Neverland, both are these places are forever.
Two Neverlands
One is the existence of never in want and the other of never satisfied.  Jesus said he came to give us rest, and the Neverland of Heaven begins here on earth the moment one is saved by Jesus and made a new creation in Him.
Heaven – 
An Eternal Existence that Begins at Conversion
Never Thirst
John 4:14  But whosoever drinketh of the water that I shall give him shall never thirst; but the water that I shall give him shall be in him a well of water springing up into everlasting life.
John 6:35  …and he that believeth on me shall never thirst.
Never Hunger
John 6:35  And Jesus said unto them, I am the bread of life: he that cometh to me shall never hunger …
Never Die
John 8:51  Verily, verily, I say unto you, If a man keep my saying, he shall never see death.
John 11:26  And whosoever liveth and believeth in me shall never die. Believest thou this?
Never Perish
John 10:28  And I give unto them eternal life; and they shall never perish, neither shall any man pluck them out of my hand.
Never Alone
Heb 13:5  Let your conversation be without covetousness; and be content with such things as ye have: for he hath said, I will never leave thee, nor forsake thee.
Hell – An Eternal Existence that Begins at Death
Never Knew You
Mat 7:23  And then will I profess unto them, I never knew you: depart from me, ye that work iniquity.
Never Knew, Because You Never Read
Mat 21:16  And said unto him, Hearest thou what these say? And Jesus saith unto them, Yea; have ye never read, Out of the mouth of babes and sucklings thou hast perfected praise?
Mat 21:42  Jesus saith unto them, Did ye never read in the scriptures, The stone which the builders rejected, the same is become the head of the corner: this is the Lord's doing, and it is marvellous in our eyes?
Mark 2:25  And he said unto them, Have ye never read what David did, when he had need, and was an hungred, he, and they that were with him?
Never Forgiven
Mark 3:29  But he that shall blaspheme against the Holy Ghost hath never forgiveness, but is in danger of eternal damnation:
Never Quenched Fire
Mark 9:43  And if thy hand offend thee, cut it off: it is better for thee to enter into life maimed, than having two hands to go into hell, into the fire that never shall be quenched:
Mark 9:45  And if thy foot offend thee, cut it off: it is better for thee to enter halt into life, than having two feet to be cast into hell, into the fire that never shall be quenched:
Never Been Born
Mark 14:21  The Son of man indeed goeth, as it is written of him: but woe to that man by whom the Son of man is betrayed! good were it for that man if he had never been born.
In Conclusion
Which Never-never Land is your destination?  Are you heading to Heaven or to Hell? 
If you belong to Jesus, your eternal life has already begun and will come to completion when you leave this earth and go to Heaven.  Consider all the "never" promises that Jesus has given: You will never thirst, never hunger, never die, never perish, and never be alone.  Praise Jesus for His gracious provisions that satisfy the soul, warm the heart, and fuel a passion to follow Him more nearly, love Him more dearly, and serve Him more fully.   
If you don't belong to Jesus, your destination when you leave this earth will be Hell.  It need not be so, but it is fully your decision. You have until the moment you take your last breath to decide where you'll go.  Jesus has opened the way to Heaven (John 14:6) and He offers salvation, and eternal life now and in Heaven, to all who choose to repent and trust in Him.
John 3:16-17 For God so loved the world, that he gave his only begotten Son, that whosoever believeth in him should not perish, but have everlasting life. For God sent not his Son into the world to condemn the world; but that the world through him might be saved.
Choose this Day Whom You Will Serve
Will it be Jesus the Creator of all things, the Lord of all people, the King of all the world? 
If you trust in Jesus you, will never be in want.  His grace will be poured out upon you and His grace will be sufficient in all things. 
If you choose to trust in yourself and reject the great gift of salvation that God offers, you will never be satisfied.  You will always want, both in this life and in the next.
What if you die today?  It is appointed to men once to die, and then the judgment (Heb 9:27).  Do not delay. Make the most important decision you'll ever make.  Turn to Jesus and trust in Him.   
If you do not know Jesus, don't waste another minute. You do not know when you will step off this earth and into Neverland. Visit our SALVATION PAGE NOW!
<*}}}><
Jesus is the Reason this Ministry Exists
We continue to reach people worldwide with the truths of God's Word and the gospel of the Lord Jesus Christ. Your generosity is both a blessing and encouragement. Our mission is to glorify God by equipping, encouraging, and empowering YOU to understand the Bible and grow in faith. If our online resources have blessed you, please support Reasons for Hope* Jesus. Our ministry outreach has grown significantly and . . .
Please support Reasons for Hope* Jesus with a donation of $5, $10, $20, or more. A donation of any amount is needed and greatly appreciated.
CLICK TO DONATE
to Reasons for Hope*Jesus(a 501c3 Ministry)
Use a Credit Card or PayPal for safe, secure giving.
***A Hidden Message in Psalm 23?***  
Hidden in the six verses of Psalm 23 are 11 names for Jesus.
When you subscribe to our newsletter, we'll send you
The Names of God in Psalm 23 PDF
that reveals all 11 names and Scripture verses of comfort and hope (link will be sent in your confirmation email).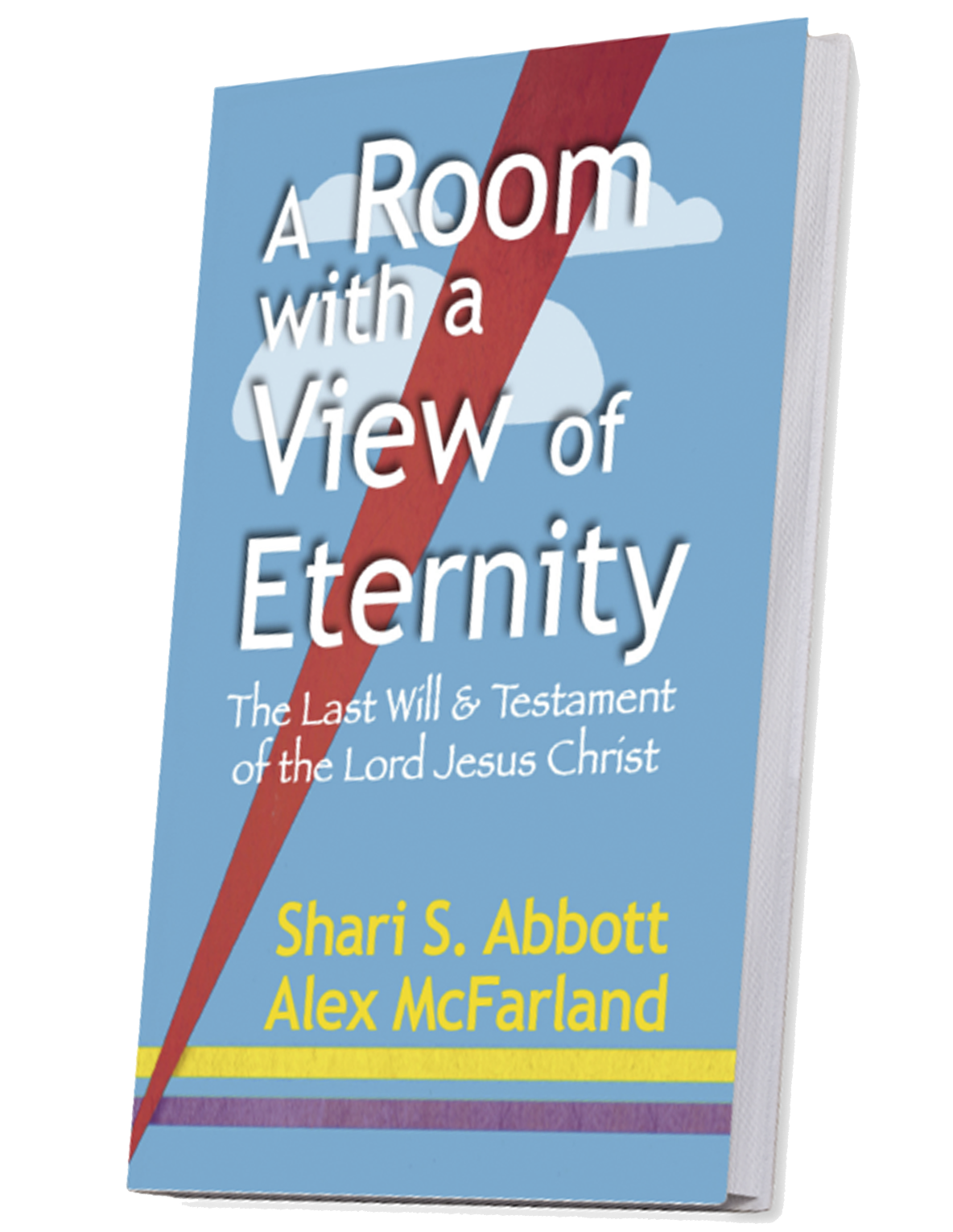 A Room with a View of Eternity—The Last Will & Testament of Jesus Christ   Take a seat at the Master's table. Learn about the riches He gives to all who are His. This book will bless and encourage you, give you hope, and help you live in the joy of your salvation and the riches of Christ that are yours.