The similarities between the stories of two women are reflected in the words of their two songs.  The women are Hannah and Mary.  From the miraculous conception of each woman's son to each woman's faithful response of praise, we see God's purpose and plan revealed.  We see a parallel between these two women in 1) the recorded history, 2) the women themselves, and 3)  in the way each responded.
1)  What the Books Reveal 
The books of 1 Samuel and Luke both focus on the birth of a male child who is born to serve God.  In 1 Samuel the birth of Samuel is recorded and the remainder of the book tells how God raised up three men to lead Israel—Samuel, Saul, and David.  In the Gospel of Luke, the birth of Jesus is recorded and all four Gospel accounts tell how God raised Jesus up to serve Him.  Each gives a unique perspective of Jesus' life: Matthew reveals Him as the coming Messiah of Israel, Mark as the Suffering Servant, John as the Son of God, and Luke as the Son of Man (Read more about the genealogies of Jesus and Jesus in the Gospels: What are the Four Different Presentations of Jesus?).
2) Who the Women Were
The roles of both Hannah and Mary in Scripture are limited to descriptions of their motherhood.  Neither life presents a picture of the salvation of Israel, of saving God's people, as Esther did.  Nor do they represent leaders of the people, as Deborah was.  Their work for God was simply to raise up their child to be prepared to serve God. In doing so, each woman significantly participated in God's plan to liberate Israel.
Two Women:  Hannah and Mary
Hannah can be understood as a type, a foreshadow, or a whisper of Mary.  In the Garden, God promised Adam and Eve that He would send a "Seed" (Genesis 3:15) who would rescue mankind.  In Galatians 4:4, we are told that "when the fullness of the time had come, God sent forth His Son, born of a woman…"    Throughout the Bible, we read of women who exemplify the heart and the actions of Mary.  Hannah is one of those women. Let's consider the parallels between the life and words of Hannah and Mary.
Two Miraculous Conceptions
Hannah was unable to bear children because the Lord had closed her womb.
1 Samuel 1:5-6  But to Hannah he would give a double portion, for he loved Hannah, although the LORD had closed her womb.   And her rival also provoked her severely, to make her miserable, because the LORD had closed her womb.
Mary had never had sex with a man.
Luke 1:34  Then Mary said to the angel, "How can this be since I do not know a man?" Luke 1:27  …The virgin's name was Mary.
Two Willing Servants of God
Hannah asked the Lord for a child, made a vow to give the child to the Lord and three times called herself a maidservant of the Lord.
1 Samuel 1:11  Then she made a vow and said, "O LORD of hosts, if You will indeed look on the affliction of Your maidservant [handmaid] and remember me, and not forget Your maidservant, but will give Your maidservant a male child, then I will give him to the LORD all the days of his life, and no razor shall come upon his head."
Mary also proclaimed herself to be a "maidservant of the Lord."
Luke 1:38  Then Mary said, "Behold the maidservant of the Lord! Let it be to me according to your word."
Two Gifts of Revelation
Each received a revelation from God, given to them by a man of God.  In Hannah's case it was Eli:
1 Samuel 1:17  Then Eli answered and said, "Go in peace, and the God of Israel grant your petition which you have asked of Him."
In Mary's case it was an angel:
Luke 1:35  And the angel answered and said to her, "The Holy Spirit will come upon you, and the power of the Highest will overshadow you; therefore, also, that Holy One who is to be born will be called the Son of God.
Two Promises that Overcame Fear
The message Eli gave to Hannah dispelled her sadness and distress:
1 Samuel 1:18b  …So the woman went her way and ate, and her face was no longer sad.
The message the angel gave to Mary dispelled her fear:
Luke 1:29-30  But when she saw him, she was troubled at his saying, and considered what manner of greeting this was. And the angel said unto her, Fear not, Mary: for thou hast found favour with God.
Two Sons Were Born
God brought to pass what He had promised to both of them.  Hannah gave birth to a boy child and named her son Samuel, which means "name of God" or "God has heard."
1 Samuel 1:19-20  Then they rose early in the morning and worshiped before the LORD, and returned and came to their house at Ramah. And Elkanah knew Hannah his wife, and the LORD remembered her.  So it came to pass in the process of time that Hannah conceived and bore a son, and called his name Samuel, saying, "Because I have asked for him from the LORD."
When Mary gave birth, a child was born, and a Son was given (Isaiah 9:6).  The birth of the child was Jesus, God who took on human form.  The giving of the Son, was God's divine gift of the second Person of the Trinity who came to be the salvation of the world.  Mary named her son Jesus, according to the decree of God, and the name Jesus means "The Lord is Salvation."
Luke 1:31-33  "And behold, you will conceive in your womb and bring forth a Son, and shall call His name JESUS. He will be great, and will be called the Son of the Highest; and the Lord God will give Him the throne of His father David. And He will reign over the house of Jacob forever, and of His kingdom there will be no end."
3) How the Women Responded: Two Faithful Responses to God's Calling
Both Hannah and Mary responded in surrender and obedience to God, trusting in His calling:
1 Samuel 1:18  And [Hannah] said, "Let your maidservant find favor in your sight." So the woman went her way and ate, and her face was no longer sad.
Luke 1:38  Then Mary said, "Behold the maidservant of the Lord! Let it be to me according to your word."  And the angel departed from her. 
Two Sons Consecrated to God's Service
Hannah pledged Samuel to the Lord's service with a Nazarite vow.  A Nazarite vow was a lifelong dedication to God. It was a vow of consecration to God's service for a specific period, or in some cases, for life.  The word "Nazarite" means:  "to separate or to abstain" Both men and women could take a Nazarite vow..
A Nazarite could drink no fruit of the vine (i.e. grapes, either fermented or unfermented, vs. 3-4), could not cut his hair (v. 5), and could not defile himself by going near a dead person (vs. 6-7). These were outward signs that served as a public testimony of his dedication to God. Examples of a Nazarite were Samson (Judg. 13), Samuel (1 Sam. 1:9-11), John the Baptist (Luke 1:15, 80), and [some believe] Paul (Acts 18:18).
While Samuel was vowed to be a Nazarite, Jesus was not.  Jesus was a Nazarene, but not a Nazarite. There was no need for Mary to pledge Jesus to God's service because He was born fully God and fully man. But Mary and Joseph did present their Son to God:
Luke 2:22  Now when the days of her purification according to the law of Moses were completed, they brought Him to Jerusalem to present Him to the Lord.
Two Songs of Praise
Hannah and Mary are linked in many miraculous ways by the will of God.  They both:
gave birth to sons who would become prophets to the nation of Israel.
are illustrations of "empty vessels" prepared and used by God.
are examples of the joy of the Lord that is found in surrendering to God's will.
And, both Hannah and Mary glorified God with hymns of praise. In fact, there is such similarity between the two songs that some believe Mary knew Hannah's song and spontaneously praised God using words of Scripture that she had "hidden in her heart." This is a lesson for all of us.  Remember King David's words in Psalm 119, "Thy word have I hid in mine heart…"  And remember what Mary did after she received the revelation from the angel: Luke 2:19 …Mary kept all these things, and pondered them in her heart (Luke 2:19)
Hannah prayed her prayer (or sang her song) when she gave Samuel to Eli the priest.  Mary sang her song (which has come to be known as The Magnificat) when she went to visit her cousin Elizabeth.  Compare the songs of both women.
Contrasts
Having noted the similarities of Hannah's story with Mary's story and Hannah's song with Mary's song, let's consider several contrasts.
Hannah was marked by sterility and shame.
Mary was marked by virginity and purity.
Hannah prayed for a son, desiring that her shame be removed.
Mary did not seek a son but was graced with this great gift (Luke 1:28) and shame came upon her and her family.
Hannah gave birth to the son of Elkanah.
Mary gave birth to the "Son of the Most High" (Luke 1:32a).
Hannah's son was one of a long line of prophets.
Mary's Son was the True and Better Prophet (Deuteronomy 18:18).
In Conclusion
Hannah is a type of Mary primarily in her role as a mother and maidservant of God.  In Hannah, we see incredible gratitude to God and selflessness in giving her son to God.  Hannah knew that Samuel did not belong to her but to God.  Mary knew that Jesus did not belong to her…He is God.  In each mother's story, their love for their child is evident, and their love for their God is magnified.
1 Samuel 2:21b  …the child Samuel grew before the LORD.
Luke 1:80  So the child [Jesus] grew and became strong in spirit, and was in the deserts till the day of his manifestation to Israel.
Luke 2:52  And Jesus increased in wisdom and stature, and in favor with God and men.
The Songs of Hannah and Mary
The Song of Hannah 
1 Samuel 2:1-10  And Hannah prayed and said:  My heart rejoices in the Lord; My horn is exalted in the Lord. I smile at my enemies, Because I rejoice in Your salvation. No one is holy like the Lord, For there is none besides You, Nor is there any rock like our God.
Talk no more so very proudly; Let no arrogance come from your mouth, For the Lord is the God of knowledge; And by Him actions are weighed. The bows of the mighty men are broken, And those who stumbled are girded with strength. Those who were full have hired themselves out for bread, And the hungry have ceased to hunger.
Even the barren has borne seven, And she who has many children has become feeble. The Lord kills and makes alive; He brings down to the grave and brings up. The Lord makes poor and makes rich; He brings low and lifts up. He raises the poor from the dust and lifts the beggar from the ash heap, To set them among princes And make them inherit the throne of glory.
For the pillars of the earth are the Lord's, And He has set the world upon them. He will guard the feet of His saints, But the wicked shall be silent in darkness. For by strength no man shall prevail. The adversaries of the Lord shall be broken in pieces; From heaven He will thunder against them. The Lord will judge the ends of the earth. He will give strength to His king, And exalt the horn of His anointed.
The Song of Mary
Luke 1:46-55 And Mary said: My soul magnifies the Lord, And my spirit has rejoiced in God my Savior. For He has regarded the lowly state of His maidservant; For behold, henceforth all generations will call me blessed.
For He who is mighty has done great things for me, and holy is His name. And His mercy is on those who fear Him from generation to generation. He has shown strength with His arm; He has scattered the proud in the imagination of their hearts.
He has put down the mighty from their thrones, and exalted the lowly. And He has filled the hungry with good things; the rich He has sent away empty. He has helped His servant Israel, in remembrance of His mercy, As He spoke to our fathers, to Abraham and to his seed forever.
<*}}}><
Jesus is the Reason this Ministry Exists
We continue to reach people worldwide with the truths of God's Word and the gospel of the Lord Jesus Christ. Your generosity is both a blessing and encouragement. Our mission is to glorify God by equipping, encouraging, and empowering YOU to understand the Bible and grow in faith. If our online resources have blessed you, please support Reasons for Hope* Jesus. Our ministry outreach has grown significantly and . . .
Please support Reasons for Hope* Jesus with a donation of $5, $10, $20, or more. A donation of any amount is needed and greatly appreciated.
CLICK TO DONATE
to Reasons for Hope*Jesus(a 501c3 Ministry)
Use a Credit Card or PayPal for safe, secure giving.
***A Hidden Message in Psalm 23?***  
Hidden in the six verses of Psalm 23 are 11 names for Jesus.
When you subscribe to our newsletter, we'll send you
The Names of God in Psalm 23 PDF
that reveals all 11 names and Scripture verses of comfort and hope (link will be sent in your confirmation email).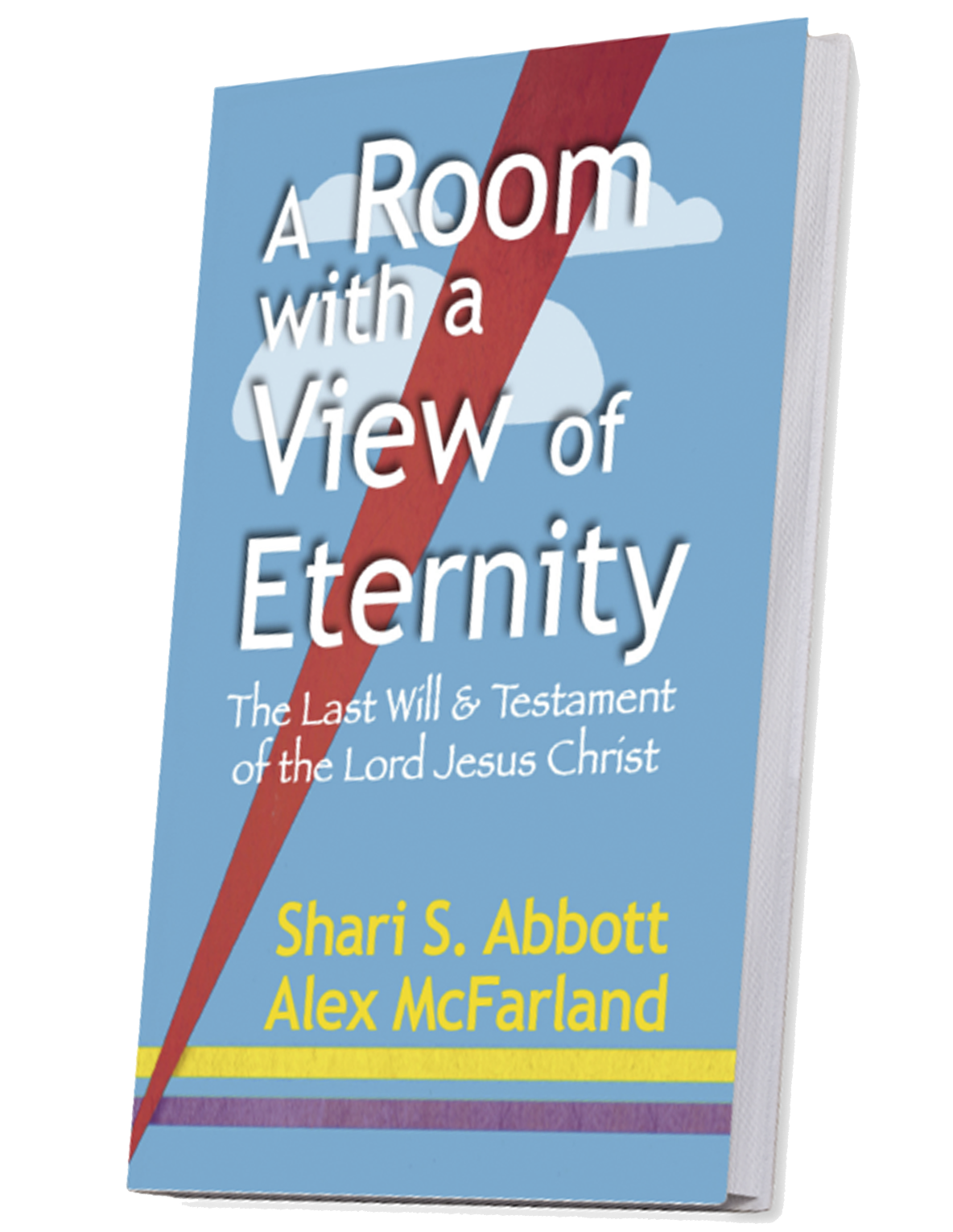 A Room with a View of Eternity—The Last Will & Testament of Jesus Christ   Take a seat at the Master's table. Learn about the riches He gives to all who are His. This book will bless and encourage you, give you hope, and help you live in the joy of your salvation and the riches of Christ that are yours.