Sons of God is a term used of several people groups in the Bible.  The simple answer to why Christians are called sons of God is because Christians are born of God.  That makes us "sons" (generically…it also includes daughters) of our Heavenly Father. Let's understand this a little better and then adress the other sons of God in the Bible.
The apostle John wrote of our being sons of God in his first epistle:
1 John 3:1  Behold, what manner of love the Father has bestowed upon us, that we should be called the sons of God: therefore the world knows us not, because it knew him not.
1 John 3:2  Beloved, now are we the sons of God, and it does not yet appear what we shall be: but we know that, when he shall appear, we shall be like him; for we shall see him as he is.
Paul also wrote of this to the church at Rome, saying, "For as many as are led by the Spirit of God, they are the sons of God" and "For the earnest expectation of the creature waits for the manifestation of the sons of God" (Rom 8:14, 19).  These are clear references to Christians being the "sons of God."  And, because we are the sons of God, we are also joint-heirs with Christ (Rom 8:17).
Oh, the riches that are ours as sons of God, children of God (read also: What does it mean to be a child of God? and Are We All God's Children?) We are sons and daughters of God and joint heirs with Christ.  But there is more to being "sons of God" than just our positional standing in Christ.  It really points to the creative work of our God in the regeneration of our souls.  Bear with me, as we go back into the Old Testament to understand this. Then we'll address who the sons of God were in Genesis 6.
Sons of God in the Bible
As noted, sons of God in the New Testament only refers to those who have trusted in Christ, are children of God, joint heirs with Jesus. But that is not so in the Old Testament. There were no Christians and, therefore, the mentions of "sons of God" in Genesis and Job cannot refer to Christians.  In the book of Job, it's clearly revealed that the sons of God are angels. However, the reference in Genesis raises many questions and great controversy.
Genesis 6 and the Nephalim
Genesis 6 speaks of a breed of people called "giants in the land" (Gen 6:4). They were the offspring of the sons of God breeding with the daughters of men.  The Hebrew word for giants is nephalim, which has become the common reference to the "giants in the earth."  
Gen 6:4  There were giants in the earth in those days; and also after that, when the sons of God came in unto the daughters of men, and they bare children to them, the same became mighty men which were of old, men of renown.
Who were these "sons of God" and why was their offspring so unnaturally large?  
The Sons of God in Genesis 6
The Bible does not clearly tell who these "sons of God" were but students of the Bible offer three ideas about who they might have been:
The sons of Seth: Seth was the third son of Adam and Eve and some suggest that "sons of God" is a reference to his descendants.  This seems faulty because nowhere in the Old Testament is any other man's descendants referred to this way. There is also no biblical support to suggest this was a term to describe godly men.  In fact, "the sons of God took wives for themselves of all whom they chose" (Gen 6:2). This sounds like the women had no choice or that these "sons of God" took multiple "wives" (which was not godly behavior). With the exception of Lamech, monogamy was practiced until the time of Abram (not the Lamech in Noah's line, but Lamech in Gen 4:19).



Kings or rulers of that time:  This interpretation lacks any significant biblical support and therefore is considered by many not to be credible.
Fallen angels:  This interpretation is probably the most credible, but also the most controversial.  There's biblical reasoning to support this, but not enough to prove it. So I offer the reasoning on this for your consideration. 
Sons of God/Ben Elohim
The Hebrew for "sons of God" is ben Elohim.  Elohim is a name for God and ben is the word for son(s).  Seth's descendants were not born of God as Christians are.  Nor were any kings or rulers born of God. They also were not adopted into God's family, since we know that relationship comes only through Jesus. So there is no reason why the sons of Seth would have been referred to as "sons of God."  This eliminates both sons of Seth and kings or rulers as possibilities of who the Genesis 6 sons of God were.
So what about fallen angels?  They aren't born of God through Christ.  That is true, but there is another meaning to the title "sons of God." "Sons of God" are direct creations of God. 
Christians are Sons of God
In our regeneration, we are said to be "a new creature"  (2 Cor 5:17, Gal 6:15).  God says that we have died to self (Gal 2:20) and been "created in Christ Jesus" (Eph 2:10) to "walk in newness of life" (Rom 6:4).  As Christians, we are direct creations of God.
Angels are Sons of God
Angels also are a direct creation of God and remember they are called that in Job Job 1:6, 2:1, 38:7. Angels would include fallen angels, who were also direct creations of God and at one time served God in Heaven, according to His created purpose. Therefore, all angels are called "sons of God"  and many reasons that sons of God in Genesis 6 are fallen angels.
Adam is a Son of God
To further support that "sons of God" are a direct creation of God, Adam is called the son of God (Luke 3:38).  Remember, Adam is the only human being who was created from nothing by God. Every person since Adam has been born of a human parent.
Jesus is The Son of God
Of course, we know Jesus is the Son of God and He is eternal in His divinity. However, He was "created" in the womb of Mary as a human by God when the Holy Spirit came upon Mary.  Please understand the word "created" by remembering that Jesus, as God, had no beginning or end. But as a man, he had a beginning. He was born into this world.
Expositional Consistency (aka. Expositional Constancy)
These are terms that refer to God's consistent message throughout the Bible, given so that we can use clear teachings to explain that which is unclear.  God uses terms or symbols in a consistent manner.  Therefore, we have reasons to believe that the "sons of God" in Genesis 6 are fallen angels who (somehow, we don't know how) procreated with daughters of men. Fallen angels are mentioned again in 2 Peter 2:4-6 and Jude 6-7.
The primary reason people reject this reasoning is a claim that angels can't procreate because they are created spirits, and do not have a body. While that is true, throughout the Bible it is clear that angels have taken on the form of men (Gabriel, Michael, the men at the Oaks of Mamre- Gen 18, et.al.). The Bible also tells that fallen angels (demons) have entered into people (Mark 5:8, et. al.).  We don't know how fallen angels might have been able to take over the body of a human, or appear in human bodily form, to procreate with women and create giant offspring.  But we do know that the term "sons of God," is used of angels, Adam, Jesus, and Christians in the Bible.  All of those being created by God. So it does not seem reasonable that Seth's sons (or any other man's sons) would be called sons of God.
In Summary
We know for certain that "sons of God" refers to Christians in the New Testament.

 

We know for certain that "sons of God" refers to heavenly angels in the book of Job.

 

We know for certain that both Adam

(Luke 3:38) 

and Jesus are called the son of God.
We cannot know for certain what is meant by "sons of God" in Genesis 6:4.

 

The Bible simply does not explicitly tell us.

 
If interested, we suggest that you study this further and come to your own understanding of the Genesis 6 passage.  (Read: Who were the Nephalim & the Sons of God in Genesis 6?) Do not let this be contentious.  Many Christians believe the sons of God were sons of Seth and many believe they were fallen angels.  
What is most important to understand, from Genesis 6, is that in the days of Noah there was great wickedness and falling away from God.  So much that God proclaimed judgment would come.  In our day there is great wickedness and falling away from God. And one day, God will judge the earth and all its people again. Just as God removed Noah and his family from the wrath of judgment that came upon the earth, all the sons of God (Christians) will be removed from the wrath of God's judgment to come (Read: What is the Rapture?)
Be diligent and determined to tell others how they too can trust in Christ, be forgiven of their sins, and be born of God as His sons….before judgment comes and it's too late.
<*}}}><
Jesus is the Reason this Ministry Exists
We continue to reach people worldwide with the truths of God's Word and the gospel of the Lord Jesus Christ. Your generosity is both a blessing and encouragement. Our mission is to glorify God by equipping, encouraging, and empowering YOU to understand the Bible and grow in faith. If our online resources have blessed you, please support Reasons for Hope* Jesus. Our ministry outreach has grown significantly and . . .
Please support Reasons for Hope* Jesus with a donation of $5, $10, $20, or more. A donation of any amount is needed and greatly appreciated.
CLICK TO DONATE
to Reasons for Hope*Jesus(a 501c3 Ministry)
Use a Credit Card or PayPal for safe, secure giving.
***A Hidden Message in Psalm 23?***  
Hidden in the six verses of Psalm 23 are 11 names for Jesus.
When you subscribe to our newsletter, we'll send you
The Names of God in Psalm 23 PDF
that reveals all 11 names and Scripture verses of comfort and hope (link will be sent in your confirmation email).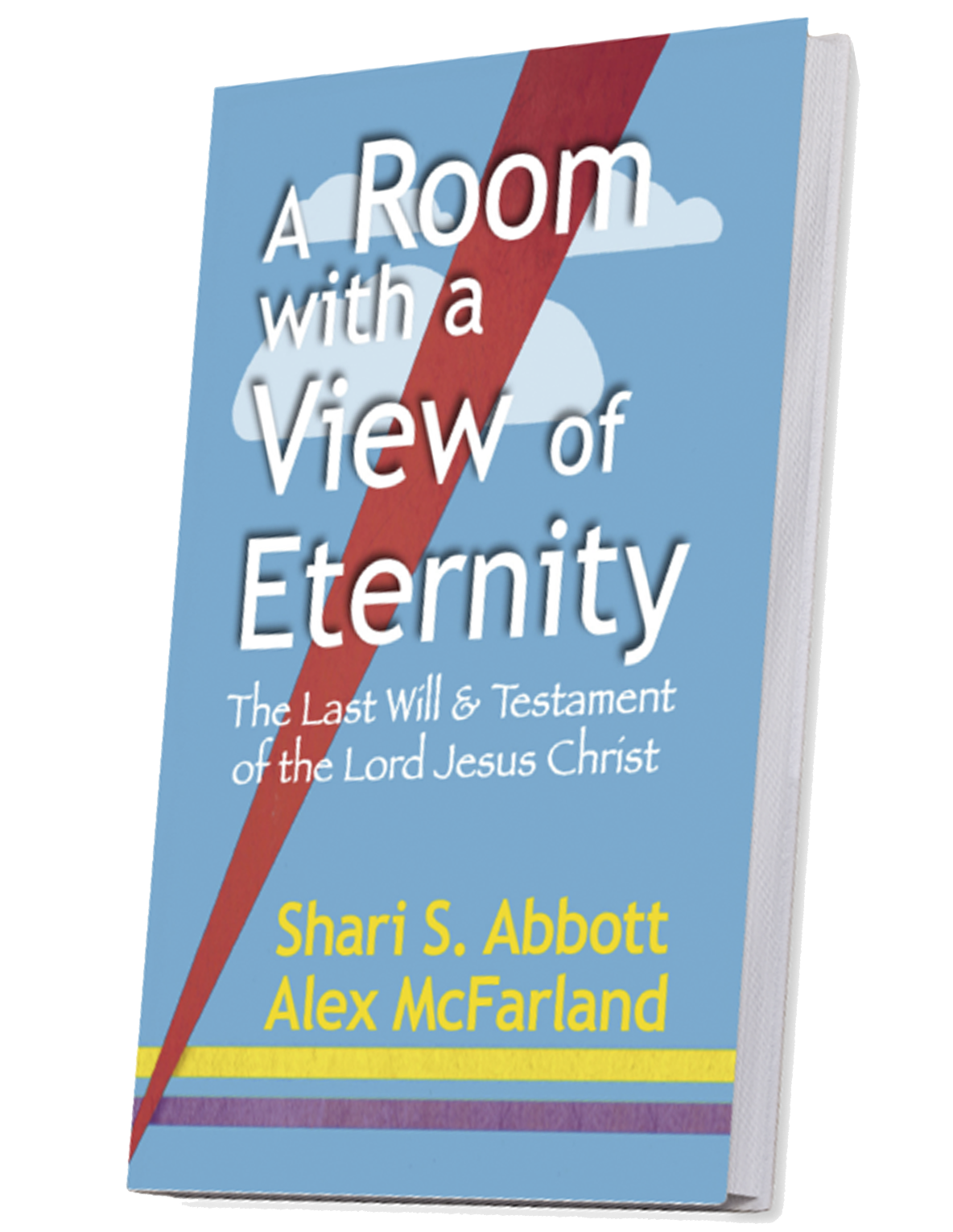 A Room with a View of Eternity—The Last Will & Testament of Jesus Christ   Take a seat at the Master's table. Learn about the riches He gives to all who are His. This book will bless and encourage you, give you hope, and help you live in the joy of your salvation and the riches of Christ that are yours.