Cancer Hope: PC + PC = AG
I'll tell you what that equation means, but first I want to share an event that many people would consider NOT PC, not politically correct.  However, anyone who belongs to the Lord Jesus Christ will find this totally PC, or Perfectly Correct, because it is PC—it's about Preaching Christ wherever one might be.
A friend of mine was recently diagnosed with pancreatic cancer.  His battle has begun.
Last week he traveled to a research hospital for further diagnosis and to determine the course of treatment.  One of the diagnostic tests was a full body scan to determine the extent of the cancer in his body. 
During this scan, he seized the opportunity to share his faith with the technician, Ashley.  He shared his trust in Jesus and the gift of relationship that God offers to all.  The conversation began by talking about anger, but it quickly turned to one of spiritual importance.
With his permission and with his words, I share the conversation that took place.
Ashley asked me, how do you deal with anger?
That's a really good question, I responded.  There's only one way I've been able to properly deal with anger and that is to put the prayer in front of my Lord. I told her about how a best friend cheated me many years ago and then he told my by accident, thinking I already knew. After that I became a very angry person.  One day, a security guard in my office building gave me a "wake up call," when he asked me if I was experiencing problems.  He had seen such a change in my interactions with himself and others. I no longer had a friendly greeting as I came into the office and he never heard me laugh anymore.  I thanked him for telling me this.  Then I got on the elevator and prayed to my Lord.  As I prayed, I could feel the anger passing out of me. 
That story "kicked off" my conversation with Ashley.  Then I began to tell her how Christianity proves itself. I said, one thing you can do is look at prophecy.  There are so many prophecies in Scripture that have been fulfilled. I said, take a look at the Jews today.  
Before continuing I said, if I bore you, please tell me to stop. She responded, no, I want to hear this.
So I continued with Isaiah 11:11, telling her that God said, in that day, I will set my hand a second time to recover the remnant of my people, from Assyria, from Egypt, from Pathros, from Cush, from Elam, from Shinar, from Hamath, and from all the islands.   I told her that in Amos (9:15) it says, I will plant them upon their land, and they shall not be pulled up out of their land which I have given them, saith the LORD thy God.  
Then I said, think about this.  The only time in secular history books when the Jews got pulled out of their land was when Nebuchadnezzar, the King of Babylon, conquered them.  They no longer had a temple, and most of the people were taken out of their land into captivity in Babylon.  
Then Cyrus King of Persia, the new great world power, defeated the Babylonians.  Daniel, God's prophet, was still alive and he told Cyrus that he had a message for him.  This message came from the God of the Jews in a dusty, 150-year-old scroll.  He told Cyrus that God called him by name, and prophesied that he would defeat the Babylonians and that he would send His people (God's people) back to Jerusalem to rebuild the Temple. That was around 560BC and, with that prophecy, Daniel got Cyrus's attention.  
Cyrus made the declaration for the Jews to return to their land, and a king's decree could never be changed. It had to be carried out. And it was under Darius, the next Medo-Persian leader, that the Jews returned to their land. 
Then I asked, when did God regather His people from all the nations?  Where have the Jews been for thousands of years?  She answered, saying that they've been all over the world, Spain, England, Russia, everywhere.
I asked, how do you explain that you can't find any of the other ancient people?  The Philistines, the Moabites, the Hittites, the Jebusites, etc?  All ancient people groups are gone, but the Jews still exist.  That alone is a miracle.  
Ashley, who has two children, then began to share about the problems in her marriage.  Her husband is cheating on her, and she is very angry.  Now I knew why she wanted to talk about dealing with anger. 
I acknowledged that she is going through a very tough time and I said, I promise you that you really do need to think about your relationship with God.  I can't tell you what to do.  It must come from your heart. But if you receive Jesus Christ as your Lord and Saviour, you then can pray for wisdom and for help.  
Then I pulled out a tract and said, all of us are sinners. And we all continue to struggle with that.  This tract talks about the difficulties of life and our need for forgiveness of sins. Then I pointed out the prayer on the tract.  I told her, if you pray this prayer, or one like it, and accept Jesus as your Lord and Saviour, you will become a child of God.   
Then I shared these verses with her::
John 1:12  But as many as received him, to them gave he power to become the sons of God, even to them that believe on his name:
John 1:13  Which were born, not of blood, nor of the will of the flesh, nor of the will of man, but of God.
1 John 5:10  He that believeth on the Son of God hath the witness in himself: he that believeth not God hath made him a liar; because he believeth not the record that God gave of his Son.
1 John 5:11  And this is the record, that God hath given to us eternal life, and this life is in his Son.
I reminded her that this goes back to the prophecies of God.  They were there, as a record of God's Word, and they reveal His knowledge of the future, and their fulfillment proves that God's Word is true.  
I then shared with her:
1 John 5:12  He that hath the Son hath life; and he that hath not the Son of God hath not life.
1 John 5:13  These things have I written unto you that believe on the name of the Son of God; that ye may know that ye have eternal life, and that ye may believe on the name of the Son of God.
Rom 10:9  That if thou shalt confess with thy mouth the Lord Jesus, and shalt believe in thine heart that God hath raised him from the dead, thou shalt be saved.
Rom 10:10  For with the heart man believeth unto righteousness; and with the mouth confession is made unto salvation.
Then she asked, looking at the tract, "where was that prayer?" 
And she prayed.
I can't tell you what a joyous day that was.  
In this battle, to fight pancreatic cancer, I am able to witness.  I can look people in the eye and say, "I promise you I am not afraid."
The Equation: PC+PC=AG
Thank-you to my friend for sharing his story.  Now, here's what that equation means: 
Pancreatic Cancer + the Power of Christ = Amazing Grace.  
God gives amazing grace in many ways when one enters into a battle with a formidable foe like cancer.  And, it is by the Lord's power that strength comes to fight the battle.  Jesus confirmed this, when He said:
My grace is sufficient for thee: for my strength is made perfect in weakness. Most gladly therefore will I rather glory in my infirmities, that the power of Christ may rest upon me. Therefore I take pleasure in infirmities, in reproaches, in necessities, in persecutions, in distresses for Christ's sake: for when I am weak, then am I strong. (2 Cor 12:9-10)
Amazing Grace!
<*}}}><
UPDATE: 14 Months Later
Read Facing Terminal Cancer with Hope & Joy
The Final Chapter
When the Battle is Lost but the Victory is Won — Saying Goodbye to a Friend
Jesus is the Reason this Ministry Exists
We continue to reach people worldwide with the truths of God's Word and the gospel of the Lord Jesus Christ. Your generosity is both a blessing and encouragement. Our mission is to glorify God by equipping, encouraging, and empowering YOU to understand the Bible and grow in faith. If our online resources have blessed you, please support Reasons for Hope* Jesus. Our ministry outreach has grown significantly and . . .
Please support Reasons for Hope* Jesus with a donation of $5, $10, $20, or more. A donation of any amount is needed and greatly appreciated.
CLICK TO DONATE
to Reasons for Hope*Jesus(a 501c3 Ministry)
Use a Credit Card or PayPal for safe, secure giving.
***A Hidden Message in Psalm 23?***  
Hidden in the six verses of Psalm 23 are 11 names for Jesus.
When you subscribe to our newsletter, we'll send you
The Names of God in Psalm 23 PDF
that reveals all 11 names and Scripture verses of comfort and hope (link will be sent in your confirmation email).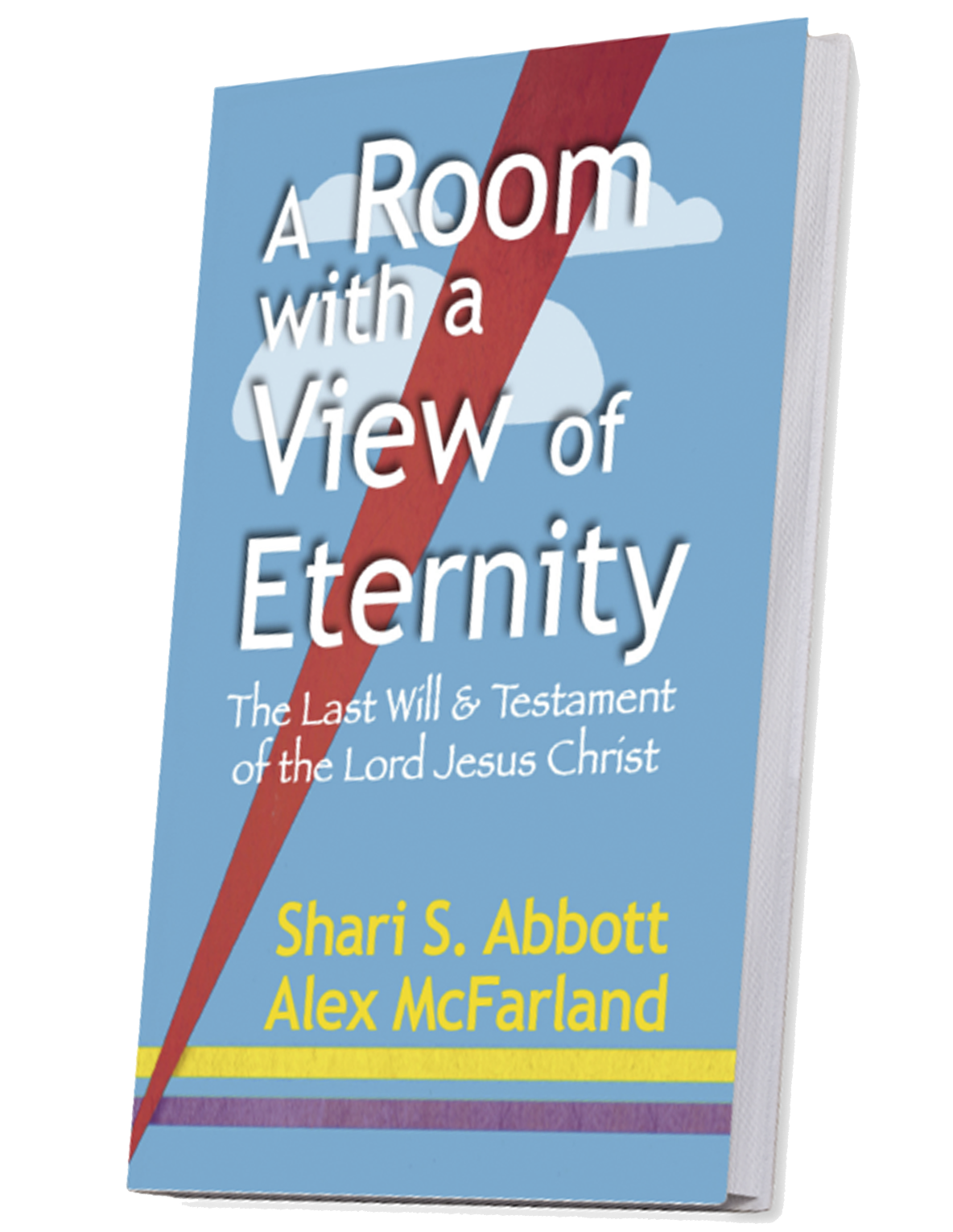 A Room with a View of Eternity—The Last Will & Testament of Jesus Christ   Take a seat at the Master's table. Learn about the riches He gives to all who are His. This book will bless and encourage you, give you hope, and help you live in the joy of your salvation and the riches of Christ that are yours.