AUTHOR: Jeremiah
DATE: ca. 550 B.C.
Originally one book, 1 and 2 Kings get their names from the fact that they present the history of the kings of Israel. The book begins with the death of King David, and the succession of Solomon to the throne, and ends with the kings of the divided kingdom around 853 — Jehoshaphat in the Souther Kingdom of Judah and Ahaziah in the Northern Kingdom of Israel.
The author is thought, without certainty, to be Jeremiah.  However, someone other than Jeremiah would have written the last chapter since Jeremiah was taken to Egypt (Jer. 43:6-7) and Jewish tradition suggests that he died there.  
Historical sources are used and it is both a record of kings and a declaration that the success of any of the kings, and that nation as a whole, was dependent on their faithfulness to God and His law.  Apostasy and disobedience led to decline and downfall, and eventually captivity.
Continuing where 1 Kings concluded (with Ahaziah), 2 Kings traces the decline and captivity of both the Northern and Southern Kingdoms. Israel, the Northern Kingdom, endured a succession of evil kings reigning during a 130-year period until the Assyrian captivity. Second Kings also give the history of Judah, up to the time of Babylonian captivity. The miracle-filled ministry of Elisha is recorded as well as significant accounts that include the raising of the Shunammite's son (chap. 4), the healing of Naaman, the Aramean leper (chap. 5), the death of Jezebel (chap. 9), and the revivals under Hezekiah (chap. 18) and Josiah (chap. 23).
During the time period covered in this book, Amos and Hosea prophesied to the Northern Kingdom of Israel, and Obadiah, Joel, Isaiah, Micah, Nahum, Habakkuk, Zephaniah, and Jeremiah prophesied to the Southern Kingdom of  Judah.
2 Kings Overview Starts at 4:37
OUTLINE OF 2 KINGS
I. The Divided Kingdom, 1:1-17:41
A. The Reign of Ahaziah in Israel (853-852), 1:1-18
B. The Reign of Jehoram (Joram) in Israel (852-841), 2:1-8:15
1. The translation of Elijah, 2:1-11
2. The beginning of Elisha's ministry, 2:12-25
3. Jehoram's expedition against Moab, 3:1-27
4. Elisha's ministry, 4:1-8:15
a. Elisha aids a widow, 4:1-7
b. Elisha and the Shunammite woman, 4:8-37
c. Elisha at Gilgal, 4:38-44
d. Elisha and Naaman the leper, 5:1-27
e. Elisha recovers the axe head, 6:1-7
f. Elisha thwarts Aram, 6:8-8:6
g. Elisha in Damascus, 8:7-15
C. The Reign of Joram (Jehoram) in Judah (848-841; 2 Chron. 21:1-20), 8:16-24
D. The Reign of Ahaziah in Judah (841; 2 Chron. 22:1-9), 8:25-29
E. The Reign of Jehu in Israel (841-814), 9:1-10:36
1. Jehu anointed by Elisha, 9:1-10
2. Jehu defeats Jehoram (Joram) of Israel, 9:11-10:17
3. Jehu destroys Baal worshipers, 10:18-36
F. The Reign of Athaliah in Judah (841-835; 2 Chron. 22:10-23:15), 11:1-16
G. The Reign of Jehoash (Joash) in Judah (835-796; 2 Chron. 23:16-24:27), 11:17-12:21
H. The Reign of Jehoahaz in Israel (814-798), 13:1-9
I. The Reign of Jehoash (Joash) in Israel (798-782), 13:10-25
J. The Reign of Amaziah in Judah (796-767; 2 Chron. 25:1-28), 14:1-22
K. The Reign of Jeroboam II in Israel (794-753), 14:23-29
L. The Reign of Azariah (Uzziah) in Judah (790-739; 2 Chron. 26:1-23), 15:1-7
M. The Reign of Zechariah in Israel (753), 15:8-12
N. The Reign of Shallum in Israel (752), 15:13-15
O. The Reign of Menahem in Israel (752-742), 15:16-22
P. The Reign of Pekahiah in Israel (742-740), 15:23-26
Q. The Reign of Pekah in Israel (752-732), 15:27-31
R. The Reign of Jotham in Judah (750-731; 2 Chron. 27:1-9), 15:32-38
S. The Reign of Ahaz in Judah (731-715; 2 Chron. 28:1-27), 16:1-20
T. The Reign of Hoshea in Israel (732-722), 17:1-41
1. The defeat of Israel, 17:1-6
2. The sins of Israel, 17:7-23
3. The resettlement of Israel, 17:24-41
II. The Surviving Kingdom of Judah, 18:1-25:30
A. The Reign of Hezekiah (715-686; 2 Chron. 29:1-32:33), 18:1-20:21
1. His reforms, 18:1-12
2. His deliverance from Sennacherib's two invasions, 18:13-19:37
3. His illness and recovery, 20:1-11
4. His foolishness before the Babylonians, 20:12-21
B. The Reign of Manasseh (695-642; 2 Chron. 33:1-20), 21:1-18
C. The Reign of Amon (642-640; 2 Chron. 33:21-25), 21:19-26
D. The Reign of Josiah (640-609; 2 Chron. 34:1-35:27), 22:1-23:30
1. He repairs the Temple, 22:1-7
2. He recovers the law, 22:8-20
3. He renews the covenant, 23:1-3
4. He reforms the nation, 23:4-30
E. The Reign of Jehoahaz (609; 2 Chron. 36:1-4), 23:31-33
F. The Reign of Jehoiakim (Eliakim; 609-597; 2 Chron. 36:5-8), 23:34-24:7
G. The Reign of Jehoiachin (597; 2 Chron. 36:9-10), 24:8-16
H. The Reign of Zedekiah (Mattaniah; 597-586; 2 Chron. 36:11-21), 24:17-25:21
1. Rebellion against Babylon and destruction of the Temple, 24:17-25:10
2. Third deportation to Babylon, 25:11-21
I. Gedaliah, the Puppet Governor (586), 25:22-26
J. The Release of Jehoiachin in Babylon, 25:27-30
Jesus is the Reason this Ministry Exists
We continue to reach people worldwide with the truths of God's Word and the gospel of the Lord Jesus Christ. Your generosity is both a blessing and encouragement. Our mission is to glorify God by equipping, encouraging, and empowering YOU to understand the Bible and grow in faith. If our online resources have blessed you, please support Reasons for Hope* Jesus. Our ministry outreach has grown significantly and . . .
Please support Reasons for Hope* Jesus with a donation of $5, $10, $20, or more. A donation of any amount is needed and greatly appreciated.
CLICK TO DONATE
to Reasons for Hope*Jesus(a 501c3 Ministry)
Use a Credit Card or PayPal for safe, secure giving.
***A Hidden Message in Psalm 23?***  
Hidden in the six verses of Psalm 23 are 11 names for Jesus.
When you subscribe to our newsletter, we'll send you
The Names of God in Psalm 23 PDF
that reveals all 11 names and Scripture verses of comfort and hope (link will be sent in your confirmation email).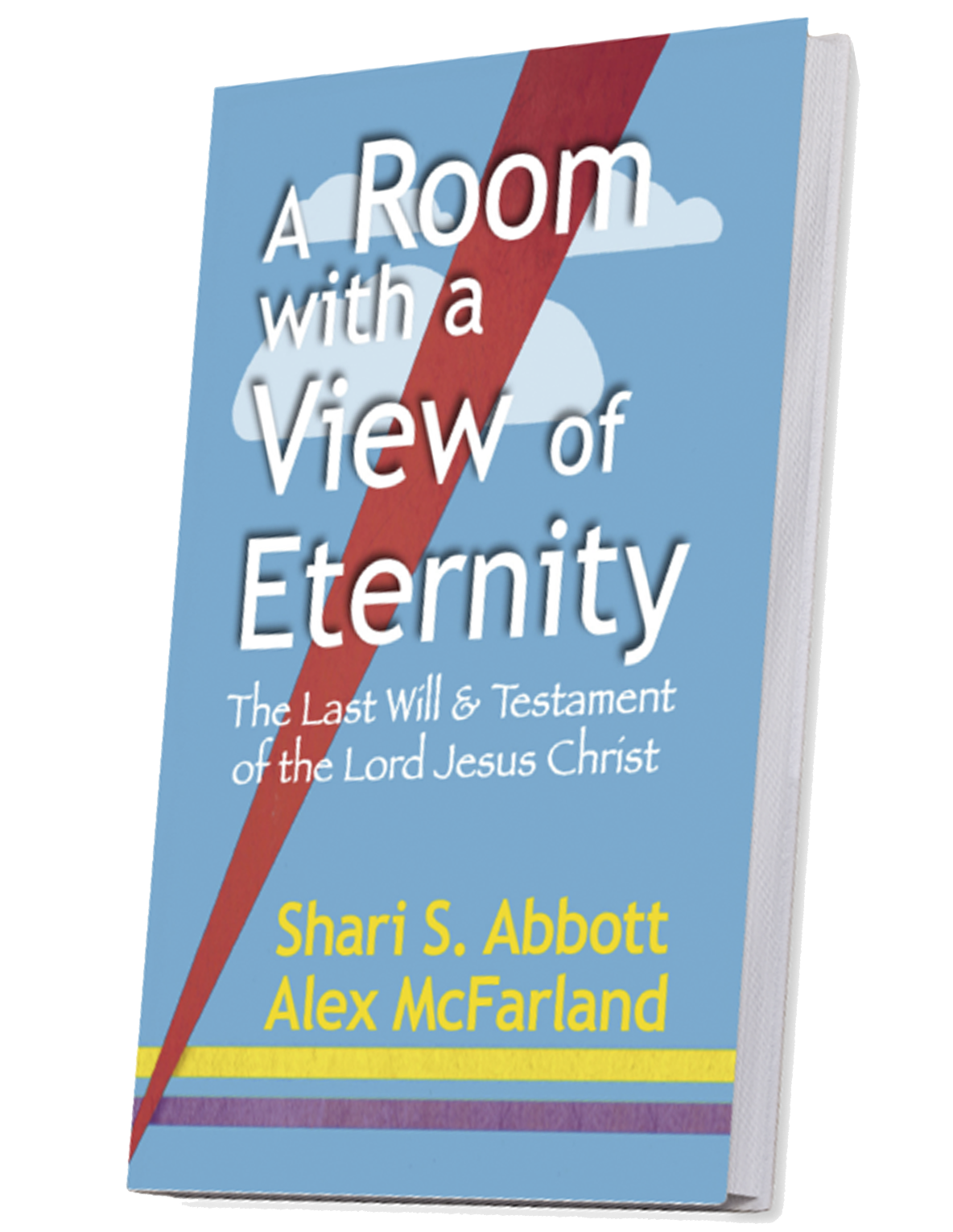 A Room with a View of Eternity—The Last Will & Testament of Jesus Christ   Take a seat at the Master's table. Learn about the riches He gives to all who are His. This book will bless and encourage you, give you hope, and help you live in the joy of your salvation and the riches of Christ that are yours.