Jesus' raising of Lazarus from the grave is, perhaps, the most wonderful of all the miracles He performed.  In the account, we see Jesus' humanity.  Jesus wept just like we do when we feel the sting of death.  We also read about His great love and compassion for His friends.  Significantly, and often overlooked, we also read of His dependence on His Father and His desire to do God's will.  Let's first take a look at the text and then address the question of why Jesus wept.
John 11 – The Raising of Lazarus
Lazarus is called "a certain man" in verse 1. He was not just any man.  Lazarus was loved by Jesus, and it was known by others.  This is revealed by the words of his sisters, in the message they sent to Jesus, "…Lord, behold, he whom You love is sick" (John 11:3).
When Jesus heard of Lazarus' sickness, He said, "This sickness is not unto death, but for the glory of God, that the Son of God may be glorified through it" (John 11:4).  Verse 4 reveals a purpose in Lazarus' sickness, and verse 5 further confirms Jesus' love:  "Jesus loved Martha and her sister and Lazarus."
Jesus' words, "this sickness is not unto death," seem to indicate that Jesus knew immediately the purpose of Lazarus' illness.  It was not to be a witness to the curse of sin, the body's sickness unto death, but it would be a testimony to the glory God.  Jesus' words, that "the Son of God may be glorified through it," seem to confirm that He would display a power of God alone, the power to resurrect a body from the grave.
The text goes on to tell that Jesus tarried rather than departing for Bethany.  We are not told where Jesus was when He heard of Lazarus' sickness, only that He stayed there two more days (John 11:6) and that Lazarus had been dead four days when He arrived in Bethany (John 11:39). We do not know why Jesus waited, but the Jerusalem Talmud gives a possible reason.  It records: For the first three days after death the soul floats above the body, thinking that it will return to the body. When the soul sees the body, that the appearance of the face has changed, it leaves the body and goes its way. (Yebamot 16:3)  Perhaps Jesus tarried to provide the people with evidence that Lazarus was dead and then they would believe that Jesus raised him.
We do know that Jesus must have been outside the area of Judea because, after the two-day wait, He said to His disciples, "…Let us go into Judaea again" (John 11:7).  His disciples then warned of the danger to Him by those who sought to kill Him (John 11:8).
Jesus Goes to Bethany
At this point Jesus reveals to His disciples that Lazarus is dead and that He will resurrect him, "Our friend Lazarus sleeps [a Hebrew term for death]; but I go, that I may awake him out of sleep" (John 11:11).  When Jesus arrived in Bethany, He was greeted by Martha, and He said, ""Your brother will rise again" (John 11:23).
Jesus wept when He saw the grief of those who were present mourning the death of Lazarus (John 11:33-35)
We all know the rest of the story, but we often miss an important teaching in verses 41-42.
John 11:41-42  ….And Jesus lifted up His eyes and said, "Father, I thank You that You have heard Me. And I know that You always hear Me, but because of the people who are standing by I said this, that they may believe that You sent Me."
Before Jesus performed this miracle, He thanked His Father for hearing Him, and He did so out loud, so it would be a testimony to the people present. When we come to the Father with our petitions, we should first give thanks, knowing that He hears us and assured that however, He answers it is because He loves us.
At the Lord's call, "Lazarus, come forth," Lazarus was raised from death and walked out of his tomb, still bound in the grave clothes.  Important to note here is that Lazarus was raised from death in a mortal body, still bound in the wrappings of death and still under the curse of death.  Jesus declared, "Loose him, and let him go" and so Lazarus lived again, but Lazarus would also one day die again.
When Jesus was raised from death, His grave clothes were left behind.  He had conquered death.  Death no longer had a hold on Him.  When we "die" to self and are raised to life in Christ, we are "loosed" from the bondage of the grave and the sting of death.
Why did Jesus cry?
It's clear that Jesus knew He would raise Lazarus to live again, so why did He cry when He was told of Lazarus' death?  Jesus was fully man and crying is a human emotion.  Washington Irving (1783-1859) provides an insight into the emotional response of tears.  Irving was an American author, essayist, biographer, historian, and diplomat of the early 19th century, but most importantly, he was also a devout Christian.  His words remind us that weeping does pour forth from the eyes, but tears flow from the depths of the heart's emotion.
There is a sacredness in tears. They are not the mark of weakness, but of power. They speak more eloquently than ten thousand tongues. They are the messengers of overwhelming grief, of deep contrition, and of unspeakable love. – Washington Irving 
Scripture Records Three Times When Jesus Wept 
1) In this passage, Jesus wept because He loved Lazarus, and Martha and Mary (John 11:5).  This reveals Jesus' fully human nature and the emotional pain of mourning that Jesus experienced.  Mourning is a very significant human sorrow that we all experience when a loved one dies and Jesus understands because He has experienced it.  Jesus also grieved over the cause of all physical death…sin.
Jesus wept in unspeakable love and overwhelming grief for His friends.
John 11:36  Then the Jews said, "See how He loved him!"
2) The second record of Jesus weeping is found in Luke 19:41 when Jesus wept over Jerusalem.  God gave Adam and Eve a perfect Garden and perfect communion with Him, but when they sinned they lost everything. God in His mercy promised salvation and began preparing a way to rescue mankind.  God raised up a people and gave them a land that would be their own and in that Promised Land was God's city, Jerusalem, the city of peace.  God first gave Adam and Eve a garden and then He gave His people a city—a place to dwell, a city on a hill, shining as a light in the land of Israel.  Yet, in their disobedience, just like Adam and Eve, Israel failed to keep God's city holy and set apart from pagan world powers.  In Luke 19:41 Jesus looked out upon God's city and wept.
Jesus wept in unspeakable love and overwhelming grief for Jerusalem.
Luke 19:41  Now as He drew near, He saw the city and wept over it.
3) The third record of Jesus weeping is found in a garden.  Jesus wept sweat "like great drops of blood." In the Garden of Gethsemane, Jesus prayed to His Father, knowing His time had come, and His physical body "wept" in deep grief.
Jesus wept in unspeakable love for man and overwhelming grief over the cost of man's sin.
 Luke 22:44  And being in agony, He prayed more earnestly. Then His sweat became like great drops of blood falling down to the ground.
Jesus wept because He was human
In His humanity, Jesus felt love, disappointment, loss, grief, and sadness–every human emotion that evokes tears from the heart. And, in His divinity, Jesus is fully LOVE (1 John 4:8, 16).  Jesus is abounding, amazing, unending, unspeakable and undeserved love, and He gives His love to us in every imaginable way….even in His tears.
There is a sacredness in tears….
They speak more eloquently than
ten thousand tongues. 
They are the messengers of…. unspeakable love.
– Washington Irving 
<*}}}><
Jesus is the Reason this Ministry Exists
We continue to reach people worldwide with the truths of God's Word and the gospel of the Lord Jesus Christ. Your generosity is both a blessing and encouragement. Our mission is to glorify God by equipping, encouraging, and empowering YOU to understand the Bible and grow in faith. If our online resources have blessed you, please support Reasons for Hope* Jesus. Our ministry outreach has grown significantly and . . .
Please support Reasons for Hope* Jesus with a donation of $5, $10, $20, or more. A donation of any amount is needed and greatly appreciated.
CLICK TO DONATE
to Reasons for Hope*Jesus(a 501c3 Ministry)
Use a Credit Card or PayPal for safe, secure giving.
***A Hidden Message in Psalm 23?***  
Hidden in the six verses of Psalm 23 are 11 names for Jesus.
When you subscribe to our newsletter, we'll send you
The Names of God in Psalm 23 PDF
that reveals all 11 names and Scripture verses of comfort and hope (link will be sent in your confirmation email).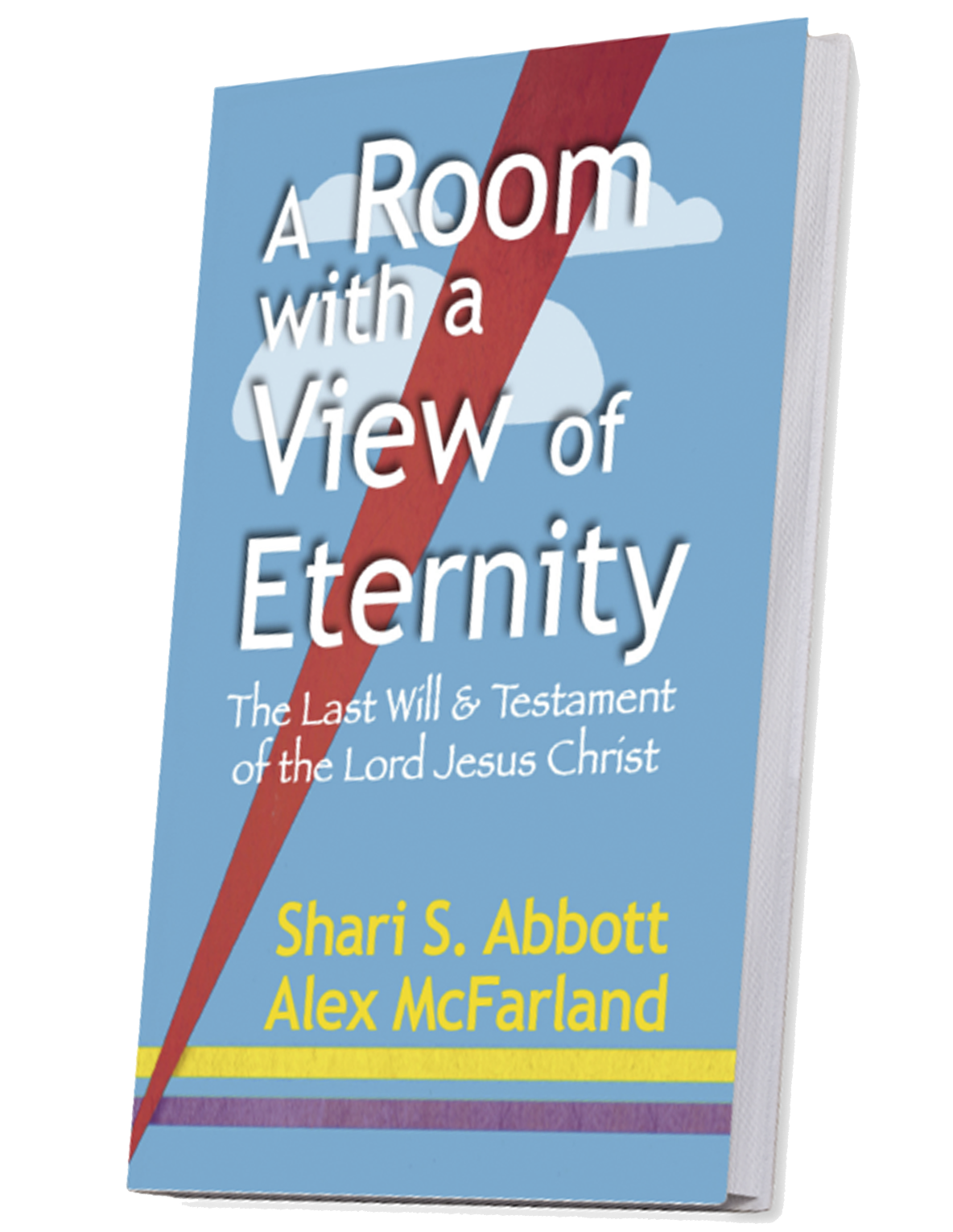 A Room with a View of Eternity—The Last Will & Testament of Jesus Christ   Take a seat at the Master's table. Learn about the riches He gives to all who are His. This book will bless and encourage you, give you hope, and help you live in the joy of your salvation and the riches of Christ that are yours.