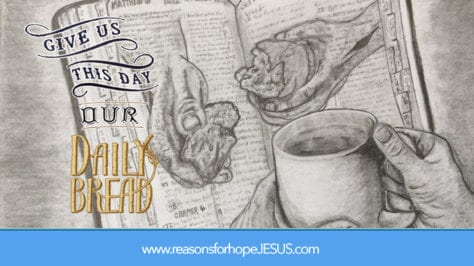 Daily Devotions with Pastor Chuck
From Paul's letter to the church at Philippi we read,
"For to me, to live is Christ, and to die is gain. But if I am to live on in the flesh, this will mean fruitful labor for me; and I do not know which to choose. But I am hard-pressed from both directions, having the desire to depart and be with Christ, for that is very much better; yet to remain on in the flesh is more necessary for your sake." (Philippians 1:21-24 – NASB)
Many times through the New Testament letters of the apostle Paul believers are instructed by him to follow his example as they live out their new life in Christ here on this earth. Paul confidently tells us that his walk, his thoughts, his desires, that all of these as they are revealed in the Scriptures, are approved of God and as such are godly patterns for each of us to live by (cf. II Timothy 3:16-17).
 
My portion of Scripture that I have chosen today speaks to us about a mind-set, a most proper mind-set for the disciple of Christ. I am of the belief it provides us with some very valuable insights in regards to our living life. There value lies in that they speak to our purpose for being here, as to why it is we are here, why we "remain on," and at the same time they speak to what should be our ultimate "desire." Oh how important it is that we seek to understand these things if our life is to be lived with a quality, with a purpose, with a right purpose, and not in the end be a life void of any lasting effect. 
 
Paul said that "for to (him), to live is Christ." If he was going to be inhabiting the flesh, moving from point to point on planet earth, then it was for "Christ" that he did so. What a marvelous pattern of purpose for our lives, for us to follow after, having the mind-set that for us "to live is Christ," that Jesus be manifested through us to a lost and dying world. His life, His words, His love, His hope, all conveyed to the world through us as we say along with the apostle Paul, "For to me, to live is Christ."
 
Note well that Paul was adamant that "to die is gain." For his strong "desire" was "to depart" the "flesh," the earthly realms, and "be with Christ." Why? Because he said, "for that is very much better." Oh what a valuable thing to know, is it not? Brethren, the apostle tells us "to die is gain," to "be with Christ . . . is very much better." 
 
But it was not yet his time to "be with Christ," there was work yet for Paul to do. And even though he "desired to depart" that was not God's will for him yet. No, he had purpose, for "to remain on in the flesh" he knew was for the "sake" of fellow believers, for the "sake" of the church; ultimately for the "sake" of "Christ."
 
We, brethren, while still inhabiting this "flesh," have a great deal to learn from these Scripture passages. For certain we learn that to "be with Christ . . . to die is gain." It is, Paul says, "very much better." But since it is that God has determined we are "to remain on in the flesh" then let us do so for the "sake" of "Christ," and thus for the "sake" of one another. There is a very important purpose for us being here on this earth . . . there is reason for us to "live on." 
 
Have a good day brethren . . . and seek to live as God teaches us to live through the example of the apostle Paul, with the same mind-set that embraces the same desires, the same purposes.
If you do NOT know Jesus, click here.
###
***A Hidden Message in Psalm 23?***  
Hidden in the six verses of Psalm 23 are 11 names for Jesus.  Subscribe to our newsletter and we'll send you The Names of God in Psalm 23 PDF that reveals all 11 names and Scripture verses of comfort and hope (link will be sent in your confirmation email).  SUBSCRIBE NOW
Please Share this Article on Social Media to Equip and Encourage Others
+++
Do not be anxious about anything.  (Phil 4:6)
In the midst of the COVID-19 pandemic, we must rightly remember who is in control.  Our God is sovereign over all things, including COVID-19.  As Charles Spurgeon (1834-1892) said, "The sovereignty of God is a soft pillow on which weary people lay their heads." 
Remember also God's gracious promise, and that it is true and He is faithful to keep it:  Hebrews 13:5 …"I will never leave you, nor forsake you."  The next verse remind us of the power that comes in trusting God and how we can live:  Hebrews 13:6 So that we may boldly say, The Lord is my helper, and I will not fear what man [or COVID-19] shall do to me.
God loves us, and in Christ we find confidence and calm in times of uncertainty and trouble.  When we trust in God, fear is replaced with faith, stress is replaced with strength, anxiety is gone and hope abounds, problems become opportunities, and we are able to receive the blessings God has for us in the midst of difficult circumstances. Turn to Jesus. He will lead you to the still waters and give rest for your troubled soul.  
This hope we have as an anchor of the soul, both sure and steadfast…Hebrews 6:19
****************************
Be Ready Always...
to give a reason for the Hope that you have (1 Peter 3:15).  When you can't share the gospel with your words, share it by leaving tracts that tell people about God's grace.
When leaving a tract, always be diligent to pray about the short gospel message. Pray that it be found by someone who is in need of Jesus' saving grace, and pray that the person will have a tender heart and open ears to receive the gift Jesus desires to give them.  
By the power of the Holy Spirit, even a small tract can help in turning a broken sinner from darkness to light.
SHARE THE GOSPEL!
Click the Image to Read the Messages on the Tracts