The answer is "yes!" and "no!"  Let me explain.
It must be understood that Jesus' death and resurrection each had their own specific work to accomplish. And each brought about a specific and separate part of God's redemptive plan for mankind.  Jesus' death and resurrection were two separate events, but both were necessary.
It could be likened to a coin.  A coin has images stamped on both the front and the back, and both sides are necessary to make it a coin.  If one of the images were missing, the coin would lose its value.
So also, if Jesus had not died, there could have been no resurrection.  And if Jesus had not risen from the dead, there could be no resurrection for mankind.  Therefore, although they are two separate events, they are linked together, inseparable in their purpose to bring about God's plan of redemption.
Let's examine the atonement (the death of Jesus) and the resurrection.
The Atonement
On the cross, Jesus said, "It is finished" (John 19:30).  So, what was finished?  It was the atonement (the payment) for the penalty of all the sins of the world.
John 3:16  For God so loved the world, that he gave His only begotten Son, that whosoever believeth in Him should not perish, but have everlasting life.  John 3:17  For God sent not his Son into the world to condemn the world; but that the world through him might be saved.
God gave Jesus to the world. That means everyone!  Jesus died and paid the penalty for the sins of every human being, from Adam to the last man who will be born.  But paying for the sins of all does not mean that all are forgiven.  Only "whosoever believes in Him" will be saved.   And that salvation is the gift of forgiveness of sins, regeneration of the soul, and the imputed righteousness of Christ.  (Read: The Gift of SalvaTION: Justification & Imputation)
The Resurrection
Because Jesus died and paid for our sins, man can be forgiven.
Because Jesus rose to life and conquered the grave, man can live forever.
If Jesus had not risen, He would not have the resurrected life of a man (eternal life) to give to us…."and our faith would be in vain" (1 Cor 15:14).   
You might be thinking, but He was God.  He couldn't die.  In part, that is true.  His soul did not die.  His soul went to Abraham's bosom (Read: Where did OT Saints go at death? Abraham's Bosom? Where was that?)  But His flesh, His physical body, died and went into a tomb (the grave).  
Jesus died just as all humans die — a physical death.  And it is that death that was conquered by His resurrection.  After three days, Jesus' soul rose out of Abraham's Bosom, and His physical body rose out of the grave.  Jesus then ascended to the Father and was glorified, receiving a glorified body likened to His earthly body but new in ways we cannot imagine.
Our Resurrection
In Christ, we currently have the resurrection of the soul.  It is a regeneration of the soul that happened when we believed that Jesus lived, died, was buried, and rose again to pay for our sins, forgive our sins, and give us eternal life.  In that resurrection, our souls were made alive.  We call it being born again (John 3).  Our souls were washed clean by Jesus' blood atonement (Rev 1:5) and we received Jesus' righteousness, making us positionally perfect in God's eyes. (Read: Did Jesus Really Mean "Be Perfect?" Matthew 5:48)
Simul Iustus et Peccator
 

(Simultaneously Justified and Sinner)

This Latin phrase says it all.  We are forgiven and born again, yet we are still sinners.  When we take our last breath, our souls will go to Heaven because we have the imputed righteousness of Christ (Read about the Doctrine of Imputed Righteousness).  But our flesh, our bodies, will die because we still sin.  The body will suffer the penalty of sin, which is death.  All flesh will go into the grave.  But Jesus, in His resurrection, conquered the grave. And one day, through Him, we will share in that victory.
The Bodily Resurrection
When we rise in the bodily resurrection, our bodies will be saved from the penalty of sin.  This explains what Paul meant when he wrote:
And if Christ be not raised, your faith is vain; you are yet in your sins.  1 Cor 15:17
We know from Paul's writings that all our sins have been forgiven and washed away.  We are justified (in our positional standing) because we have come to Christ in faith.  But in our practical living we still sin.  Paul wrote of this,  "I see another law in my members, warring against the law of my mind [my soul], and bringing me into captivity to the law of sin which is in my members [the flesh]."  Rom 7:23  Let's examine Paul's words…
"
captivity to the law of sin which is in my members…"
Paul repeatedly exhorted Christians to live and walk in the Spirit, not the flesh.
Rom 8:4  That the righteousness of the law might be fulfilled in us, who walk not after the flesh, but after the Spirit.
Gal 5:16  This I say then, Walk in the Spirit, and you shall not fulfill the lust of the flesh.
When we walk in the Spirit, the Holy Spirit empowers us to make the right choices that will honor God.  When we walk in the flesh, we too often make bad choices and sin.  Such sins are called sins of the flesh.
These sins do not affect our position in Christ and our union with God.  But they do, however, stain our practical living, our journey in sanctification. This is why John wrote that Christians should confess their sins and be cleansed (1 John 1:9).  Our union with God is clean, but sins of the flesh will stain our communion with God.
Death of the Flesh
As Christians, our souls have been washed clean, but our flesh has not. Just like non-believers, our bodies will go into the grave.  However, because we are Christians, our bodies will wait for salvation (a deliverance) — the bodily resurrection, the glorification of the body.  Had Jesus not risen from the grave, our bodies would not be delivered from the penalty of sin, death.
Paul wrote: O wretched man that I am! who shall deliver me from the body of this death? Rom 7:24 
The answer, of course, is Jesus!  He rose from the grave and conquered the death of the body.  And because He rose bodily and was glorified, we will also be raised bodily and glorified.
Rom 7:25  I thank God through Jesus Christ our Lord. So then with the mind [the regenerated soul] I myself serve the law of God; but with the flesh the law of sin.
Remember that only those who put their faith in Jesus will receive regeneration of the soul.  (Read:  What is Faith? Defined as Knowledge, Belief, Trust)  Remember also that the souls of all people will live eternally. Some will live in Heaven, and some in Hell. So also, the bodies of all people will have a bodily resurrection — believers will enter into glory, and unbelievers will be cast into the lake of fire. (Rev 20:12-15).
A Summary for Christians
When we came to Christ in faith,He forgave our sins, and we no longer face the penalty for sin in our positional standing before God.

 

When our souls were regenerated, we were given the Holy Spirit, and by His power, we can conquer the power of sin (sadly, we often forget the Power who lives in us to teach, guide, comfort, and help us).
And when we die, our souls will go to Heaven, and we will no longer be in the presence of sin.
But our bodies, our flesh, will suffer death, the penalty of sin.  Our bodies will lie in the grave (or ashes in an urn or scattered), until the day our remains are resurrected.  In the bodily resurrection, our souls will be reunited with our bodies and our victory in Christ will be complete.  Because He rose, we will rise, and the sinful flesh will be transformed into a glorious body.
1 Cor 15:52-55  In a moment, in the twinkling of an eye, at the last trump: for the trumpet shall sound, and the dead shall be raised incorruptible, and we shall be changed.  For this corruptible must put on incorruption, and this mortal must put on immortality. So when this corruptible shall have put on incorruption, and this mortal shall have put on immortality, then shall be brought to pass the saying that is written, Death is swallowed up in victory.
Phil 3:20-21  For our citizenship is in heaven, from which we also eagerly wait for the Savior, the Lord Jesus Christ, who will transform our lowly body that it may be conformed to His glorious body…
<*}}}><
Jesus is the Reason this Ministry Exists
We continue to reach people worldwide with the truths of God's Word and the gospel of the Lord Jesus Christ. Your generosity is both a blessing and encouragement. Our mission is to glorify God by equipping, encouraging, and empowering YOU to understand the Bible and grow in faith. If our online resources have blessed you, please support Reasons for Hope* Jesus. Our ministry outreach has grown significantly and . . .
Please support Reasons for Hope* Jesus with a donation of $5, $10, $20, or more. A donation of any amount is needed and greatly appreciated.
CLICK TO DONATE
to Reasons for Hope*Jesus(a 501c3 Ministry)
Use a Credit Card or PayPal for safe, secure giving.
***A Hidden Message in Psalm 23?***  
Hidden in the six verses of Psalm 23 are 11 names for Jesus.
When you subscribe to our newsletter, we'll send you
The Names of God in Psalm 23 PDF
that reveals all 11 names and Scripture verses of comfort and hope (link will be sent in your confirmation email).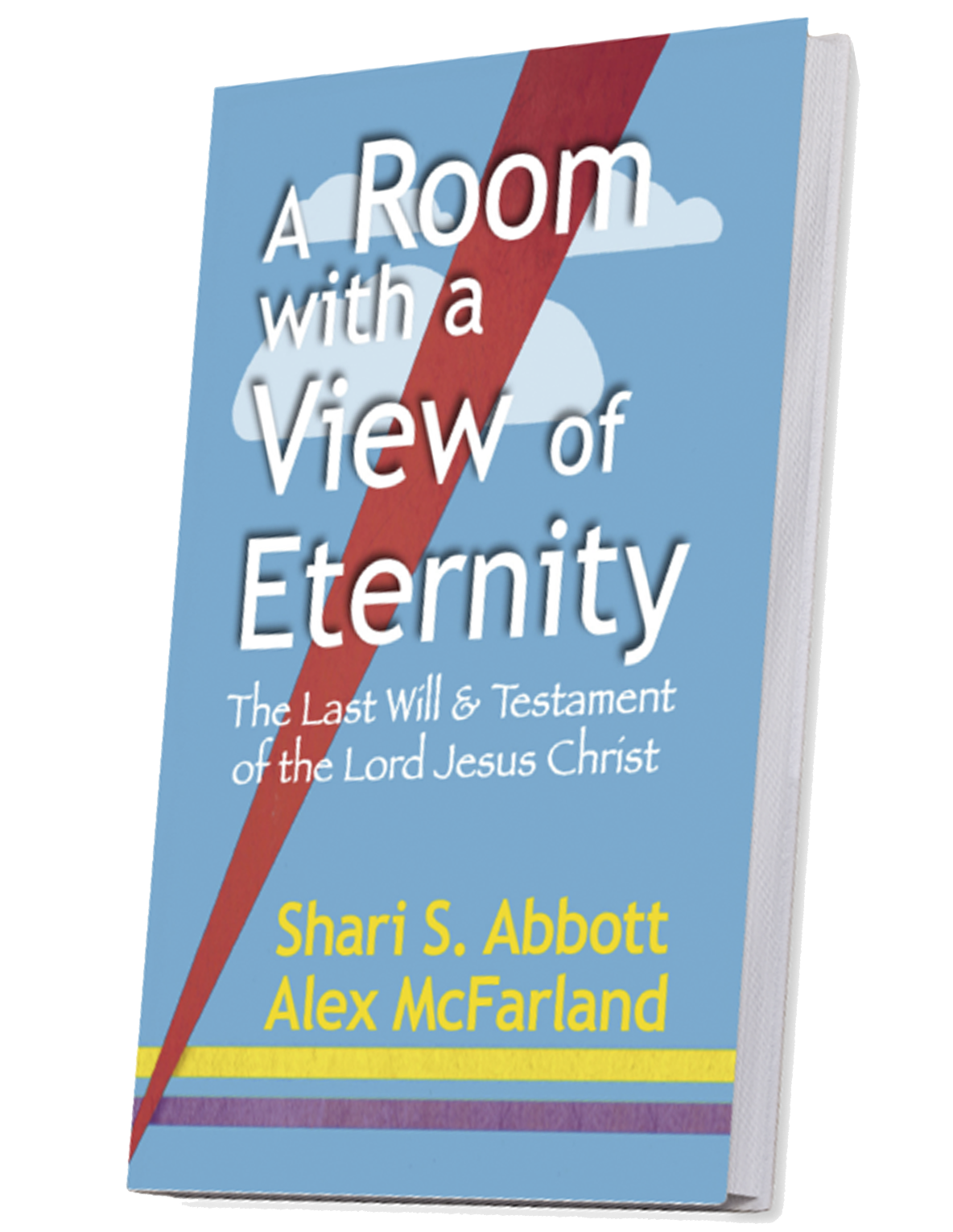 A Room with a View of Eternity—The Last Will & Testament of Jesus Christ   Take a seat at the Master's table. Learn about the riches He gives to all who are His. This book will bless and encourage you, give you hope, and help you live in the joy of your salvation and the riches of Christ that are yours.