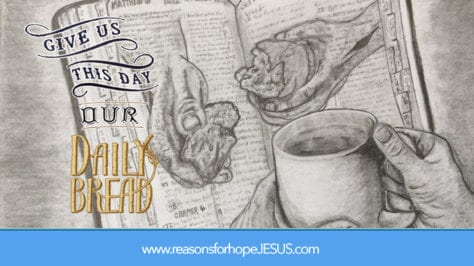 Daily Devotions with Pastor Chuck
The psalmist writes so appropriately,
"Give ear to my words, O LORD, consider my groaning. Heed the sound of my cry for help, my King and my God. For to Thee do I pray. In the morning, O LORD, Thou wilt hear my voice; in the morning, I will order my prayer to Thee and eagerly watch." (Psalm 5:1-3)
David, with great concern on his heart, was desiring that the Lord would give ear to his prayers as he sought him in the morning . . . and I would think that each of us has the same desire . . . different situations for sure . . . but the same desire.
 
From the book of Jeremiah we read,
"In the beginning of the reign of Jehoiakim . . . this word came from the LORD, saying, 'Thus says the LORD, 'Stand in the court of the LORD's house, and speak to all the cities of Judah, who have come to worship in the LORD's house, all the words that I have commanded you to speak . . . Perhaps they will listen and everyone will turn from his evil way.'" (Jeremiah 26:1-3 – NASB)
God was attempting to get the attention of His people in "all the cities of Judah." These people were gathering to "worship in the LORD's house." And even though it looked as if they were doing the right things they were, in reality, in need of turning "from (their) evil way." God used the prophet Jeremiah to call His people to repentance, desiring not to carry out judgment on them. 
 
But they did not listen to the prophet of God . . . 
"And the priests and the prophets and all the people heard Jeremiah speaking these words in the house of the LORD. And when Jeremiah finished speaking all that the LORD had commanded him to speak to all the people, the priests and the prophets and all the people seized him saying, 'You must die!'" (Jeremiah 26:7-8 – NASB)
The "priests" and the false "prophets" and "the people" who followed their counsel "heard Jeremiah" and they were not pleased with his message. It did not suit them at all, for they were a "people" that were obviously unable to see that they were not obeying the Law of God (26:4-5). To their state God sent His prophet, speaking in love to "the priests and the prophets and all the people," calling them to "turn" and be spared the calamity that was about to come upon them.
 
But "when Jeremiah" had "finished speaking all that the LORD had commanded him to speak" the multitudes did not discern the voice of the Lord, and they "seized" Jeremiah and they cried out, "You must die!" 
 
Priests and prophets, often, can be on different pages. Bringing this forward, there are many who, in our day, propose to speak for God. They have a message that seeks to comfort the masses when, in truth, things really are not well at all. 
 
I look at the condition of the church today and I sense a spirit of worldly entanglements that are drawing her further and further away from God and His Word. People like Joel Osteen, and many others like him, preach a message of, "Everything is good! Everything is so good for you!." They smile even as the people they speak to are embracing the spirit of this age. 
 
"Priests and prophets and the people" are all too often very pleased with where they are headed, but the book of Jeremiah is a stark reminder to us that they are not always headed in the way of God. It behooves us to take note brethren. 
 
Have a good day . . . and I would encourage you to constantly be in the Word, enabling yourself to discern the right message from the wrong message.
If you do NOT know Jesus, click here.
###
***A Hidden Message in Psalm 23?***  
Hidden in the six verses of Psalm 23 are 11 names for Jesus.  Subscribe to our newsletter and we'll send you The Names of God in Psalm 23 PDF that reveals all 11 names and Scripture verses of comfort and hope (link will be sent in your confirmation email).  SUBSCRIBE NOW
Please Share this Article on Social Media to Equip and Encourage Others
+++
Do not be anxious about anything.  (Phil 4:6)
In the midst of the COVID-19 pandemic, we must rightly remember who is in control.  Our God is sovereign over all things, including COVID-19.  As Charles Spurgeon (1834-1892) said, "The sovereignty of God is a soft pillow on which weary people lay their heads." 
Remember also God's gracious promise, and that it is true and He is faithful to keep it:  Hebrews 13:5 …"I will never leave you, nor forsake you."  The next verse remind us of the power that comes in trusting God and how we can live:  Hebrews 13:6 So that we may boldly say, The Lord is my helper, and I will not fear what man [or COVID-19] shall do to me.
God loves us, and in Christ we find confidence and calm in times of uncertainty and trouble.  When we trust in God, fear is replaced with faith, stress is replaced with strength, anxiety is gone and hope abounds, problems become opportunities, and we are able to receive the blessings God has for us in the midst of difficult circumstances. Turn to Jesus. He will lead you to the still waters and give rest for your troubled soul.  
This hope we have as an anchor of the soul, both sure and steadfast…Hebrews 6:19
****************************
Be Ready Always...
to give a reason for the Hope that you have (1 Peter 3:15).  When you can't share the gospel with your words, share it by leaving tracts that tell people about God's grace.
When leaving a tract, always be diligent to pray about the short gospel message. Pray that it be found by someone who is in need of Jesus' saving grace, and pray that the person will have a tender heart and open ears to receive the gift Jesus desires to give them.  
By the power of the Holy Spirit, even a small tract can help in turning a broken sinner from darkness to light.
SHARE THE GOSPEL!
Click the Image to Read the Messages on the Tracts