As I began to write about broken hearts, a song kept running through my mind (watch the song video below).  We'll look at the song lyrics, and you can watch the song video, but first, let's consider broken hearts.  
Broken Hearts and Broken Relationships
Broken hearts often lead to broken relationships.  Some are broken with biblical justification, such as adultery, abuse, or abandonment. But others are severed outside of the will of God and, therefore, can be classified as sin.
Now, you might be thinking that sounds kind of harsh.  But as Christians, we are called to be one, united in love, and living in a way that reflects Jesus. And Jesus' way is love and unity, not brokenness.  He came into our world to fix man's brokenness with God and to heal man's broken heart (Luke 4:18). With His help, we can do the same in our broken relationships.
Jesus Brought Reconciliation

 
Jesus' death on the cross paid for our sins and opened the way for us to receive forgiveness of sins, reconciliation with God, and a love relationship that is without end. There is no greater picture of love, forgiveness, and reconciliation than the Father's sacrifice in sending Jesus and Jesus' sacrifice in dying for us. It is the greatest gift of love ever given. 
The World's Way vs. God's Will
The secular world preaches a message of self-fulfillment at any cost. "Get all you can get.  Be all you can be.  Do all you can do."  And anyone who gets in your way or disagrees with you…just cut them off!  Break fellowship with them.  Many relationships have been broken over the smallest of matters, but whatever the circumstances, it usually boils down to one or both persons not getting what they want. God wants us to depend on Him and always, in all things, to do His will. That includes reconciling broken relationships.
Is there someone with whom you've broken fellowship?  As you answer that question, are you already counting the reasons why you are justified in doing so?  Perhaps it's time to stop keeping a record of wrongs and start loving the person more (1 Cor 13).  Jesus loved us enough to suffer and die for us so we can have a relationship with Him and the Father.  Can you find enough love to "die" to yourself to restore your relationship?  Consider again what Jesus did for you.
Is There Anything Jesus Cannot Ask of You?
Jesus gave His all for us, and we owe our all to Him.  He took our brokenness and made us whole.  Whatever Jesus asks of us, we should be willing to do. And when it comes to relationships, Jesus commanded that we love one another.
Love God and love our neighbors are the commandments that are to govern our lives. We find it very easy to love Jesus because He gave His life for us and gave us eternal life. What a blessing. What great gifts.  But how about our neighbors, our families, our friends?  Do we love them only when they meet our needs?  Do we love them only if they do what we want?  That is not love. And it is not what Jesus calls us to.  He calls us to agape love, a sacrificial love.  We are to love the unlovable because He loves us even when we are unlovable. He calls us to love, even when we don't want to, and to love others for His sake.
Three Questions
Is there someone in your life with whom you need to reconcile?

Are you willing to reconcile broken or suffering relationships in your life as Jesus did for you?  

Are you able to give the kind of sacrificial love that Jesus has given to you to others?  
If you answered "yes" to question number one, then as a Christian, you should also answer yes to the other two questions.  Jesus doesn't ask us to consider reconciling and loving. He tells us to do it. And when we remember that we already have His full and unconditional love, we are free to love others sacrificially.
Reconciliation Ministry
The ministry of reconciliation that Jesus was given is also given to us by God:
2 Corinthians 5:18  And all things are of God, who hath reconciled us to himself by Jesus Christ, and hath given to us the ministry of reconciliation.
If there is someone with whom you need to reconcile ("yes" to Q1) then Jesus will give you the desire to do so (Q2). And He will also give you the love that you need to make it possible (Q3). 
You might be thinking your broken relationship is too broken to repair, too difficult to reconcile.  Perhaps it is for you.  But with Jesus' help you are able to do so.  Jesus will always strengthen you to do His will. 
Jesus said to Paul, "My grace is sufficient for you: for my strength is made perfect in weakness" (2 Cor 12:9a).   And Paul understood that!  His response to Jesus' words is a truth we must always remember:   "Most gladly therefore will I rather glory in my infirmities, that the power of Christ may rest upon me" (2 Cor 12:9b).  Remember, you can do all things through Christ who strengthens you (Philippians 4:13).
Bless someone in your life today. Repair a broken relationship. Reconcile and make things new, for the day may come when it will be too late. 
Ephesians 4:32  And be kind one to another, tenderhearted, forgiving one another, even as God for Christ's sake hath forgiven you.
<*}}}><
How Can You Mend a Broken Heart?
I can think of younger days when living for my life
Was everything a man could want to do
I could never see tomorrow, but I was never told about the sorrow
And how can you mend a broken heart?
How can you stop the rain from falling down?
How can you stop the sun from shining?
What makes the world go round?
How can you mend this broken man?
How can a loser ever win?
Please help me mend my broken heart and let me live again.
I can still feel the breeze that rustles through the trees
And misty memories of days gone by
We could never see tomorrow, no one said a word about the sorrow
And how can you mend a broken heart?
How can you stop the rain from falling down?
How can you stop the sun from shining?
What makes the world go round?
How can you mend this broken man?
How can a loser ever win?
Please help me mend my broken heart and let me live again.
How Can You Mend a Broken Heart
The question should not be "what makes the world go round?" but rather, "Who makes the world go round?"  We know it is Jesus, the Creator of all things.  And therefore, for Christians, when we ask, "
Please help me mend my broken heart and let me live again," we are seeking Jesus.  He can, and will, mend our broken hearts.
Look at the heart image again and see the cross.  The love of Christ was most magnificently displayed on the cross.  And Jesus promises to bind up our wound and makes us whole again.  His love mends all things and makes all things new. Let His love work in and through you. And to do that, I borrow from the words of another song:
Turn your eyes upon Jesus
Look full in his wonderful face
And the things of earth will grow strangely dim
In the light of his glory and grace.
Jesus is the Reason this Ministry Exists
At  Reasons for Hope* Jesus, we are committed to equipping, encouraging, and empowering Christians to know Jesus better, love Him more, and share their faith. We also reach the lost through our Salvation Page. 
With your support, we can continue to provide valuable resources and engaging content.  Please join us in our mission by donating today. Your generous contribution helps us expand our outreach of sharing biblical truths and hope in Jesus.  Thank you for your kindness and for being an integral part of our mission.
***A Hidden Message in Psalm 23?***  
Hidden in the six verses of Psalm 23 are 11 names for Jesus.
When you subscribe to our newsletter, we'll send you
The Names of God in Psalm 23 PDF
that reveals all 11 names and Scripture verses of comfort and hope (link will be sent in your confirmation email).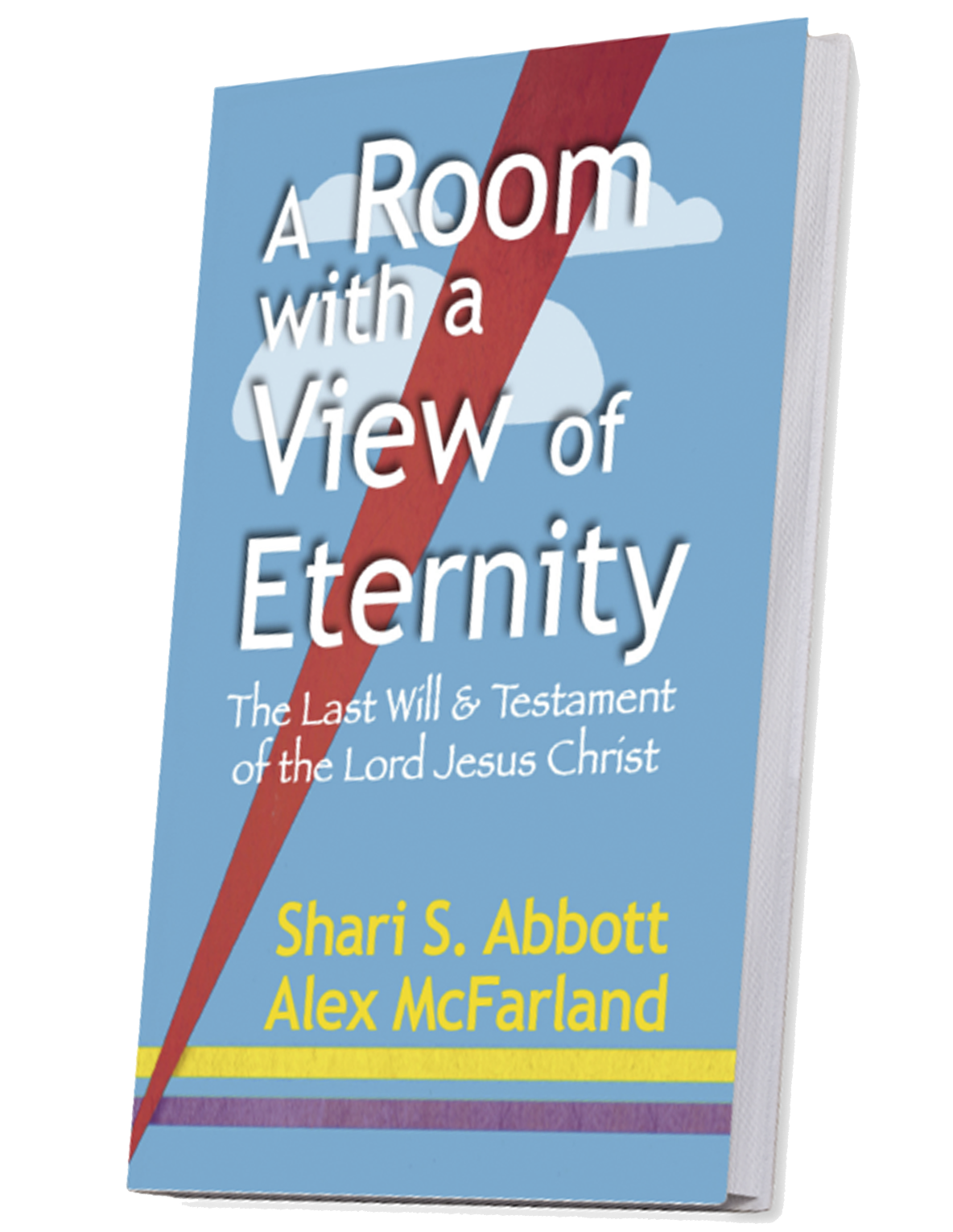 A Room with a View of Eternity—The Last Will & Testament of Jesus Christ   Take a seat at the Master's table. Learn about the riches He gives to all who are His. This book will bless and encourage you, give you hope, and help you live in the joy of your salvation and the riches of Christ that are yours.