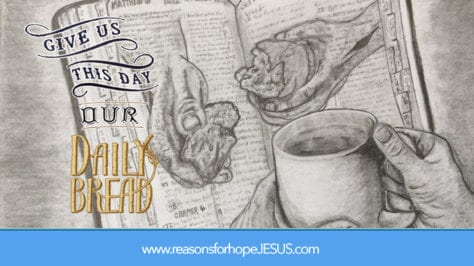 Daily Devotions with Pastor Chuck
 A Lesson for April Fool's Day
From Paul's final letter, written to his beloved Timothy, we read,
"Make every effort to come to me soon; for Demas, having loved this present world, has deserted me and gone to Thessalonica;" (II Timothy 4:9-10 – NASB)
There is in this short text a certain sadness conveyed from the apostle Paul. Paul is in Rome, in prison, under the watchful eye of the Roman guard. He greatly desires that Timothy will "come . . . soon," for it is evident that Paul is aware that his on this earth is short (II Timothy 4:6-8). In this state, he experiences the presence of Luke, a devoted fellow believer, a co-laborer who is now the only one with him (II Timothy 4:11). Luke is the only one with him because another co-worker named "Demas . . . has deserted" him.
 
Do you know about "Demas?" He had been a cherished co-laborer with Paul, a co-worker in the spreading of the gospel message of Jesus the Christ (Philemon 24; Colossians 4:14). He seemed to be the real deal. 
 
But, the Scripture tells us that at some point during this time in Rome "Demas" made it known that he "loved this present world," and so he left Paul's presence and headed to "Thessalonica."
 
This word "deserted" speaks of "letting someone down." It is a strong word suggesting "forsaking one who is in a set of circumstances that are against him." Paul was awaiting execution. 
 
At this point in the ministry, a most trying time, we find out that "Demas . . . loved this present world." Kenneth Wuest, former Greek instructor at Moody Bible Institute, writes concerning this text that he "had set a high value on this present age." The word for "world" here is aion, better translated "age." It speaks of, in an ethical sense, the "aims and hopes and aspirations" that define the "current time." It speaks of "the spirit of" those "who are living alienated and apart from God." As someone has written, "the spirit of the age had gotten hold of him." 
 
This is a difficult passage, one that should cause us pause. As much as it is a sad report it also is an alarming one! For we come to the understanding that this world we live in can serve as a powerful tool of seduction that can actually draw a person away from the work of Christ. And this "love" of the "present age" can be even more inviting when conditions are not so favorable. 
 
Do you know about Demas? After reading about this man these words from John's first letter come swiftly to my mind,
"Do not love the world, nor the things in the world. If anyone loves the world, the love of the Father is not in him. For all that is in the world, the lust of the flesh and the lust of the eyes and the boastful pride of life, is not from the Father, but is from the world." (I John 2:15-16 – NASB)
 
And as he commands those he is addressing to "stop loving the world," take special note of John's refrain,
"And the world is passing away, and also its lusts" (I John 2:17- NASB)
What a fool Demas was.  He turned his back on God, choosing rather to embrace the trappings of "the age" rather than to reap the eternal blessings of Christ. It can happen! Was he really ever saved? Was the "love" for "the age" always in his heart? This "Demas" certainly causes one to ask such questions. And this "Demas" also serves as one who causes us to examine ourselves. 
 
Have a good day brethren . . . and let it be said of you and I that, by God's grace, we not be found to be as Demas.
 
If you do NOT know Jesus, click here.
###
***A Hidden Message in Psalm 23?***  
Hidden in the six verses of Psalm 23 are 11 names for Jesus.  Subscribe to our newsletter and we'll send you The Names of God in Psalm 23 PDF that reveals all 11 names and Scripture verses of comfort and hope (link will be sent in your confirmation email).  SUBSCRIBE NOW
Please Share this Article on Social Media to Equip and Encourage Others
+++
Do not be anxious about anything.  (Phil 4:6)
In the midst of the COVID-19 pandemic, we must rightly remember who is in control.  Our God is sovereign over all things, including COVID-19.  As Charles Spurgeon (1834-1892) said, "The sovereignty of God is a soft pillow on which weary people lay their heads." 
Remember also God's gracious promise, and that it is true and He is faithful to keep it:  Hebrews 13:5 …"I will never leave you, nor forsake you."  The next verse remind us of the power that comes in trusting God and how we can live:  Hebrews 13:6 So that we may boldly say, The Lord is my helper, and I will not fear what man [or COVID-19] shall do to me.
God loves us, and in Christ we find confidence and calm in times of uncertainty and trouble.  When we trust in God, fear is replaced with faith, stress is replaced with strength, anxiety is gone and hope abounds, problems become opportunities, and we are able to receive the blessings God has for us in the midst of difficult circumstances. Turn to Jesus. He will lead you to the still waters and give rest for your troubled soul.  
This hope we have as an anchor of the soul, both sure and steadfast…Hebrews 6:19
****************************
Be Ready Always...
to give a reason for the Hope that you have (1 Peter 3:15).  When you can't share the gospel with your words, share it by leaving tracts that tell people about God's grace.
When leaving a tract, always be diligent to pray about the short gospel message. Pray that it be found by someone who is in need of Jesus' saving grace, and pray that the person will have a tender heart and open ears to receive the gift Jesus desires to give them.  
By the power of the Holy Spirit, even a small tract can help in turning a broken sinner from darkness to light.
SHARE THE GOSPEL!
Click the Image to Read the Messages on the Tracts