I recently saw the movie, "I Can Only Imagine" — based on the song by the same name. The story of the movie is an amazing testimony to the grace of redemption and the transformation that only Jesus can give. 
I encourage all Christians to see this movie at the theater.  Don't wait for the DVD, see it now!  It's amazingly moving and powerful on the silver screen. The story will encourage you with grace and inspire you with hope.  The movie's message is true: Jesus IS the answer to all our problems.  He holds the future, and, one day, all who are His will go to be with Him.  
This raises the question, what will it be like?  (Heaven)
I Can Only Imagine — the Song
The opening words tell us, that we "can only imagine, what it will be like."  And, we must remember that our imagination must always be guided by the inspiration the Bible gives.  While the Bible does not tell a great deal about Heaven, it does give significant insights that help us imagine what we will see and what we will do when we stand in the presence of Jesus.  The song asks:
Will we dance for Jesus? (3rd line of the song's refrain) Or

 in awe be still (line 4)?

Will we stand? Or fall to our knees (lines 5 and 6)? 

Will we sing hallelujah? Or will we be able to sing at all (lines 7 and 8)?
Yes, we can imagine those things.  But by using the Bible, we can also reason and discern them.  In doing so we can find answers to these questions.  
Light and Color in the Throne Room
In the fourth chapter of the book of Revelation, we get a glimpse into the Throne Room of God.  Seated on the throne is the Brilliance of Light and Color, as John described Him:
Rev 4:3  And He who sat there was like a jasper and a sardius stone in appearance; and there was a rainbow around the throne, in appearance like an emerald.
John described what he saw, and what he saw were the beautiful colors of God's glory. John described it as "like a jasper and a sardius stone."  
It's interesting to note that sardius was the first stone in the breastplate of the Temple high priest (Exo 28:17). It represented Reuben, whose name means "behold a son." Reuben was the firstborn of Jacob, and Jesus is the firstborn of the dead. 
Jasper was the 12th stone, the last stone, in the high priest's breastplate (Exo 28:20). It represented Benjamin, whose name means "son of my right hand."  Jesus, of course, is seated at the right hand of God.  He is The Son of God's Right Hand (Heb 10:12).  He is the first, the sardius, and the last, the jasper. Jesus is our High Priest who represents before God.  Symbolically, the breastplate represented the twelve tribes and the weight of the people's sin upon the high priest.  We know the sins of the whole world were laid upon Jesus and He bore them on the cross.  Interestingly, John mentions the stones in reverse order (jasper and sardius) of that in Exodus (sardius and jasper).  This brings to mind Mat 19:30  "…many who are first will be last, and the last first."
John also saw a "rainbow" around the throne. The Greek word translated "rainbow" is "iris," and it can also mean "halo." "Iris" is the English word for the part of our eye that allows light to reach our retina.  How much light we see is determined by how much the iris allows to enter.  In Heaven, this iris (halo or rainbow) radiates the most brilliant light, the Light of the World.  And, in Heaven, we will see that Light fully, for that Light is Jesus.
John 8:12 [Jesus said], I am the light of the world: he who follows me shall not walk in darkness, but shall have the light of life.
The "rainbow" seen in Rev 4:3 should also remind us of God's covenant with Noah (Gen 9:13, 14, 16) The rainbow belongs to God, not to any person or people group.  It was given by God as a sign of His love and mercy and also as a token of the Noahic covenant between Himself and all flesh.  The Noahic covenant is an everlasting covenant and the rainbow reminds us that in the midst of judgment God is all-loving, merciful, and gracious.
The rainbow is described, appearing as an emerald. Emeralds are green in color, which denotes life. In this case, the vision of a rainbow should remind us of eternal life that emanates from the throne, from the One who sits on the throne. Jesus came to bring eternal life to all who would believe in Him (John 3:14-16).  He is the way, the truth, and the life (John 14:6).
John the Apostle, John the Prophet
When John was called up to Heaven (Rev 4:1), he was told to write what he saw.  John, who was an apostle of Jesus, at this time, also served as a prophet of God.  God spoke His truths to the prophets of old and they conveyed God's truths to the people.  Jesus revealed His glory to John and showed him the things to come, and John wrote what He saw to share with all people, in all generations.
In the Book of Revelation, John prophecied of the things which he had seen, and the things which were at that time, and the things which would take place in the future  (Rev 1:19).  In chapter four, John has given us a most beautiful "picture" of the Throne Room of God and an even more precious hope of all that is to come.
An Old Testament Vision of Heaven
Ezekiel also had a vision of the heavenly realm and it was very similar to what John saw. In his vision of glory, Ezekiel also saw a rainbow:
Ezek 1:26-28  And above the firmament over their heads was the likeness of a throne, in appearance like a sapphire stone; on the likeness of the throne was a likeness with the appearance of a man high above it… and from the appearance of His waist and downward I saw, as it were, the appearance of fire with brightness all around. Like the appearance of a rainbow in a cloud on a rainy day, so was the appearance of the brightness all around it. This was the appearance of the likeness of the glory of the LORD.
Ezekiel tells us that "the likeness of the glory of the Lord" was "like the appearance of a rainbow." This suggests it is not an actual rainbow, such as the one displayed by God in the heavens after the Noahic flood, or the ones we see when the sun shines brilliantly after the rain.  The rainbow Ezekiel and John saw is an eternal rainbow that does not disappear.  It is a rainbow of light that is almost indescribable in brilliance and intrinsically connected to the Person and the glory of God. This light represents and displays the fullness of His glory — His mercy, grace, love, patience, goodness, kindness, joy, and every attribute of His being. This should be of no surprise since we know our God is "gracious and full of compassion, Slow to anger and great in mercy." (Psa 145:8)
John 1:14  And the Word was made flesh, and dwelt among us, (and we beheld His glory, the glory as of the only begotten of the Father,) full of grace and truth.
Stand or Fall? Dance or Be Still? Speak or Sing?
As the song suggests, we can only imagine.  But again, using the Word of God, we can also reason by "entering" into the Throne Room of God and "seeing" Heaven through John's vision.
Worship in Heaven
Revelation 4 tells that those who are before the Throne fall down in worship.
Rev 4:10-11   The four and twenty elders fall down before Him who sits on the throne, and worship Him who lives forever and ever, and cast their crowns before the throne, saying, "You art worthy, O Lord, to receive glory and honor and power: for You have created all things, and for Your pleasure they are and were created."
It's believed that the words in Heaven will be melodic—a type of singing— and most likely it will sound more glorious than the most accomplished and acclaimed singers on this earth.  It appears that our worship will be spoken and sung.  
So, let's review.  What are the answers to our questions: Stand or Fall? Dance or Be Still? Speak or Sing?
Yes, we will stand and, yes, we will fall.  

Yes, we will speak and, yes, we will sing.

Yes, we will stand in awe and, yes, we will be still

.
But Will We Dance?
What is dance but a rhythmic movement to the sounds of music?  It is a response to music that results in a series of movements that match the speed and rhythm of the music.  I suggest to you, that it is a response of the soul and the spirit and therefore we will dance in Heaven—and it will please the Lord.
Psa 149:3  Let them praise His name with the dance; Let them sing praises to Him with the timbrel and harp.
Psa 150:4  Praise Him with the timbrel and dance; Praise Him with stringed instruments and flutes!
It's reasonable to believe that there will be dancing.  There will be singing and speaking, standing in awe and bowing in worship. But something will be missing.
What's Missing in Heaven?
You might be quick to answer "sin." And that is true. There will be no sin in Heaven. 
But there's something else that will be missing in Heaven….imagination.
Right now we live in a time when Christ is with us. We love Him, having never seen Him with our eyes. By our knowledge of His word and our imagination of the hope to come, we know Him and we rejoice with joy unspeakable and filled with His glory (1 Pet 1:8).  But one day, when we go to be with Him, we will enter into His presence in the Throne Room.  We will see Him in all His glory and join with the multitude in praise and worship.
1 Cor 13:12  For now we see in a mirror, dimly, but then face to face. Now I know in part, but then I shall know just as I also am known.
Rev 5:11-12 Then I looked, and I heard the voice of many angels around the throne, the living creatures, and the elders; and the number of them was ten thousand times ten thousand, and thousands of thousands, saying with a loud voice: "Worthy is the Lamb who was slain To receive power and riches and wisdom, And strength and honor and glory and blessing!"
Rev 5:13-14  And every creature which is in heaven and on the earth and under the earth and such as are in the sea, and all that are in them, I heard saying: "Blessing and honor and glory and power Be to Him who sits on the throne, And to the Lamb, forever and ever!"  Then the four living creatures said, "Amen!" And the twenty-four elders fell down and worshiped Him who lives forever and ever.
In Heaven, We Will No Longer Imagine
Imagining is for now.  It is for the unseen.  When we see Jesus face-to-face our joy will be speakable and it will be singable.  Our awe will be overwhelming and our worship overflowing.  Our spirits will be unbounded by earthly constraints and human sin.  Our souls will be unleashed to praise and worship God in the fullness of purity and perfection.
Oh, what a glorious day it will be when we walk by His side, and our eyes will see!
Right Here, Right Now
As already said, imagining is for now. So take a minute and let the song inspire you to imagine. 
Watch one of our favorite renditions of the song, "I Can Only Imagine."  
It's sung by Wynona Judd and she begins with her testimony of a time when this song ministered hope to her spirit.
About the song:  "I Can Only Imagine," was written by the lead vocalist of the Christian band Mercy Me. It was released in 1999 on their album, "The Worship Project."  In 2003 the song was released as a single (with the song "Word of God Speak" on the flip side) and it charted at #5 on the Billboard Adult Contemporary and #71 on the Hot 100.  In 2002, the song earned Dove Awards for Pop/Contemporary Recorded Song of the Year and Song of the Year.  Millard also won the Songwriter of the Year award.
"I Can Only Imagine" is the best-selling Christian single of all time. It has sold 2.5 million copies and has been certified platinum three times by the Recording Industry Association of America (RIAA). As of 2018, it is the only Christian song to achieve that honor.
Jesus is the Reason this Ministry Exists
Thank you to all who contributed in 2020. Your generosity is a blessing and encouragement to us.  We did not meet expenses in 2020 and still need your help to continue our global outreach in 2021.  Our mission is to glorify God by equipping, encouraging, and empowering YOU to understand the Bible and grow in faith. If our online resources have blessed you, we hope you will support Reasons for Hope* Jesus. Our ministry outreach has grown significantly and. . .
Please support Reasons for Hope* Jesus with a donation of $5, $10, $20, or more. A donation of any amount is needed and greatly appreciated.
CLICK TO DONATE
to Reasons for Hope*Jesus(a 501c3 Ministry)
Use a Credit Card or PayPal for safe, secure giving.
***A Hidden Message in Psalm 23?***  
Hidden in the six verses of Psalm 23 are 11 names for Jesus.
When you subscribe to our newsletter, we'll send you
The Names of God in Psalm 23 PDF
that reveals all 11 names and Scripture verses of comfort and hope (link will be sent in your confirmation email).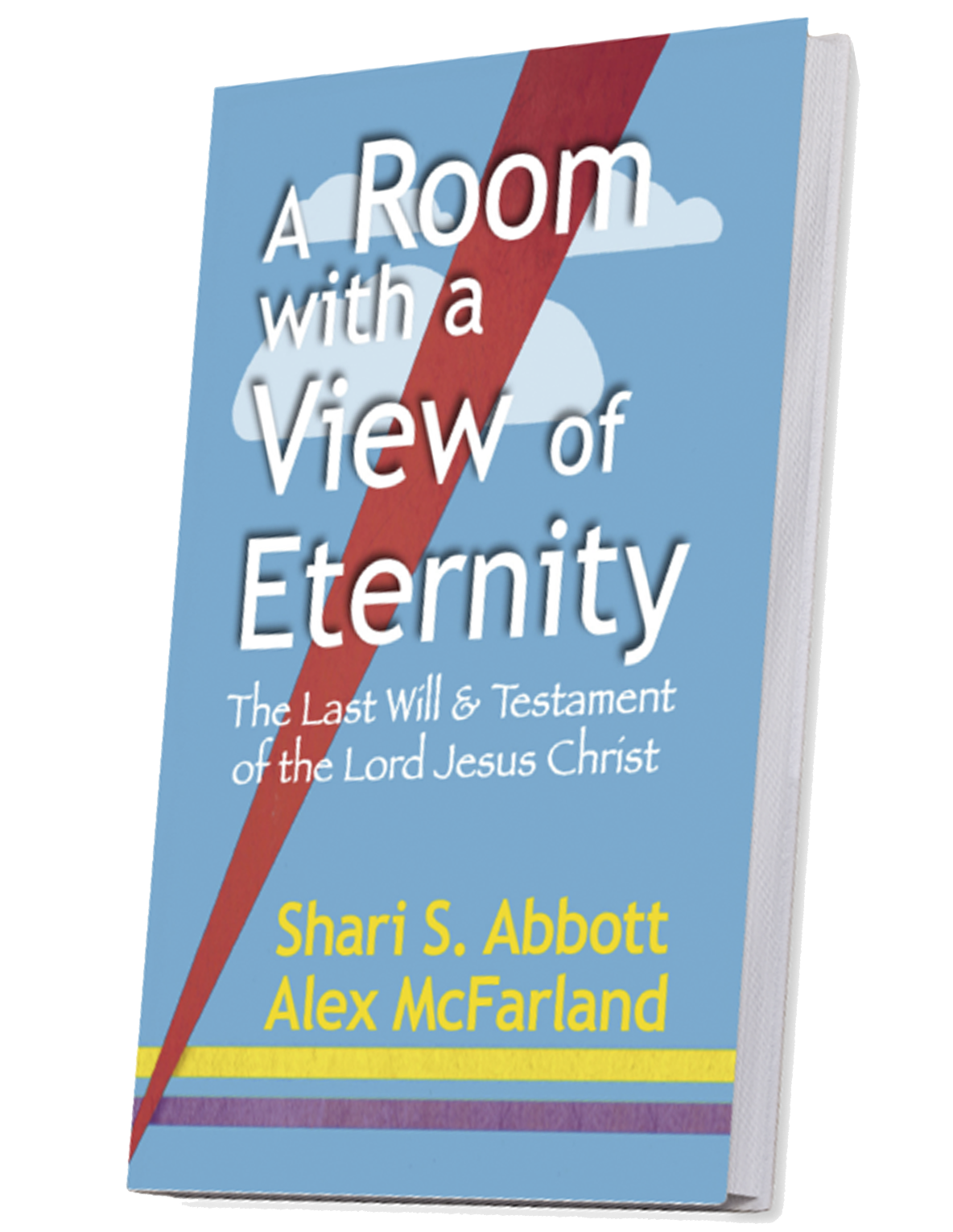 A Room with a View of Eternity—The Last Will & Testament of Jesus Christ
Take a seat at the Master's table. Learn about the riches He gives to all who are His. This book will bless and encourage you, give you hope, and help you live in the joy of your salvation and the riches of Christ that are yours.
Top Ten  in 2019
More Popular Questions & Articles:
If BAPTIZED as an Infant, Do I Need to Be Baptized Again?
How was Jesus Like a Worm? What's the CRIMSON (OR SCARLET) WORM? Psalm 22
Is Satan's Real Name LUCIFER? Or Should We Call Him Satan?
What is the Significance of the Wise Men's THREE GIFTS? And were they kings? 
Was Jesus CRUCIFIED on Wednesday, Thursday, or Friday?
The Names of Jehovah hidden in Psalm 23! This will surprise you!
What Did Jesus Say About HEAVEN (and HELL)?
JESUS WEPT. Why? And…it's not the shortest verse in the Bible!
Is There a Remez (HIDDEN MESSAGE ) in Revelation 7? Why is Dan Missing?
What Does it Mean to Be A CHILD OF GOD?
Why Is PRAYER Important?
Is SUICIDE an Unforgivable Sin?
Something ALL Christians must know:  IVDARR
Our Top Three Videos
Christian Version of Leonard Cohen's HALLELUJAH
Memorial Day BAGPIPES TRIBUTE: Amazing Grace
RISE AND SHINE and Give God the Glory, Glory!

Help us spread the good news and saving grace of the Lord Jesus Christ.
Please tell your friends about ReasonsforHopeJesus.com. If you have a website or blog, please link to ReasonsforHopeJesus.com.   All resources on this site © Reasons for Hope* Jesus --  click for Republication Permissions or contact hope@reasonsforhopeJesus.com