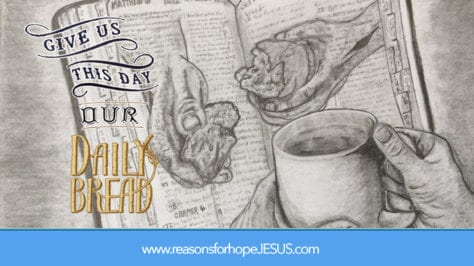 Daily Devotions with Pastor Chuck
From the Psalms we read,
"For Thou art not a God who takes pleasure in wickedness; no evil dwells with Thee. The boastful shall not stand before Thine eyes; Thou dost hate all who do iniquity" (Psalms 5:4-6 – NASB)
Our warm and fuzzies are disturbed many a time as we read and learn the Scriptures and grow in the knowledge of our God. So many have this idea that God is all love and so that means He is somehow incapable of anger or "hate." Nothing could be so far from the truth. Our text makes it clear that "God" is "not" One "who takes pleasure in wickedness." The psalmist writes, "God . . . dost hate all who do iniquity." 
 
Is "hate" ever justifiable? It is when God "hates." 
"The LORD test the righteous and the wicked, and the one who loves violence His soul hates." (Psalm 11:5 – NASB)
There are those in this world who seek after nothing but "violence." The Scripture tells us that "His soul hates" such "wicked" people.
 
I've heard the saying, and I'm sure you have also, that, "God hates the sin but loves the sinner." This is not a verse, nor is it a text that is located in any Bible chapter or stated as such in the Scriptures. It is worthy to note that,
"God is a just judge, and God is angry with the wicked every day" (Psalm 7:11 – NKJV)
The sin of man is a putrid odor rising up to a Holy God, and it stirs His anger "every day." It is no secret to anyone who knows the Bible that God "hates" sin! And being "a just judge," He will deal with man's "iniquity," He will deal with that which He hates. 
"There are six things which the LORD hates, yes, seven which are an abomination to Him: Haughty eyes, a lying tongue, and hands that shed innocent blood, a heart that devises wicked plans, feet tat run rapidly to evil, a false witness who utters lies, and one who spreads strive among brothers." (Proverbs 6:16-19 – NASB)
Take note from this text that these "things which" God "hates . . . are an abomination to Him." An "abomination" by its very definition is something that is morally disgusting, and God "hates" that which is morally disgusting! Things that are used in association with this word "abomination" are,
 idolatry (Deuteronomy 7:25),
homosexuality (Leviticus 18:22),
human sacrifice (Deuteronomy 12:31),
engaging in occult activities (Deuteronomy 18:9-14),
dishonest business practices (Deuteronomy 25:13-16) . . .
. . . and there is much, much more. 
God "hates" these things and they are practices that He will not allow to go unpunished. He dealt with Israel when they were involved in them and He will deal with any nation or people that choose to practice them. 
A notable passage from Romans that strikes a cord in many who read the Bible is,
"Just as it is written, 'Jacob I loved, but Esau I hated.'" (Romans 9:13 – NASB)
And this "hated" is a most perfect hatred, a divine hatred that is right, and pure, and holy . . .  and yes . . . is by all means justifiable.
 
All of mankind has chosen to turn to their own ways (Isaiah 53:6), ways that the Creator never intended for them to go. If divine hate is there it is because man, along with Satan and his demons, has stoked those fires. In the scope of it all, things as they are, our "iniquity" has led to the manifestation of divine "hatred." 
 
What is so very, very amazing, is that in the midst of knowing that God hates and how we as a people do the "things" that He hates, He loved us and sent His Son to save us. I see His hate against the backdrop of His mercy and grace and I am in awe! Amazing, amazing grace . . . that has saved a wretch like me.
Have a good day. . . and take thought of this: The Bible really teaches us to hate the sin and have compassion for the sinner, a compassion that calls to repentance before God judges.
If you do NOT know Jesus, click here.
###
***A Hidden Message in Psalm 23?***  
Hidden in the six verses of Psalm 23 are 11 names for Jesus.  Subscribe to our newsletter and we'll send you The Names of God in Psalm 23 PDF that reveals all 11 names and Scripture verses of comfort and hope (link will be sent in your confirmation email).  SUBSCRIBE NOW
Please Share this Article on Social Media to Equip and Encourage Others
+++
Do not be anxious about anything.  (Phil 4:6)
In the midst of the COVID-19 pandemic, we must rightly remember who is in control.  Our God is sovereign over all things, including COVID-19.  As Charles Spurgeon (1834-1892) said, "The sovereignty of God is a soft pillow on which weary people lay their heads." 
Remember also God's gracious promise, and that it is true and He is faithful to keep it:  Hebrews 13:5 …"I will never leave you, nor forsake you."  The next verse remind us of the power that comes in trusting God and how we can live:  Hebrews 13:6 So that we may boldly say, The Lord is my helper, and I will not fear what man [or COVID-19] shall do to me.
God loves us, and in Christ we find confidence and calm in times of uncertainty and trouble.  When we trust in God, fear is replaced with faith, stress is replaced with strength, anxiety is gone and hope abounds, problems become opportunities, and we are able to receive the blessings God has for us in the midst of difficult circumstances. Turn to Jesus. He will lead you to the still waters and give rest for your troubled soul.  
This hope we have as an anchor of the soul, both sure and steadfast…Hebrews 6:19
****************************
Be Ready Always...
to give a reason for the Hope that you have (1 Peter 3:15).  When you can't share the gospel with your words, share it by leaving tracts that tell people about God's grace.
When leaving a tract, always be diligent to pray about the short gospel message. Pray that it be found by someone who is in need of Jesus' saving grace, and pray that the person will have a tender heart and open ears to receive the gift Jesus desires to give them.  
By the power of the Holy Spirit, even a small tract can help in turning a broken sinner from darkness to light.
SHARE THE GOSPEL!
Click the Image to Read the Messages on the Tracts