AUTHOR: Moses 
DATE: 1450-1410 B.C. 
Genesis means "origin" and thus is the perfect title for the book that records the origins of all human history.  Genesis is a real-life history record of the origins of the world, man, sin, civilization, the nations, and Israel, as well as a revelation of the God of all creation.
Genesis also introduces God's purpose and plan in all things by progressively revealing important theological themes such as, the doctrine of the living, personal God; the doctrine of man made in the image of God; the doctrine of the fall and the consequences of man's sin; the promise of a Redeemer (3:15); the call of Abraham and the raising up of a nation (Israel) and the covenant promises God made with Israel (12:1-3; 15:18-21). 
OUTLINE OF GENESIS 
I.  The Creation of the World, 1:1-2:25 
A.  The Beginning of Creation, 1:1-2 
B.  The Days of Creation, 1:3-2:3 
C.  The Beginnings of Man and Woman, 2:4-25 
II.  The Sin of Man, 3:1-24 
A.  The Temptation, 3:1-7 
B.  The Judgments, 3:8-24 
III.  The Beginnings of Civilization, 4:1-5:32 
A.  Cain and His Descendants, 4:1-24 
B.  Seth, 4:25-26 
C.  Adam to Noah, 5:1-32 
IV.  The History of Noah, 6:1-9:29 
A.  The Causes of the Flood, 6:1-13 
B.  The Course of the Flood, 6:14-8:19 
C.  The Events After the Flood, 8:20-9:29 
V.  The Descendants of Noah and the Tower of Babel, 10:1-11:26
A.  The Sons of Japheth, 10:1-5 
B.  The Sons of Ham, 10:6-20 
C.  The Sons of Shem, 10:21-32 
D.  The Tower of Babel, 11:1-9 
E.  The Descendants of Shem, 11:10-26 
Genesis 12-50
VI.  The History of Abraham, 11:27-25:11 
   A.  The Family of Abram, 11:27-32 
B.  The Call of Abram, 12:1-20
C.  The Separation of Abram and Lot, 13:1-18 
D.  The Deliverance of Lot by Abram, 14:1-24 
E.  The Covenant with Abram, 15:1-21
F.  The Birth of Ishmael, 16:1-16 
G.  The Circumcision of Abraham, 17:1-27 
H.  The Destruction of Sodom and Gomorrah, 18:1-19:38 
I.  Abraham and Abimelech, 20:1-18 
J.  The Birth of Isaac, 21:1-34
K.  The Offering of Isaac, 22:1-24 
L.  The Death and Burial of Sarah, 23:1-20 
M.  The Marriage of Isaac, 24:1-67 
N.  The Death of Abraham, 25:1-11 
VII.  The Descendants of Ishmael, 25:12-18 
VIII.  The History of Isaac and His Sons, 25:19-36:43 
A.  The Birth of Jacob and Esau, and Selling of Esau's Birthright, 25:19-34 
B.  Isaac and Abimelech, 26:1-35 
C.  The Blessing of Jacob by Deception, 27:1-46 
D.  Jacob's Flight to Paddan-aram (Mesopotamia), 28:1-9 
E.  Jacob's Dream at Bethel, 28:10-22 
F.  Jacob and the Daughters of Laban, 29:1-30:43 
1.  Jacob meets Rachel, 29:1-14 
2.  Jacob marries Leah and Rachel, 29:15-30 
3.  Jacob begets children, 29:31-30:24 
4.  Jacob bargains with Laban, 30:25-43 
G.  Jacob's Return to Canaan, 31:1-33:20 
1.  His separation from Laban, 31:1-55 
2.  His reconciliation with Esau, 32:1-33:20 
H.  Jacob's Later Life, 34:1-36:43 
1.  The massacre at Shechem, 34:1-31 
2.  The renewal of the covenant at Bethel, 35:1-15 
3.  The deaths of Rachel and Isaac, 35:16-29 
4.  The descendants of Esau, 36:1-43 
IX.  The History of Joseph, 37:1-50:26 
A.  Joseph Sold into Slavery, 37:1-36 
B.  Judah and Tamar, 38:1-30 
C.  Joseph in Potiphar's House, 39:1-23 
D.  Joseph Interprets the Dreams of the Cupbearer and the Baker,  40:1-23 
E.  Joseph Interprets Pharaoh's Dream, 41:1-57 
F.  Joseph's Brothers in Egypt, 42:1-45:28 
1.  The first visit of his ten brothers, 42:1-38 
2.  The second visit of his eleven brothers, 43:1-44:34 
3.  Joseph's revelation of his identity, Gen 45:1-28 
G.  Joseph's Family in Egypt, 46:1-47:31 
H.  The Blessing of Joseph's Sons, 48:1-22 
I.  Jacob's Blessing of His Sons, 49:1-27 
J.  Jacob's Death and Burial, 49:28-50:14 
K.  The Last Days of Joseph, 50:15-26 
Videos and Charts Used By Permission of the Bible Project
Jesus is the Reason this Ministry Exists
Thank you to all who contributed in 2020. Your generosity is a blessing and encouragement to us.  We did not meet expenses in 2020 and still need your help to continue our global outreach in 2021.  Our mission is to glorify God by equipping, encouraging, and empowering YOU to understand the Bible and grow in faith. If our online resources have blessed you, we hope you will support Reasons for Hope* Jesus. Our ministry outreach has grown significantly and. . .
Please support Reasons for Hope* Jesus with a donation of $5, $10, $20, or more. A donation of any amount is needed and greatly appreciated.
CLICK TO DONATE
to Reasons for Hope*Jesus(a 501c3 Ministry)
Use a Credit Card or PayPal for safe, secure giving.
***A Hidden Message in Psalm 23?***  
Hidden in the six verses of Psalm 23 are 11 names for Jesus.
When you subscribe to our newsletter, we'll send you
The Names of God in Psalm 23 PDF
that reveals all 11 names and Scripture verses of comfort and hope (link will be sent in your confirmation email).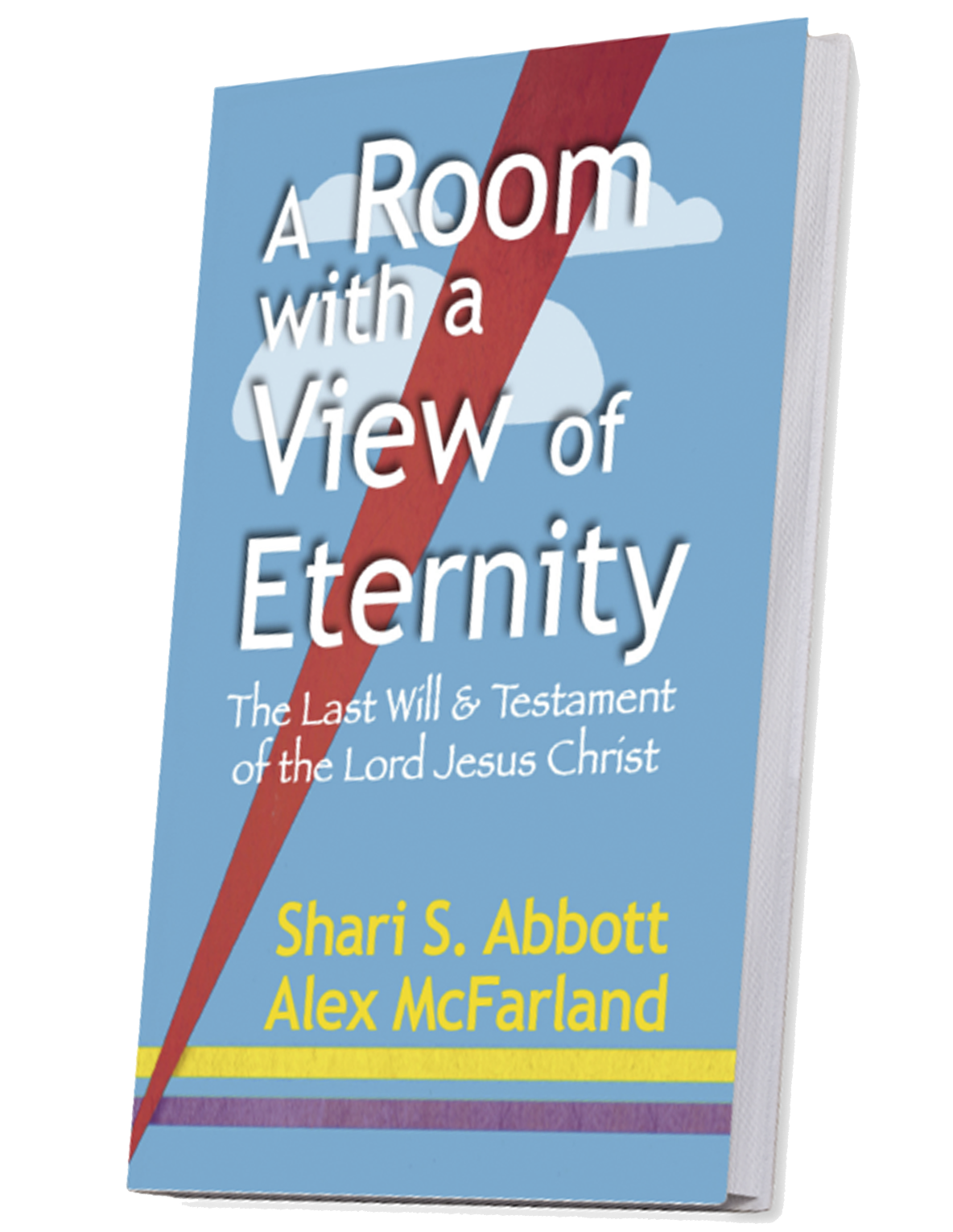 A Room with a View of Eternity—The Last Will & Testament of Jesus Christ
Take a seat at the Master's table. Learn about the riches He gives to all who are His. This book will bless and encourage you, give you hope, and help you live in the joy of your salvation and the riches of Christ that are yours.
Top Ten  in 2019
More Popular Questions & Articles:
If BAPTIZED as an Infant, Do I Need to Be Baptized Again?
How was Jesus Like a Worm? What's the CRIMSON (OR SCARLET) WORM? Psalm 22
Is Satan's Real Name LUCIFER? Or Should We Call Him Satan?
What is the Significance of the Wise Men's THREE GIFTS? And were they kings? 
Was Jesus CRUCIFIED on Wednesday, Thursday, or Friday?
The Names of Jehovah hidden in Psalm 23! This will surprise you!
What Did Jesus Say About HEAVEN (and HELL)?
JESUS WEPT. Why? And…it's not the shortest verse in the Bible!
Is There a Remez (HIDDEN MESSAGE ) in Revelation 7? Why is Dan Missing?
What Does it Mean to Be A CHILD OF GOD?
Why Is PRAYER Important?
Is SUICIDE an Unforgivable Sin?
Something ALL Christians must know:  IVDARR
Our Top Three Videos
Christian Version of Leonard Cohen's HALLELUJAH
Memorial Day BAGPIPES TRIBUTE: Amazing Grace
RISE AND SHINE and Give God the Glory, Glory!

Help us spread the good news and saving grace of the Lord Jesus Christ.
Please tell your friends about ReasonsforHopeJesus.com. If you have a website or blog, please link to ReasonsforHopeJesus.com.   All resources on this site © Reasons for Hope* Jesus --  click for Republication Permissions or contact hope@reasonsforhopeJesus.com