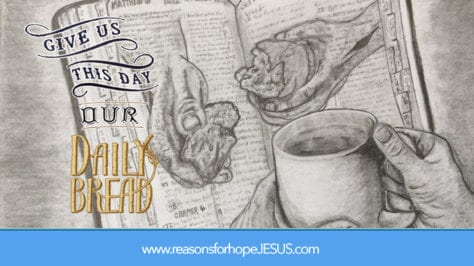 Daily Devotions with Pastor Chuck
Oh to raise up with praise and thanksgiving in our hearts and on our lips. I do, how about you? I praise my God every morning for what He has done for me through His Son and I thank Him for the forgiveness of my sin, for I am in awe of His grace and forgiveness. Aren't you?
 
Does it matter to you what pleases God? It certainly should. We should be a people to whom that matters very much. 
 
From His Word that He has given us, His written Word, we learn a great deal about what pleases Him and what does not. Note some selected Scriptures,
"And after being baptized, Jesus went up immediately from the water; and behold the heavens were opened, and he (John the Baptist) saw the Spirit of God descending as a dove, and coming upon Him (Jesus), and behold a voice out of the heavens, saying, 'This is My beloved Son, in whom I am well-pleased.'" (Matthew 3:16-17 – NASB) – (Writer's note: I find it interesting that those who chose to put the words of Jesus in red print in some Bibles chose not to put the words of the Father in red . . . interesting isn't it?)
We know from our text that God the Father was "well-pleased" with Jesus the "Son." Within this old sinful world God has not been "well-pleased" with mankind, nor is He currently "well-pleased" with him. In our fallen state we tend to hold in high regard this person or that person, having our heroes and our heroines, finding pleasure in them, and in many cases, desiring to be like them. They are, you might say, pleasing to us. But when it comes to one who pleases God, there is only Jesus that He says of, "This is My beloved Son, in whom I am well-pleased." God the Father is "well-pleased" in God the Son. (NOTE: He who has ear to hear, let him hear.)
"At that time Jesus answered and said, 'I praise Thee, O Father, Lord of heaven and earth, that Thou didst hide these things from the wise and intelligent and didst reveal them to babes. Yes, Father, for this it was well-pleasing in Thy sight."  (Matthew 11:25-26 – NASB)
God the Father finds no pleasure in those who are "wise" in their own eyes, who consider themselves "intelligent." He rather has seen fit to be "well-pleased" in revealing eternal truths "to babes" Note . . . 
"For the word of the cross is to those who are perishing foolishness, but to us who are being saved it is the power of God. For it is written, 'I will destroy the wisdom of the wise, and the cleverness of the clever I will set aside.' Where is the wise man? Where is the scribe? Where is the debater of this age? Has not God made foolish the wisdom of the world? For since in the wisdom of God the world through its wisdom did not come to know God, God was well-pleased through the foolishness of the message preached to save those who believe." (I Corinthians 1:18-21 – NASB)
The "word of the cross" is "foolishness" to those "who are perishing." The "wise" and "the clever," in their fallen state openly reveling in their own "wisdom," arriving at the conclusion "of the world" that dismisses "the word of the cross" and thus, not "coming to know God." By inference our text notes well that they spurn the Word of God. But "the message" they have discarded as "foolishness" God is "well-pleased" to "preach" and thus "save those who believe." 
"For it pleased the Father that in Him should all fullness dwell; and having made peace through the blood of His cross, by Him to reconcile all things unto Himself; by Him" (Colossians 1:19-20 – KJV)
God "The Father" is "pleased" that in Christ, His beloved Son, "all fullness . . . should . . . dwell." And He is "pleased" in the work His Son has carried out on "His cross," so much so that He is "pleased . . . to reconcile all things unto Himself; by Him." Through the Person and work of Jesus the Christ God is "pleased" to make "peace" with mankind, if they will come through His Son to be reconciled. 
 
For it pleased the Father . . . . brethren, it should mean a great deal to us what pleases our Father. Many a time I've had someone say to me, "I think God is okay with that, don't you?" Oh so many times I witness men, in their desire for self-justification, saying this. And knowing the Scriptures, I have offered back to them a resounding, "No, He is not!" Brethren, it is not for us to find what pleases God in our own wisdom but rather we find out what pleases Him in His Word. 
 
Have a good day . . . and as you walk earnestly seek to know what it is that pleases the Father. It should be our desire to do so.
If you do NOT know Jesus, click here.
###
***A Hidden Message in Psalm 23?***  
Hidden in the six verses of Psalm 23 are 11 names for Jesus.  Subscribe to our newsletter and we'll send you The Names of God in Psalm 23 PDF that reveals all 11 names and Scripture verses of comfort and hope (link will be sent in your confirmation email).  SUBSCRIBE NOW
Please Share this Article on Social Media to Equip and Encourage Others
+++
Do not be anxious about anything.  (Phil 4:6)
In the midst of the COVID-19 pandemic, we must rightly remember who is in control.  Our God is sovereign over all things, including COVID-19.  As Charles Spurgeon (1834-1892) said, "The sovereignty of God is a soft pillow on which weary people lay their heads." 
Remember also God's gracious promise, and that it is true and He is faithful to keep it:  Hebrews 13:5 …"I will never leave you, nor forsake you."  The next verse remind us of the power that comes in trusting God and how we can live:  Hebrews 13:6 So that we may boldly say, The Lord is my helper, and I will not fear what man [or COVID-19] shall do to me.
God loves us, and in Christ we find confidence and calm in times of uncertainty and trouble.  When we trust in God, fear is replaced with faith, stress is replaced with strength, anxiety is gone and hope abounds, problems become opportunities, and we are able to receive the blessings God has for us in the midst of difficult circumstances. Turn to Jesus. He will lead you to the still waters and give rest for your troubled soul.  
This hope we have as an anchor of the soul, both sure and steadfast…Hebrews 6:19
****************************
Be Ready Always...
to give a reason for the Hope that you have (1 Peter 3:15).  When you can't share the gospel with your words, share it by leaving tracts that tell people about God's grace.
When leaving a tract, always be diligent to pray about the short gospel message. Pray that it be found by someone who is in need of Jesus' saving grace, and pray that the person will have a tender heart and open ears to receive the gift Jesus desires to give them.  
By the power of the Holy Spirit, even a small tract can help in turning a broken sinner from darkness to light.
SHARE THE GOSPEL!
Click the Image to Read the Messages on the Tracts