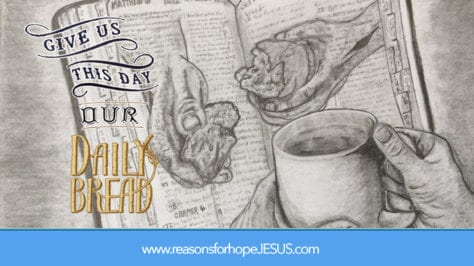 Daily Devotions with Pastor Chuck
From the book of Ezekiel we read,
 
"The word of the LORD came again to me saying, 'Son of man, when a land sins against Me by persistent unfaithfulness, I will stretch out My hand against it; I will cut off its supply of bread, send famine on it, and cut off man and beast from it. Even if these three men, Noah, Daniel, and Job, were in it, they would deliver only themselves by their righteousness,' says the LORD God." (Ezekiel 14:12-14 – NKJV)
 
I have this blocked off in my Bible, this "word of the LORD." God speaks to his prophet Ezekiel and lays out words of judgment that He will bring upon "a land" if they are "persistent" in "unfaithfulness." The Creator, Yaweh, "will stretch out (His) hand against" the nation that fails to be faithful to Him and His law. 
 
He will, in His righteous judgment, "cut off its supply of bread," and He will "send famine on" the "land." He will "cut off man and beast from it." 
 
This principle is, I believe, alive and active in our day. It is a truth that transcends time. Nations that persist in "unfaithfulness" will be judged by God. Even if, within that nation, righteous individuals exist, that will not deter God carrying out His wrath on the "land" and upon "man and beast." (Note:  Romans 1:18)
 
In our text of warning it is most interesting that God gives three names of righteous individuals who, even though they might be in the "land" their "righteousness" will "only . . . deliver themselves" and not the nation. "Unfaithfulness" by a nation will not go unpunished even if the great ones are in it. Even if Noah, Daniel, and Job" are in the "land," these righteous men of God, not even that would constrain God from acting upon a nation's "unfaithfulness."
 
I am of the mind that, in our nation today, there are many who are in Christ. There are many men and women of God who are faithful hearers and doers of the Word, striving to practice righteousness as it is laid out in Scripture. I am also of the mind that these are the minority and not the majority. We live in an extremely unfaithful "land," in an extremely unfaithful world. That would mean that this principle laid out in writing by the prophet Ezekiel is certainly something that we should take serious note of. God will deal with this nation and the nations of the world, just as He has said He would do, even if the great ones are in it, if "a  land" persists in "unfaithfulness." 
 
Because we are a people that have been lulled into taking so much for granted: there will be a new day, there will be food on the store shelves, there will be a church activity tonight, there will be a car to take me here and there, there will be money in our pockets, there will be a weekend, there are righteous people in the "land" . . . . . I fear we can fall into a false sense of security that all is well, all will go well; you can expect it! But, even if the great ones are in it, the "land" will not go unpunished, the nations will not go without judgment if "unfaithfulness" persists.
 
Have a good day brethren . . . and note God's righteous examples, Noah, Daniel, and Job. Strive to learn of them and let there righteousness serve as an example for you as you seek to live out your daily life to the glory of God.
If you do NOT know Jesus, click here.
###
***A Hidden Message in Psalm 23?***  
Hidden in the six verses of Psalm 23 are 11 names for Jesus.  Subscribe to our newsletter and we'll send you The Names of God in Psalm 23 PDF that reveals all 11 names and Scripture verses of comfort and hope (link will be sent in your confirmation email).  SUBSCRIBE NOW
Please Share this Article on Social Media to Equip and Encourage Others
+++
Do not be anxious about anything.  (Phil 4:6)
In the midst of the COVID-19 pandemic, we must rightly remember who is in control.  Our God is sovereign over all things, including COVID-19.  As Charles Spurgeon (1834-1892) said, "The sovereignty of God is a soft pillow on which weary people lay their heads." 
Remember also God's gracious promise, and that it is true and He is faithful to keep it:  Hebrews 13:5 …"I will never leave you, nor forsake you."  The next verse remind us of the power that comes in trusting God and how we can live:  Hebrews 13:6 So that we may boldly say, The Lord is my helper, and I will not fear what man [or COVID-19] shall do to me.
God loves us, and in Christ we find confidence and calm in times of uncertainty and trouble.  When we trust in God, fear is replaced with faith, stress is replaced with strength, anxiety is gone and hope abounds, problems become opportunities, and we are able to receive the blessings God has for us in the midst of difficult circumstances. Turn to Jesus. He will lead you to the still waters and give rest for your troubled soul.  
This hope we have as an anchor of the soul, both sure and steadfast…Hebrews 6:19
****************************
Be Ready Always...
to give a reason for the Hope that you have (1 Peter 3:15).  When you can't share the gospel with your words, share it by leaving tracts that tell people about God's grace.
When leaving a tract, always be diligent to pray about the short gospel message. Pray that it be found by someone who is in need of Jesus' saving grace, and pray that the person will have a tender heart and open ears to receive the gift Jesus desires to give them.  
By the power of the Holy Spirit, even a small tract can help in turning a broken sinner from darkness to light.
SHARE THE GOSPEL!
Click the Image to Read the Messages on the Tracts