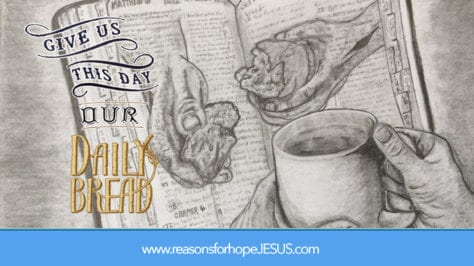 Daily Devotions with Pastor Chuck
From Matthew's gospel we read,
"Now when Jesus came into the district of Caesarea Philippi, He began asking His disciples, saying, 'Who do people say that the Son of Man is?' And they said, 'Some say John the Baptist; and others Elijah; but still others Jeremiah, or one of the prophets.' He said to them, 'But who do you say that I am?' And Simon Peter answered and said, 'Thou art the Christ, the Son of the living God.' And Jesus answered and said to him, 'Blessed are you, Simon Barjona, because flesh and blood did not reveal this to you, but My Father who is in heaven. And I also say to you that you are Peter, and upon this rock I will build My church; and the gates of hell shall not overpower it.'" (Matthew 16:13-18 – NASB)
 
Yes, "upon . . . Peter's" confession, "upon" that which the "Father . . . revealed," this is what the "church" is "built . . . upon." That Jesus, "the Son of Man," the One who walked this earth, that He is "the Christ, the Son of the living God!" He is the Messiah, the "Anointed One." The small stone (Peter is the Greek word petros, meaning "a little rock") had, by the "Father's" revelation to him, stated what was to be the very foundation of the "church," a "rock" of confession (rock is the Greek word Petra, meaning "a very large rock"), that this "Son of Man" was "the Christ," the "Son" of God. 
 
Jesus is the fulfillment of what the prophet Isaiah wrote,
Therefore thus says the Lord God, 'Behold, I am laying in Zion a stone, a tested stone, a costly cornerstone for the foundation, firmly placed. He who believes in it will not be disturbed.'" (Isaiah 28:16 – NASB)
 
Furthermore…
"So then you are no longer strangers and aliens, but you are fellow citizens with the saints, and are of God's household, having been built upon the foundation of the apostles and prophets, Christ Jesus Himself being the corner stone" (Ephesians 2:19-20 – NASB)
You and I go to make up the "church," the body of Christ, that living, moving, witnessing body of believers who are "no longer strangers and aliens" to God "but" are now "fellow citizens with the saints." And we are built upon that most immovable truth, that confession regarding the truth, and that is that Jesus is "the Christ, the Son of the living God."
 
Samuel Stone, a strong Christian fundamentalist of the 1800's, opposed the liberal theological teachings of his day, and one of the hymns that he penned in support of the Apostle's Creed was, The Church's One Foundation. Its content was meant to be doctrine that, as it was sung, would bear witness to the great truth of Peter's confession and of Jesus' response to that confession,
"The Church's one foundation is Jesus Christ her Lord;
She is His new creation by water and the word. 
From heaven He came and sought her to be His holy bride; 
With His own blood He bought her, and for her life He died."
 
Assuredly "the Church's one foundation is Jesus Christ her Lord." And upon Peter and the other disciple's confession of this Jesus Himself has said, "I will build My church; and the gates of hell shall not overpower it." The "church" will be made up of true believers, a body of believers that "hell" cannot "overpower, confessing continually that Jesus is "the Christ, the Son of the living God." 
Have a good day and take a minute and ask yourself, "Who do you say that Jesus is?" And if you are of the belief that He is who the Bible says He is, then use this very question to witness to others with, asking them the most important question they could ever be asked: "Who do you say that Jesus is?" How a person answers is critical indeed.
If you do NOT know Jesus, click here.
###
***A Hidden Message in Psalm 23?***  
Hidden in the six verses of Psalm 23 are 11 names for Jesus.  Subscribe to our newsletter and we'll send you The Names of God in Psalm 23 PDF that reveals all 11 names and Scripture verses of comfort and hope (link will be sent in your confirmation email).  SUBSCRIBE NOW
Please Share this Article on Social Media to Equip and Encourage Others
+++
Do not be anxious about anything.  (Phil 4:6)
In the midst of the COVID-19 pandemic, we must rightly remember who is in control.  Our God is sovereign over all things, including COVID-19.  As Charles Spurgeon (1834-1892) said, "The sovereignty of God is a soft pillow on which weary people lay their heads." 
Remember also God's gracious promise, and that it is true and He is faithful to keep it:  Hebrews 13:5 …"I will never leave you, nor forsake you."  The next verse remind us of the power that comes in trusting God and how we can live:  Hebrews 13:6 So that we may boldly say, The Lord is my helper, and I will not fear what man [or COVID-19] shall do to me.
God loves us, and in Christ we find confidence and calm in times of uncertainty and trouble.  When we trust in God, fear is replaced with faith, stress is replaced with strength, anxiety is gone and hope abounds, problems become opportunities, and we are able to receive the blessings God has for us in the midst of difficult circumstances. Turn to Jesus. He will lead you to the still waters and give rest for your troubled soul.  
This hope we have as an anchor of the soul, both sure and steadfast…Hebrews 6:19
****************************
Be Ready Always...
to give a reason for the Hope that you have (1 Peter 3:15).  When you can't share the gospel with your words, share it by leaving tracts that tell people about God's grace.
When leaving a tract, always be diligent to pray about the short gospel message. Pray that it be found by someone who is in need of Jesus' saving grace, and pray that the person will have a tender heart and open ears to receive the gift Jesus desires to give them.  
By the power of the Holy Spirit, even a small tract can help in turning a broken sinner from darkness to light.
SHARE THE GOSPEL!
Click the Image to Read the Messages on the Tracts