Throughout the centuries, this question has been asked.  Who was responsible for the death of Jesus?  This is a question that all people must answer, and it'll surprise you when we find the answer to this question in a very famous painting by the Rembrandt.  But before we look at Rembrandt's painting,  but let's first turn to the Bible to find out what God has told us about the day of crucifixion.  What took place that gives us clues to answer, "who killed Jesus?"
Jesus was betrayed by Judas, one of His followers.
Luke 22:47-48  And while he yet spake, behold a multitude, and he that was called Judas, one of the twelve, went before them, and drew near unto Jesus to kiss him.  But Jesus said unto him, Judas, betrayest thou the Son of man with a kiss?
The Jews denied Jesus and both Peter and Paul said they killed Him.
Matthew 27:16-17, 20-12  And at that time they had a notorious prisoner called Barabbas.  Therefore, when they had gathered together, Pilate said to them, "Whom do you want me to release to you? Barabbas, or Jesus who is called Christ?"…But the chief priests and elders persuaded the multitudes that they should ask for Barabbas and destroy Jesus. The governor answered and said to them, "Which of the two do you want me to release to you?" They said, "Barabbas!"
On the day of Pentecost, after healing a lame man, Peter said…
 Acts 3:12-15  …Ye men of Israel, why marvel ye at this? or why look ye so earnestly on us, as though by our own power or holiness we had made this man to walk?   The God of Abraham, and of Isaac, and of Jacob, the God of our fathers, hath glorified his Son Jesus; whom ye delivered up, and denied him in the presence of Pilate, when he was determined to let him go.  But ye denied the Holy One and the Just, and desired a murderer to be granted unto you;  And killed the Prince of life, whom God hath raised from the dead; whereof we are witnesses. 
Paul in his letter to the church at Thessalonica wrote…
1 Thessalonians 2:14-15  …for ye also have suffered like things of your own countrymen, even as they have of the Jews: Who both killed the Lord Jesus, and their own prophets, and have persecuted us…
Roman soldiers arrested Jesus.
The group of men who came to arrest Jesus was composed of Roman soldiers, Jewish servants, and Judas:
John 18:12-13  Then the band and the captain and officers of the Jews took Jesus, and bound him,  And led him away to Annas first…
Jesus was tried in a Jewish court.
Although this court had no authority to execute a death penalty, Jesus stood before Caiphas in a Jewish court for judgment.
John 18:14  Now Caiaphas was he, which gave counsel to the Jews, that it was expedient that one man should die for the people.
Jesus was handed over to a Roman court.
When Jesus stood before Pontius Pilate in the Roman court, Pilate called together the chief priests, rulers and the people and said unto them:
Luke 23:13-16  Ye have brought this man unto me, as one that perverteth the people: and, behold, I, having examined him before you, have found no fault in this man touching those things whereof ye accuse him:  No, nor yet Herod: for I sent you to him; and, lo, nothing worthy of death is done unto him. I will therefore chastise him, and release him. 
Because it was "of necessity" (Luke 23:17) to release a prisoner during the time of the Feast of Passover, Pilate offered to release Jesus, but in response, the Jews chose the release of another:
 Luke 23:18 …they cried out all at once, saying, Away with this man, and release unto us Barabbas.
The Question Remains — The Answer is Clear
Since the first century AD, a debate has existed regarding who is responsible for the death of Jesus.  Was it Judas?  Was it the Jews?  Or was it the Romans? And of course, remember that it was the will of God the Father that Jesus went to the cross and died.  
Isa 53:6, 10, 11 …And the LORD [Yahweh] has laid on Him the iniquity of us all…Yet it pleased the LORD [Yahweh to bruise Him; He [Yahweh] has put Him to grief…He  [Yahweh] shall see the labor of His soul, and be satisfied….
Luke 22:42  saying, "Father, if it is Your will, take this cup away from Me; nevertheless not My will, but Yours, be done."
So who killed Jesus?  Another Answer.  
I killed Jesus.  And, you killed Jesus.  Since the day that Adam ate the forbidden fruit in the Garden, everyone who has ever lived, or ever will live, killed Jesus. It is our sin that demands atonement, and only Jesus could make the payment for our sins. It was your sins, it was my sins, it was everyone's sins, that cried out "crucify Him."  And according to the will of His Father, Jesus offered Himself, a willing sacrifice, to pay for our sins and to satisfy a just and righteous God.
Isa 53:6  All we like sheep have gone astray; We have turned, every one, to his own way; And the LORD has laid on Him the iniquity of us all.
Rembrandt Got it Right!
Rembrandt's famous painting, Raising of the Cross, clearly portrays an understanding of the personal responsibility each one of us must accept and confess.
Rembrandt masterpiece depicts Christ having been nailed to the cross and being lifted up.  Noteworthy in this painting is that Rembrandt inserted himself—an indication that he understood who was responsible for the death of the Son of Man.
Just as it was the sins of the Jews and the Romans, Rembrandt understood it was his sin also that put Jesus on the cross.  We too must all understand that we are guilty.  The sin of all mankind put Jesus on the cross, and we are all responsible for His death.
For those of us who understand our sin and have come to the foot of the cross in repentance, faith, and trust, Jesus' blood has washed us clean. Adam's sin brought our condemnation, but Christ blood paid our ransom and cleansed us and His righteousness gives us eternal life.
As you look at this painting, imagine yourself standing there at the foot of the cross.  Join Rembrandt and "see" your sin that was laid upon God's Suffering Servant.  "See" your Saviour who offered Himself as a sacrifice for your sins.  "See" Him lifted up to die, so you can live.  And remember that He did this willingly for you.  In His life, death, and resurrection, Jesus conquered death and opened the way to Heaven and eternal life in Him.
The Final Answer to "Who Killed Jesus?"
While it was our sin that put Jesus on the cross, and it was our sin for which He died to make atonement, what is the real answer to "Who killed Jesus?"  No one.  Jesus was not killed.  By His own will, in God's perfect time, Jesus gave up His life unto death.
John 19:30  So when Jesus had received the sour wine, He said, "It is finished!" And bowing His head, He gave up His spirit.
Hallelujah what a Saviour!
Romans 3:10  There is none righteous, no, not one.
Isaiah 1:18  …though your sins be as scarlet, they shall be as white as snow; though they be red like crimson, they shall be as wool. 
Not only at Easter, but all year through, commit to remembering every day…
Jesus Christ, who is the faithful witness, and the first begotten of the dead, and the prince of the kings of the earth. Unto him that loved us, and washed us from our sins in his own blood, And hath made us kings and priests unto God and his Father; to him be glory and dominion forever and ever. Amen. (Revelation 1:5-6)
<*}}}><SaveSave
Jesus is the Reason this Ministry Exists
We continue to reach people worldwide with the truths of God's Word and the gospel of the Lord Jesus Christ. Your generosity is both a blessing and encouragement. Our mission is to glorify God by equipping, encouraging, and empowering YOU to understand the Bible and grow in faith. If our online resources have blessed you, please support Reasons for Hope* Jesus. Our ministry outreach has grown significantly and . . .
Please support Reasons for Hope* Jesus with a donation of $5, $10, $20, or more. A donation of any amount is needed and greatly appreciated.
CLICK TO DONATE
to Reasons for Hope*Jesus(a 501c3 Ministry)
Use a Credit Card or PayPal for safe, secure giving.
***A Hidden Message in Psalm 23?***  
Hidden in the six verses of Psalm 23 are 11 names for Jesus.
When you subscribe to our newsletter, we'll send you
The Names of God in Psalm 23 PDF
that reveals all 11 names and Scripture verses of comfort and hope (link will be sent in your confirmation email).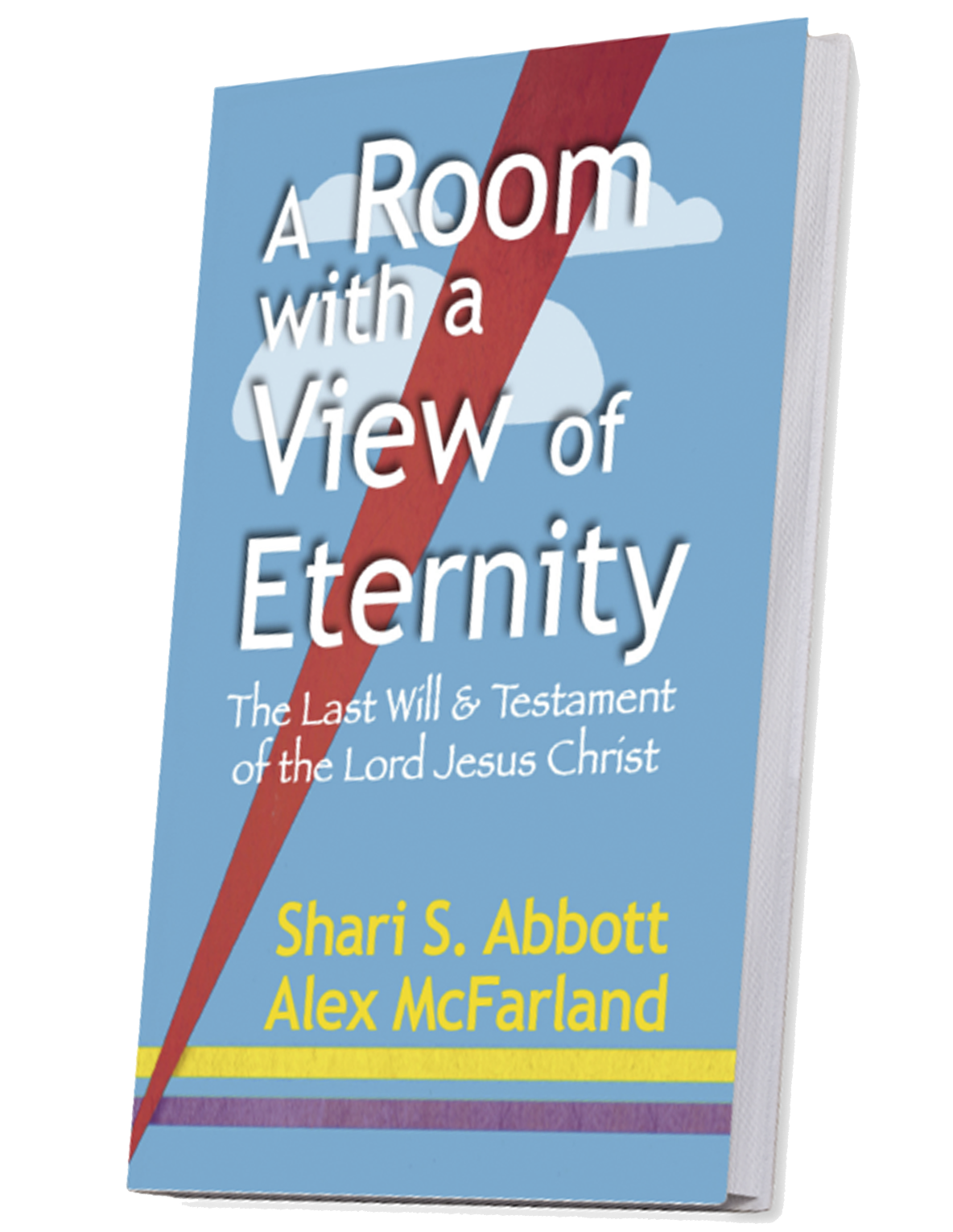 A Room with a View of Eternity—The Last Will & Testament of Jesus Christ   Take a seat at the Master's table. Learn about the riches He gives to all who are His. This book will bless and encourage you, give you hope, and help you live in the joy of your salvation and the riches of Christ that are yours.