The temptations of Jesus are recorded in detail in Matthew 4 and Luke 4.  The Bible tells that what took place was not by chance, but by the providential will of God:
Matthew 4:1  Then was Jesus led up of the Spirit into the wilderness to be tempted of the devil. 
The book of Hebrews tells the reason why this took place.  As God, Jesus did not know temptation or sufferings, but as a man He experienced the same temptations and sufferings as we do—and yet He did not sin.
Hebrews 2:17-18  Therefore, in all things He had to be made like His brethren, that He might be a merciful and faithful High Priest in things pertaining to God, to make propitiation for the sins of the people.  For in that He Himself has suffered, being tempted, He is able to aid those who are tempted.
Hebrews 4:15  For we do not have a High Priest who cannot sympathize with our weaknesses, but was in all points tempted as we are, yet without sin.
Tempted by Satan
In a weakened state, after having fasted for forty days and forty nights, Jesus was taken into the wilderness by the Spirit.  Satan came to Him with the intention of tempting Him to sin.  In this passage, for the third time in Scripture, we read of Satan speaking directly to someone (cf Genesis 3, Job 1).  
Perhaps the best way to understand these temptations is to compare them to the temptation that Satan placed before Eve in the Garden of Eden.  In both cases, Satan appealed to worldly desires and fleshly needs.
In Genesis 3 we read of Satan coming to Eve and tempting her with the fruit of the forbidden tree.  Faced with temptation, Eve succumbed to the three sins that are defined in 1 John:
For all that is in the world, [1] the lust of the flesh, and [2] the lust of the eyes, and [3] the pride of life, is not of the Father, but is of the world. 1 John 2:16 
And when the woman saw that the tree was good for food (1. Lust of the flesh), and that it was pleasant to the eyes (2. Lust of the eyes), and a tree to be desired to make one wise (3. Pride of life), she took of the fruit thereof, and did eat, and gave also unto her husband with her; and he did eat.  Genesis 3:6
What is striking in Eve's temptation is that technically there was nothing wrong with Eve's desire for the fruit based upon it being "good for food," "pleasant to the eyes" or even that it would "make one wise."  The fruit itself was not bad…but it was forbidden — forbidden by God.  Eve's partaking of the forbidden fruit was a sin of submitting to her own desires and disobeying the expressed will of God.
The Temptations of Christ
In the wilderness temptations of the Lord Jesus Christ we see Satan taking the same approach that he did with Eve.
Lust of the flesh…"turn these rocks into bread."

Lust of the eyes… "all the Kingdoms of the world."

Pride of life…"cast thyself down, etc."
Lust of the Frlesh
The lust of the flesh is a temptation to satisfy bodily needs.  After 40 days of fasting, Jesus was hungry and in need of food for physical strength.  Satan challenged His divinity and His trust in God for His provision of food:
Matthew 4:3  And when the tempter came to him, he said, If thou be the Son of God, command that these stones be made bread.
Jesus could have easily turned the stones to bread, but that would have required Him to do so by His divine power.  We know that in His incarnation, Jesus set aside His divinity to live as a man; and yet He never acted outside of the will of His Father.  In this temptation we read of Jesus speaking of a greater provision and He does so by responding with Scripture (cf Deuteronomy 8:3):
Matthew 4:4  … It is written, Man shall not live by bread alone, but by every word that proceedeth out of the mouth of God.
The next temptation that Satan put before Jesus was one that he hoped would elicit the pride of life (note that these are not in the same order as in Genesis 3 or 1 John 2)
Pride of Life
Again, in this temptation, Satan challenged Jesus' divinity and tempted Him to prove God's provision.  Satan used Scripture, although incorrectly when he spoke the words of Psalm 91 in this temptation:
Matthew 4:6  And saith unto him, If thou be the Son of God, cast thyself down: for it is written, He shall give his angels charge concerning thee: and in their hands they shall bear thee up, lest at any time thou dash thy foot against a stone.
Interestingly, Satan omitted a phrase that was not suited to his purpose ("to keep thee in all thy ways"). 
Psalm 91:11-12  For he shall give his angels charge over thee, to keep thee in all thy ways.  They shall bear thee up in their hands, lest thou dash thy foot against a stone. 
Again, Jesus responded with Scripture (cf Deuteronomy 6:16): 
Matthew 4:7  Jesus said unto him, It is written again, Thou shalt not tempt the Lord thy God. 
Lust of the Eyes
Finally, Satan took Jesus to an "exceeding high mountain" and tempted Him with "all the kingdoms of the world."  What a vision it must have been.  As prince of this world, Satan tempted Jesus by offering all the kingdoms.  One day all the kingdoms of this world will be "the kingdoms of our Lord, and of his Christ; and he shall reign for ever and ever" (Revelation 11:15), but that day will come in God's time.  
Satan tried to tempt Jesus to take His rightful inheritance outside of God's time, but Jesus responded again by quoting the Word of God (cf Deuteronomy 6:13, 10:20):
Matthew 4:10  …Get thee hence, Satan: for it is written, Thou shalt worship the Lord thy God, and him only shalt thou serve.
Lessons from the Temptations of Christ
1) The word of God is powerful in strengthening us.  
When faced with temptation Jesus responded in wisdom and with knowledge of God's will, by knowing and quoting Scripture.  We, too, have the Word of God as a mighty weapon against temptation…if we take the time to read and study:
Psalm 119:11  Thy word have I hid in mine heart, that I might not sin against thee.
2) The Holy Spirit is powerful in strengthening us.  
Just prior to this wilderness experience, the Holy Spirit descended upon Jesus at His baptism (Matthew 3:16) and then led Him into the wilderness (Matthew 4:1).  We, too, have the power of the Holy Spirit to lead and strengthen us:
1 John 4:4  Ye are of God, little children, and have overcome them: because greater is he that is in you, than he that is in the world.
3) Prayer is powerful in strengthening us.
Christ had just completed a time of spiritual discipline, a time of fasting (Matthew 4:2).  In Jewish practice, fasting was accompanied by prayer.  Prayer is of utmost importance and the Bible tells us that Jesus often withdrew to spend time alone with His Father in prayer to be refreshed and strengthened by the intimate relationship that they enjoy.  We, too, obtain peace and enjoy an intimate relationship with God through prayer:
Philippians 4:6-7  Be anxious for nothing, but in every thing by prayer and supplication with thanksgiving let your requests be made known unto God. And the peace of God, which surpasses all understanding, will guard your hearts and minds through Christ Jesus.  
A relationship built on 1) the power of the Word, 2) the power of the Spirit and 3) the power of prayer will strengthen us to be victorious over temptations. By knowing Jesus better and loving Him more, we will able to say "No! No! No!" to the lust of the flesh, the lust of the eyes and the pride of life.
 Yet in all these things we are more than conquerors through Him who loved us. Romans 8:37
<*}}}><
Jesus is the Reason this Ministry Exists
At  Reasons for Hope* Jesus, we are committed to equipping, encouraging, and empowering Christians to know Jesus better, love Him more, and share their faith. We also reach the lost through our Salvation Page. 
With your support, we can continue to provide valuable resources and engaging content.  Please join us in our mission by donating today. Your generous contribution helps us expand our outreach of sharing biblical truths and hope in Jesus.  Thank you for your kindness and for being an integral part of our mission.
***A Hidden Message in Psalm 23?***  
Hidden in the six verses of Psalm 23 are 11 names for Jesus.
When you subscribe to our newsletter, we'll send you
The Names of God in Psalm 23 PDF
that reveals all 11 names and Scripture verses of comfort and hope (link will be sent in your confirmation email).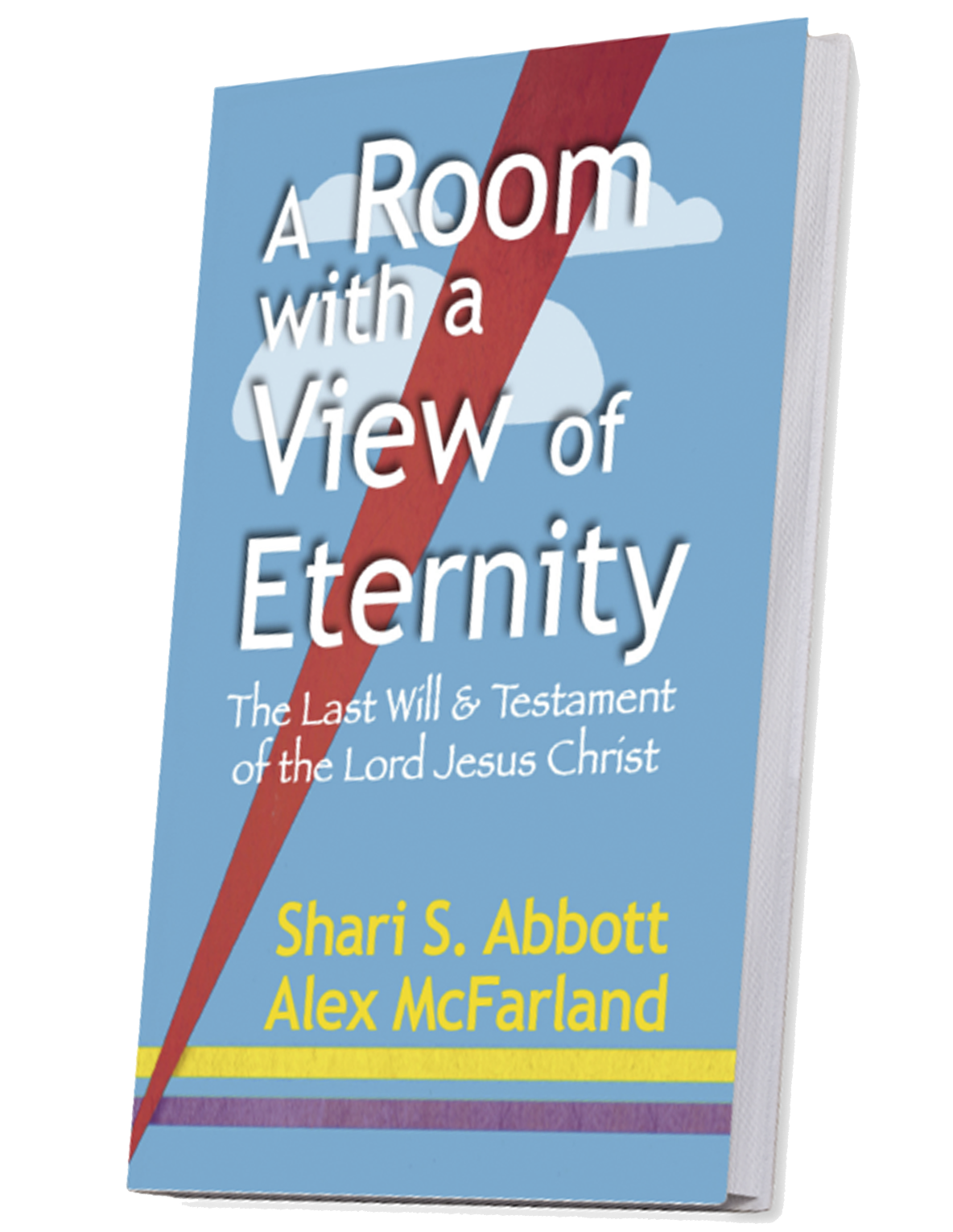 A Room with a View of Eternity—The Last Will & Testament of Jesus Christ   Take a seat at the Master's table. Learn about the riches He gives to all who are His. This book will bless and encourage you, give you hope, and help you live in the joy of your salvation and the riches of Christ that are yours.