Skeptics deny the validity of the resurrection, but we have many reasons to believe Jesus conquered death and rose from the grave.
Reason #1. 
Fulfilled Prophecy
Jesus' resurrection was prophesied in the Old Testament:
Psa 16:10  For You will not leave my soul in Sheol, Nor will You allow Your Holy One to see corruption.
Jesus prophesied that He would be resurrected:
Mark 8:31  And He began to teach them that the Son of Man must suffer many things, and be rejected by the elders and chief priests and scribes, and be killed, and after three days rise again.
Jesus fulfilled the prophecies:
Mat 28:5-6  And the angel answered and said unto the women, Fear not ye: for I know that ye seek Jesus, which was crucified. He is not here: for he is risen, as he said…
Acts 2:27-32  Because thou wilt not leave my soul in hell, neither wilt thou suffer thine Holy One to see corruption. Thou hast made known to me the ways of life; thou shalt make me full of joy with thy countenance. Men and brethren, let me freely speak unto you of the patriarch David, that he is both dead and buried, and his sepulchre is with us unto this day.  Therefore being a prophet, and knowing that God had sworn with an oath to him, that of the fruit of his loins, according to the flesh, he would raise up Christ to sit on his throne; He seeing this before spake of the resurrection of Christ, that his soul was not left in hell, neither his flesh did see corruption. This Jesus hath God raised up, whereof we all are witnesses.
1 Cor 15:3-4  For I delivered unto you first of all that which I also received, how that Christ died for our sins according to the scriptures; And that he was buried, and that he rose again the third day according to the scriptures:
Reason #2. Testimonies
In years past, many skeptics did not believe Jesus actually existed. But in our day, that number has diminished because of historical records.  These records tell of the man, Jesus, who lived, ministered, died, and was buried; the effects of His life had on those who believed He rose from the grave, and that He was called Christ.
Flavius Josephus
The Jewish historian Flavius Josephus was the first non-Christian writer who wrote about Jesus.  Around AD93, he wrote Antiquities of the Jews, in which he made two references to Jesus.  In chapter 3 of Book 18, Josephus wrote that Jesus was the Messiah, a wise teacher, crucified by Pontius Pilate.  This is commonly called Testimonium Flavianum, or the testimony of Flavius. 
About this time there lived Jesus, a wise man, if indeed one ought to call him a man. For he was one who performed surprising deeds and was a teacher of such people as accept the truth gladly. He won over many Jews and many of the Greeks. He was the Christ. And when, upon the accusation of the principal men among us, Pilate had condemned him to a cross, those who had first come to love him did not cease. He appeared to them spending a third day restored to life, for the prophets of God had foretold these things and a thousand other marvels about him. And the tribe of the Christians, so called after him, has still to this day not disappeared.    Flavius Josephus: Antiquities of the Jews, Book 18, Chapter 3
In chapter 9 of Book 20, Josephus made mention of "the brother of Jesus, who was called Christ, whose name was James."
Tacitus
We also have historical records from Tacitus (c. AD 56 – c. 120) who is regarded by scholars as one of the greatest Roman historians.  He wrote about Christian persecution and made mention of Jesus' crucifixion.
Nero set up as the culprits and punished with the utmost refinement of cruelty a class hated for their bominations, who are commonly called Christians. Christus, from whom their name is derived, was executed at the hands of the procurator Pontius Pilate in the reign of Tiberius. Checked for the moment, this pernicious superstition again broke out, not only in Judea, the source of evil, but even in Rome.  (Annales, xv. 44, The Neronian Persecution, c. ad 64)
The Disciples 
When Jesus died the 11 disciples became fearful and lost hope (Mat 28:17; Luke 24:21; John 20:19). But after seeing the risen Christ and spending time with Him, they became bold witnesses to Jesus being both God and Saviour.  Because of their faith and the power of the Holy Spirit given to indwell them, the disciples changed the world and altered the course of history (Acts 2:24, 3:15, 4:2).
In 112 AD, Pliny the Younger wrote about the disciples' boldness in a letter to the Roman Emperor Trajan He wrote to inquire about how he should deal with those accused of being Christians and he described the practices of these "criminals" who worshipped Jesus as God:
"They were in the habit of meeting on a certain fixed day before it was light, when they sang in alternate verses a hymn to Christ, as to a god, and bound themselves by a solemn oath, not to any wicked deeds, but never to commit any fraud, theft or adultery, never to falsify their word, nor deny a trust when they should be called upon to deliver it up; after which it was their custom to separate, and then reassemble to partake of food–but food of an ordinary and innocent kind."   Pliny Book 10, Letter 96
Reason #3  Evidence
The Tomb
Jesus' tomb was in a known location.  It was the tomb of a rich man, Joseph of Arimethea, known by both the Roman government and the Jewish officials. 
The tomb was sealed with a massive stone and a Roman seal, and it was guarded throughout the three nights.  Yet, on Sunday morning the stone was rolled away, the tomb was empty, and no corpse of Jesus was ever found. 
Producing the corpse of Jesus could have ended the claims that Jesus had risen from death.  With their power and influence, the Roman and Jewish leaders should have been able to do so, but they could not because Jesus rose to life, in his body. The only thing they could do is begin a rumor saying Jesus' body had been stolen by his disciples.
In addition, Jesus' tomb was never enshrined. People honor the burial places of the remains of dead loved ones, yet no one honored Jesus' tomb.  Why?  Because there were no bodily remains.  He was not there.  He was risen…risen, indeed!
Eyewitnesses
Paul wrote to the Corinthian church and told them of Jesus' appearing to many people:
1 Cor 15:5 … He was seen by Cephas [Peter], then by the twelve. After that He was seen by over five hundred brethren at once, of whom the greater part remain to the present, but some have fallen asleep. After that He was seen by James, then by all the apostles. Then last of all He was seen by me also…
Many testified of having seen the risen Christ and that they believed He is their Lord and Saviour.  Such testimonies put them at great risk for persecution and even martyrdom. Yet they were not deterred.  They continued to live for Jesus and to share their faith.  
Reason #4. The Legacy Prevails
The eyewitnesses have left a legacy that has prevailed throughout the centuries and God's spiritual kingdom of believers has grown exponentially.  It is now up to us to leave a legacy of faith to the next generation.  Because we know the truths of the Bible, we must be bold and testify that:
Jesus is the Son of God, and He is God.
He was incarnated in human flesh, lived a human life, and ministered for 3 1/2 years.
He died an atoning death that paid for the sins of the world, was buried, and three days later rose from the grave.
Jesus lives and reigns eternally as the Lord of Lords and the King of Kings. He is our True and Faithful Lord and Saviour.
<*}}}><
Jesus is the Reason this Ministry Exists
We continue to reach people worldwide with the truths of God's Word and the gospel of the Lord Jesus Christ. Your generosity is both a blessing and encouragement. Our mission is to glorify God by equipping, encouraging, and empowering YOU to understand the Bible and grow in faith. If our online resources have blessed you, please support Reasons for Hope* Jesus. Our ministry outreach has grown significantly and . . .
Please support Reasons for Hope* Jesus with a donation of $5, $10, $20, or more. A donation of any amount is needed and greatly appreciated.
CLICK TO DONATE
to Reasons for Hope*Jesus(a 501c3 Ministry)
Use a Credit Card or PayPal for safe, secure giving.
***A Hidden Message in Psalm 23?***  
Hidden in the six verses of Psalm 23 are 11 names for Jesus.
When you subscribe to our newsletter, we'll send you
The Names of God in Psalm 23 PDF
that reveals all 11 names and Scripture verses of comfort and hope (link will be sent in your confirmation email).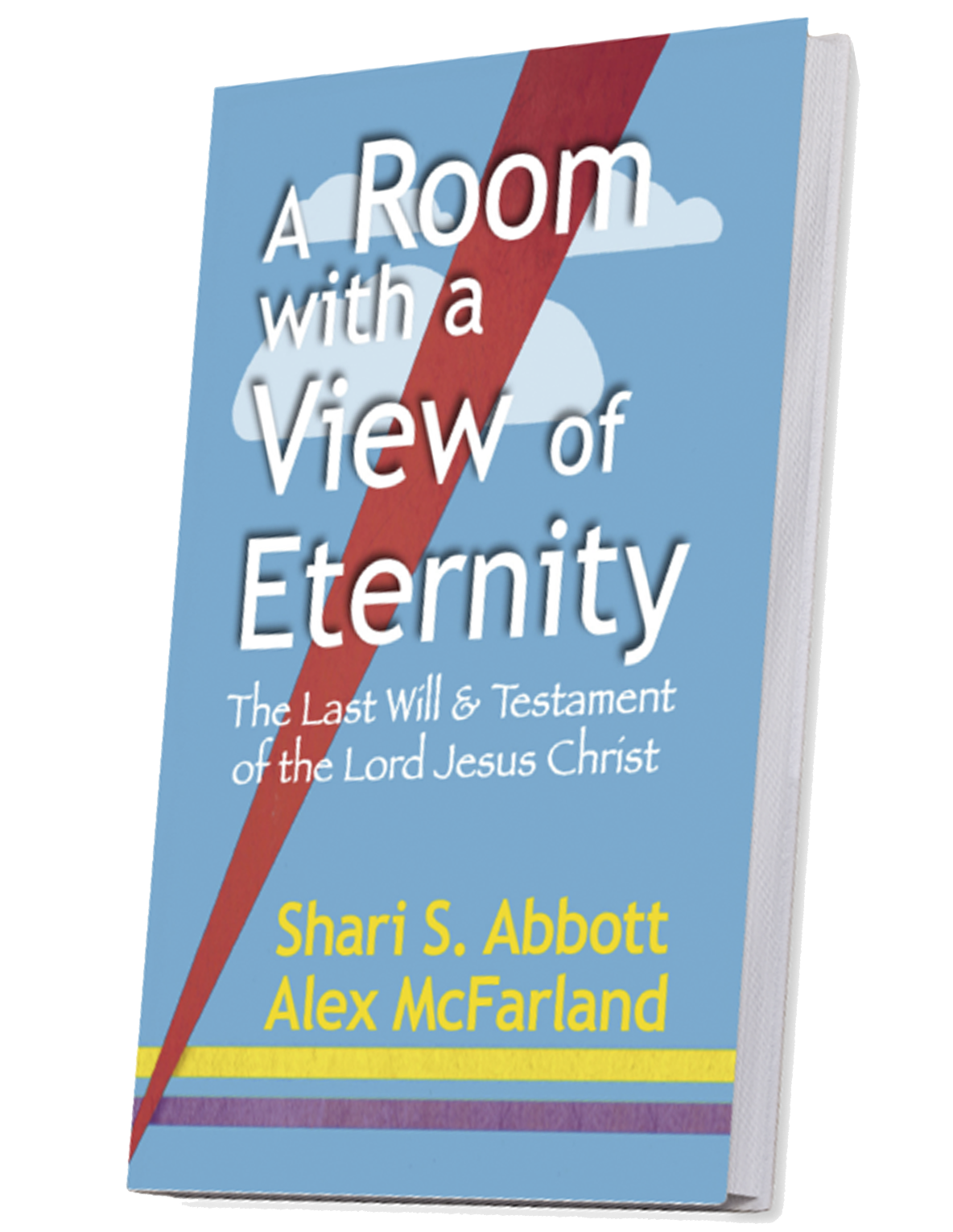 A Room with a View of Eternity—The Last Will & Testament of Jesus Christ   Take a seat at the Master's table. Learn about the riches He gives to all who are His. This book will bless and encourage you, give you hope, and help you live in the joy of your salvation and the riches of Christ that are yours.