AUTHOR: Jeremiah
DATE: 627-585 B.C.
Jeremiah is often called the "weeping prophet" (Jer 9:1; 13:17) or the "prophet of loneliness" because he was commanded not to marry, Jer16:2. Jeremiah is also the "reluctant prophet" (1:6), yet for more than 40 years he faithfully proclaimed God's judgment on apostate Judah and endured opposition, beatings, and imprisonment for his unpopular message from God (Jer 11:18-23; 12:6; 18:18; 20:1-3; 26:1-24; 37:11-38:28).
Jeremiah began his ministry at about the age of 20 under good King Josiah.  After Josiah's death, the people opposed and persecuted Jeremiah.  He barely escaped arrest. He was forbidden to go to the Temple.  And he had to deputize Baruch, his secretary, to deliver his prophecies. King Jehoiakim destroyed Jeremiah's written prophecies, which Jeremiah faithfully rewrote (Jer 36:22ff.). King Zedekiah permitted nationalistic-minded nobles to imprison Jeremiah, but then reduced the punishment.
When the armies of Nebuchadnezzar sieged Jerusalem in 586 B.C., Jeremiah was freed and given the choice of going to Babylon or remaining in Jerusalem. Jeremiah chose to remain in Jerusalem but was soon abducted and taken to Egypt by Jews who fled there rather than face Nebuchadnezzar. In Egypt, Jeremiah prophesied a few more years.  He apparently died there.
Sensitive and sympathetic by nature, Jeremiah was commanded by God to deliver a very stern and unpopular message of judgment. The opposition he faced was cruel and crushing.  It caused Jeremiah, more than once, to want to resign from his office as prophet, yet he continued faithfully in his calling to proclaim God's Word.
A Chronology of the Times
627 Jeremiah called of God. Judah under tribute to Assyria, whose power was beginning to wane.
612 Nineveh, capital of Assyria, sacked.
609 King Josiah killed at Megiddo by Neco of Egypt, who was fighting to bolster Assyria (2 Kings 23:29-30).
609 Jehoahaz ruled Judah for three months before being deposed by Neco and taken to Egypt in chains (2 Kings 23:32-33; cf. Jer. 22:10).
609-598 Jehoiakim reigned over Judah as an Egyptian vassal (Jer. 22:13-17).
605 Battle of Carchemish, where Nebuchadnezzar defeated Egyptian forces (Jer. 46:2). Nebuchadnezzar entered Palestine and took Daniel and others hostage (2 Kings 24:1). Jehoiakim abandoned Egyptian suzerainty and became a vassal of Babylon.
601 Jehoiakim sided with Egypt again against Jeremiah's warnings (Jer. 22:13-19).
597 Jehoiakim died (either late in 598 or early in 597). Nebuchadnezzar captured Jerusalem and deported King Jehoiachin, replacing him with Zedekiah (2 Kings 24:17).
586 Nebuchadnezzar again occupied Jerusalem because Zedekiah had entered into negotiations with Egypt (2 Kings 25:1-7). Gedaliah appointed governor of Judah (2 Kings 25:22-26). Gedaliah assassinated. Jeremiah taken to Egypt.
It should be noted that the arrangement of the prophecies in the Book of Jeremiah is not chronological. The following chart attempts to place some of the oracles against their historical background, indicated by the ruling king of Judah.
Josiah 1-6
Jehoahaz (Shallum) 22:10-12
Jehoiakim 7-20; 25; 26; 35; 36; 45; 46:1-12; 47-49
Jehoiachin 22-23
Zedekiah chaps. 21; 24; 27-34; 37-39
Gedaliah 40-44
Warnings against sin and judgment are paramount throughout the book, but so also is the message of hope and restoration. Important prophecies include the curse on Jehoiachin (Jer 22:30), the prediction of the Messiah (Jer 23:5-6), the duration of the Babylonian captivity (Jer 25:11), and the revelation of the new covenant (Jer 31:31-34). The concept of backsliding or unfaithfulness is prominent, and there are more references to Babylon (164 times) in Jeremiah than in the rest of the Bible together.
OUTLINE OF JEREMIAH
I. Jeremiah's Call and Commission, 1:1-19
A. His Call, 1:1-10
B. The Confirmation of the Call, 1:11-19
II. Prophecies Concerning Judah, 2:1-45:5
A. Judah's Willful Sin, 2:1-3:5
B. Judah's Chastening, 3:6-6:30
1. Contrast Between Israel and Judah, 3:6-10
2. Call to repentance, 3:11-25
3. Prediction of judgment, 4:1-31
4. Reasons for judgment, 5:1-31
5. Certainty of judgment, 6:1-30
C. Judah's Wrong Religion, 7:1-10:25
1. The indictment of the people; the Temple sermon, 7:1-8:3
2. The retribution of God, 8:4-9:26
3. The folly of idolatry, 10:1-18
4. The reaction of the prophet, 10:19-25
D. Judah's Breaking of God's Covenant, 11:1-13:27
1. The fact, 11:1-17
2. The consequence, 11:18-12:17
3. The warnings, 13:1-27
E. Judah's Coming Drought, 14:1-15:9
1. Jeremiah's message, 14:1-6
2. Jeremiah's intercession, 14:7-15:9
F. Judah's Prophet Recommissioned, 15:10-16:9
1. Jeremiah's remorse, 15:10-21
2. Jeremiah's restrictions, 16:1-9
G. Judah's Sins, 16:10-17:27
H. Judah and the Sovereign Potter, 18:1-23
I. Judah as a Broken Jar, 19:1-20:18
1. The message, 19:1-15
2. The reaction: Jeremiah persecuted, 20:1-18
J. Judah's Kings, 21:1-23:8
1. The message to Zedekiah, 21:1-22:9
2. The message concerning Shallum (Jehoahaz), 22:10-12
3. The message concerning Jehoiakim, 22:13-19
4. The message concerning Jehoiachin (Coniah), 22:20-30
5. The message concerning Messiah, 23:1-8
K. Judah's False Prophets, 23:9-40
L. Judah's Captivity, 24:1-25:38
1. The deportees, 24:1-10
2. The duration, 25:1-11
3. The disposition of the captor nation, 25:12-3
M. Judah's Reaction to Jeremiah's Ministry, 26:1-24
N. Judah's Advice from Jeremiah: Submit to Nebuchadnezzar, 27:1-29:32
1. Sign of the yokes, 27:1-22
2. Opposition of a false prophet, 28:1-17
3. Letter to Jews in captivity, 29:1-3
O. Judah's Hope of Restoration, 30:1-33:26
1. The promise declared: restoration after tribulation, 30:1-31:26
2. The promise covenanted: the new covenant, 31:27-40
3. The promise illustrated: a field bought, 32:1-44
4. The promise reaffirmed: the Davidic covenant, 33:1-26
P. Events Before the Fall of Jerusalem, 34:1-38:28
1. Message to Zedekiah, 34:1-7
2. Message to the people, 34:8-22
3. Message concerning the Rechabites, 35:1-19
4. Jehoiakim burns Jeremiah's scroll, 36:1-32
5. Jeremiah imprisoned, 37:1-38:28
Q. The Fall of Jerusalem, 39:1-18
1. The fate of the Jews, 39:1-10
2. The fate of Jeremiah, 39:11-18
R. Events After the Fall of Jerusalem, 40:1-45:5
1. Jeremiah ministers to Jews in Palestine, 40:1-42:22
2. Jeremiah ministers to Jews in Egypt, 43:1-44:30
3. Jeremiah ministers to Baruch, 45:1-5
III. Prophecies Concerning the Nations, 46:1-51:64
A. Prophecies Against Egypt, 46:1-28
B. Prophecies Against the Philistines, 47:1-7
C. Prophecies Against Moab, 48:1-47
D. Prophecies Against Ammon, 49:1-6
E. Prophecies Against Edom, 49:7-22
F. Prophecies Against Damascus, 49:23-27
G. Prophecies Against Arabia, 49:28-33
H. Prophecies Against Elam, 49:34-39
I. Prophecies Against Babylon, 50:1-51:64
IV. Historical Supplement, 52:1-34
A. The Fate of Jerusalem, 52:1-23
B. The Fate of Certain People, 52:24-34
Jesus is the Reason this Ministry Exists
At  Reasons for Hope* Jesus, we are committed to equipping, encouraging, and empowering Christians to know Jesus better, love Him more, and share their faith. We also reach the lost through our Salvation Page. 
With your support, we can continue to provide valuable resources and engaging content.  Please join us in our mission by donating today. Your generous contribution helps us expand our outreach of sharing biblical truths and hope in Jesus.  Thank you for your kindness and for being an integral part of our mission.
***A Hidden Message in Psalm 23?***  
Hidden in the six verses of Psalm 23 are 11 names for Jesus.
When you subscribe to our newsletter, we'll send you
The Names of God in Psalm 23 PDF
that reveals all 11 names and Scripture verses of comfort and hope (link will be sent in your confirmation email).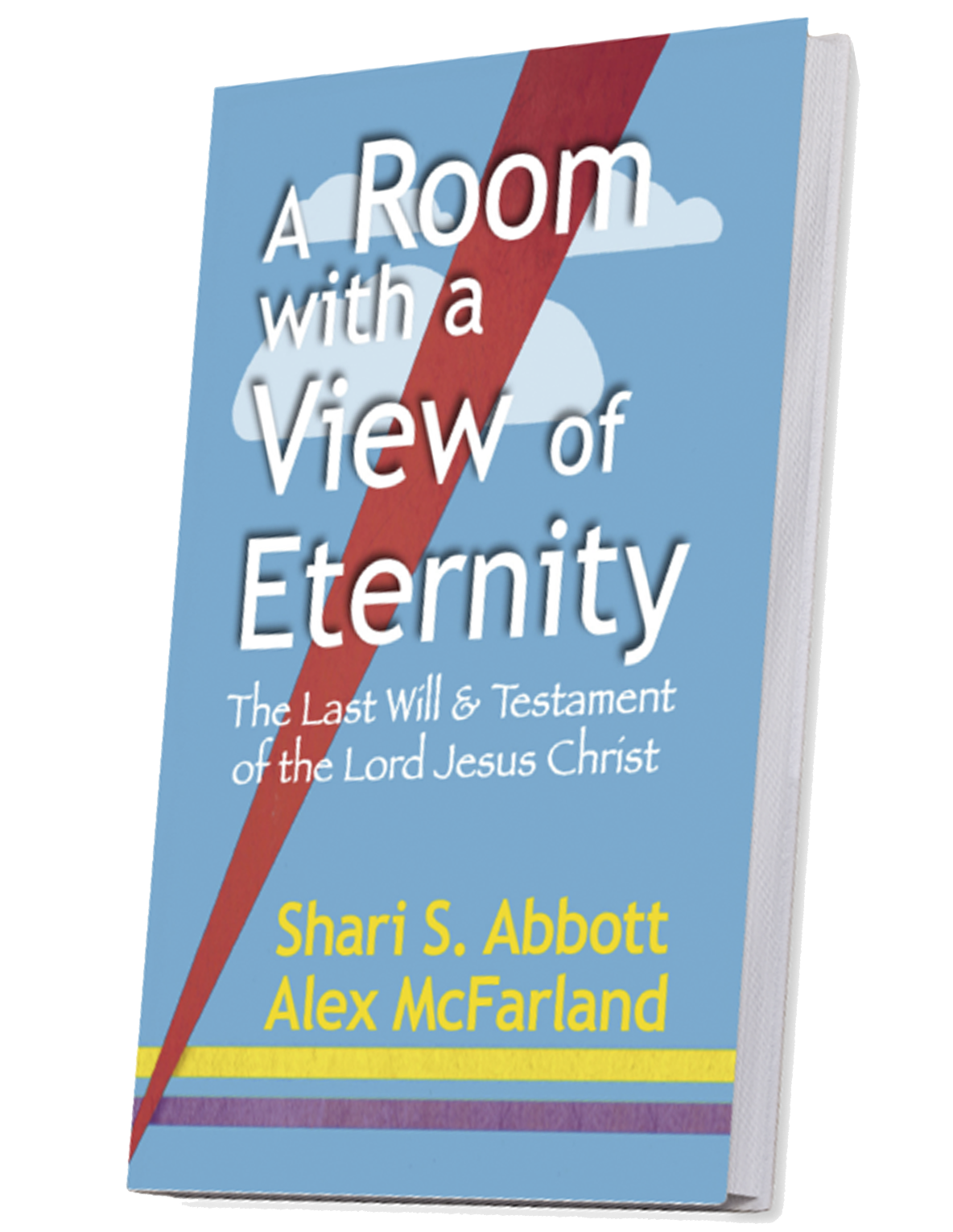 A Room with a View of Eternity—The Last Will & Testament of Jesus Christ   Take a seat at the Master's table. Learn about the riches He gives to all who are His. This book will bless and encourage you, give you hope, and help you live in the joy of your salvation and the riches of Christ that are yours.