— Question received:  "Is repentance a requirement for salvation? I'm having a discussion with a pastor who said 'repentance for a gentile is not a requirement for salvation, repentance was required for the Jew for salvation.'"
To answer this question, let's first define what is meant by repentance and what is meant by "requirement."  Let's begin by remembering that we cannot do anything to get ourselves saved.  Jesus is the One who saves and salvation is only accomplished by His finished work on the cross. Because Jesus gets the glory for our salvation, some will say that repentance cannot be any part of it.  They wrongly think that repentance is a work.  However, the Bible does not support that thinking.  Nor do secular or Christian definitions of the word "repent" suggest that repentance is a work.
Secular Definitions
Repentance is the activity of reviewing one's actions and feeling contrition or regret for past wrongs. It generally involves a commitment to personal change and resolving to live a more responsible and humane life. [1] Repentance: deep sorrow, compunction, or contrition for a past sin, wrongdoing, or the like.  Regret for any past action. [2]
Biblical Definitions
Repentance — 1. Sorrow for any thing done or said; the pain or grief which a person experiences in consequence of the injury or inconvenience produced by his own conduct. 2. In theology, the pain, regret or affliction which a person feels on account of his past conduct, because it exposes him to punishment. This sorrow proceeding merely from the fear of punishment, is called legal repentance, as being excited by the terrors of legal penalties, and it may exist without an amendment of life. 3. Real penitence; sorrow or deep contrition for sin, as an offense and dishonor to God, a violation of his holy law, and the basest ingratitude towards a Being of infinite benevolence. This is called evangelical repentance, and is accompanied and followed by amendment of life. [3]
Repentance, also called penitence, is the God-granted attitude of having sorrow for personal sin and the turning away from it towards a new life. [4]
Repentance and Faith
We know that we are saved by grace alone through faith in Christ (Ephesians 2:8).  Repentance is part of that faith, but not a separate action. Trusting in Christ and putting one's faith in Him involves a sorrow over sin and a change of mind [repentance] that leads to a turning to Christ [faith].  Theologian and Apologist Norman Geisler illustrates this with, "Faith and repentance are inseparable, in the same way that the command to come here cannot be fulfilled without leaving there."
Coming to Christ involves heeding His call.
Come unto me, all ye that labour and are heavy laden, and I will give you rest. (Matthew 11:28) 
Coming to Christ involves a change that takes place in both the mind and the heart, resulting in a profession of faith.
For with the heart man believeth unto righteousness; and with the mouth confession is made unto salvation. (Romans 10:10) 
Coming to Christ involves a turning from darkness to light (repentance). Paul understood this well. He was commissioned to do this by Jesus:
. . .I [Jesus Christ] send thee [Paul], To open their eyes, and to turn them from darkness to light, and from the power of Satan unto God, that they may receive forgiveness of sins, and inheritance among them which are sanctified by faith that is in me. (Acts 26:17-18)
Coming to Christ involves a change in us. We become a new creature.
Therefore if any man be in Christ, he is a new creature: old things are passed away; behold, all things are become new. (2 Corinthians 5:17) 
Is Repentance REQUIRED for Salvation?
Again, we need to define what "required" mean.  Whenever we think of something being required of us, we think of our having to do something and it then begins to sound like a work.  However, the "doing" of repentance is clearly a change of heart, just as the "doing" of faith is a change from trusting in oneself to trusting in Jesus.  Both repentance and faith are conditions of the mind and heart that produce something.  Repentance is a sorrow over sin and faith is a willing surrender and trust in Jesus.  That is the turning from sin and the turning to Jesus is asking Him for forgiveness and salvation.  If someone desires to call repentance a work, they must also call faith a work and no one would say we are saved by our work of faith. The only work that saves us is Jesus' work on the cross that paid for our sins and His work in regenerating our souls.
Repentance for Israel vs Repentance for the Church
God told the people of Israel repeatedly to remember who He is, repent of sin and return to Him.  The people of Israel were not redeemed by the blood of Jesus, they were only sanctified by the blood of animal sacrifices.  They did not have the Holy Spirit permanently indwelling their souls, as we do, and they repeatedly forgot their God and wandered far from Him into grievous sin.  Repentance was an important part of their returning to right relationship with God. And so also is it for us.
As Christians—blood-bought, forgiven sinners, with the righteousness of Christ imputed to us (2 Corinthians 5:21), and sealed by the Holy Spirit (Ephesians 4:30)—we need not fear any condemnation from God (Romans 8:1).  We are Jesus' Body, His Church, His Bride, and yet we are prone to forget and wander.  Repentance was an important part of our coming to Jesus and it remains an important part of our communion with Him.  We must continue to turn from the darkness of sin and turn to the Light of the Lord Jesus Christ.
Returning to the Question
"Is repentance a requirement for salvation?"  
Yes, I believe the Bible clearly teaches that repentance is part of salvation because repentance is a change in the condition of one's heart. It is an acknowledgment of sin and a desire for Jesus.
Let's also address the second part of the question and the pastor who said that "repentance for a gentile is not a requirement for salvation, repentance was required for the Jew for salvation." 
In addition to erring in not understanding what repentance is,  he misses that there are only two kinds of people and it is not Jew and Gentile.  There are 1) those who have their sins forgiven by God and 2) those whose sins are not forgiven.  Both will die.  Those whow have received God's forgiveness have been washed clean of sin by the blood of Jesus and have been made new in Him.  They will die in Christ and go to be with Him.  Those whose sins are not forgiven will die in sin.  God does not want anyone to die in sin.  He desires all to come to repentance. (2 Peter 3:9)  Be diligent to share the gospel with both Jews and Gentiles.
Thank God that He has revealed your sin to you and that you repented and turned your heart to Jesus.  Always remember that repentance is an ongoing way of life for the Christian.  We all continue to sin and we are to confess our sin and turn our faces to look upon Jesus (Hebrews 12:2) and turn our heart's affection toward Him (Philippians 3:20, Colossians 3:2).  Our God is loving, gracious and faithful to cleanse us from all sin.  (1 John 1:9)
<*}}}><
https://en.wikipedia.org/wiki/Repentance
http://dictionary.reference.com/browse/repentance?s=t
http://webstersdictionary1828.com/Dictionary/repentance
http://www.theopedia.com/Repentance
Be Ready Always...
to give a reason for the Hope that you have (1 Peter 3:15).  When you can't share the gospel with your words, share it by leaving tracts that tell people about God's grace.
When leaving a tract, always be diligent to pray for the short gospel message. Pray that it be found by someone who is in need of Jesus' saving grace, and pray that the person will have a tender heart and open ears to receive the gift Jesus desires to give them.  
By the power of the Holy Spirit, even a small tract can help in turning a broken, sinful person from darkness to light.
Jesus is the Reason this Ministry Exists
Thank you to all who contributed in 2020. Your generosity is a blessing and encouragement to us.  We did not meet expenses in 2020 and still need your help to continue our global outreach in 2021.  Our mission is to glorify God by equipping, encouraging, and empowering YOU to understand the Bible and grow in faith. If our online resources have blessed you, we hope you will support Reasons for Hope* Jesus. Our ministry outreach has grown significantly and. . .
Please support Reasons for Hope* Jesus with a donation of $5, $10, $20, or more. A donation of any amount is needed and greatly appreciated.
CLICK TO DONATE
to Reasons for Hope*Jesus(a 501c3 Ministry)
Use a Credit Card or PayPal for safe, secure giving.
***A Hidden Message in Psalm 23?***  
Hidden in the six verses of Psalm 23 are 11 names for Jesus.
When you subscribe to our newsletter, we'll send you
The Names of God in Psalm 23 PDF
that reveals all 11 names and Scripture verses of comfort and hope (link will be sent in your confirmation email).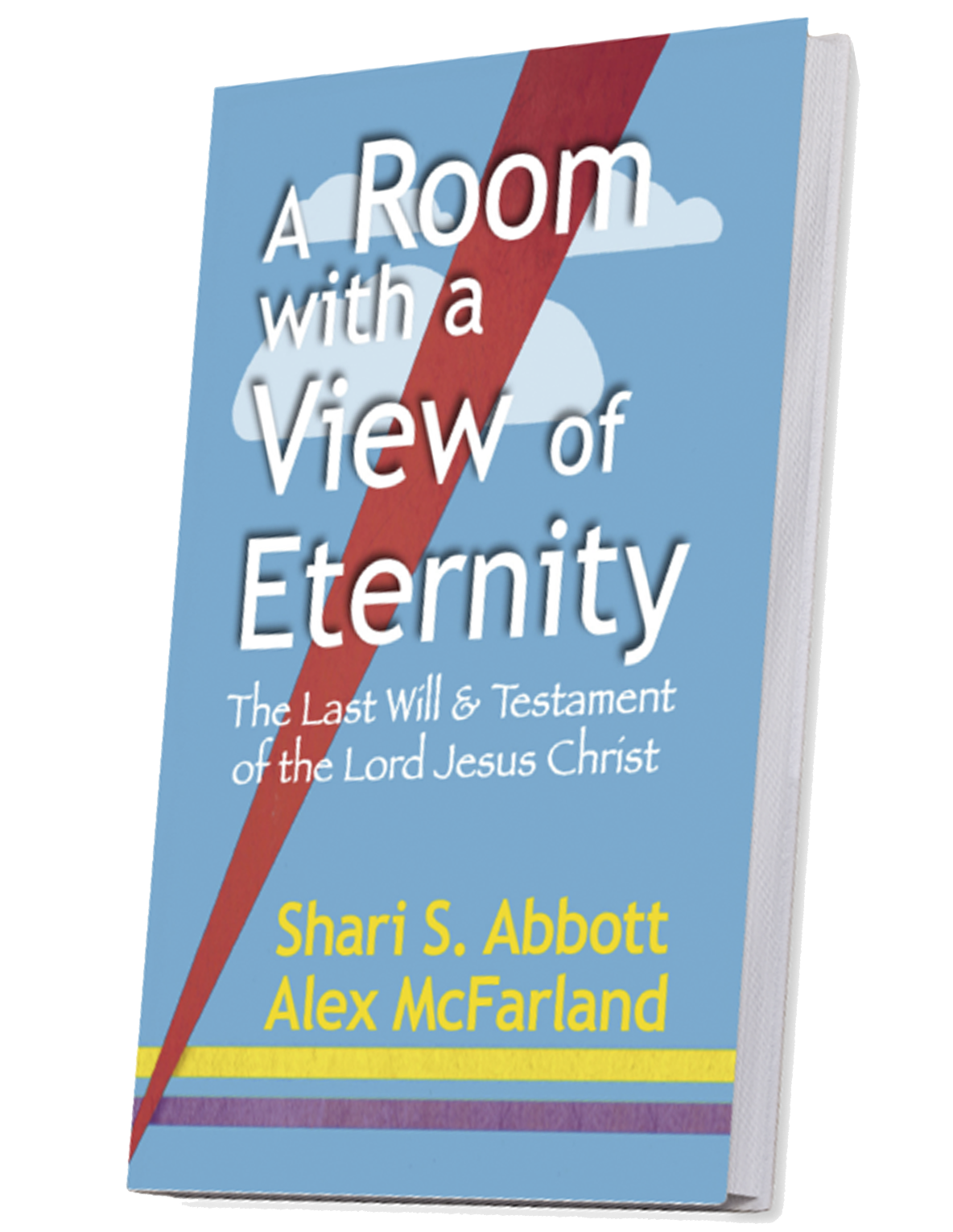 A Room with a View of Eternity—The Last Will & Testament of Jesus Christ
Take a seat at the Master's table. Learn about the riches He gives to all who are His. This book will bless and encourage you, give you hope, and help you live in the joy of your salvation and the riches of Christ that are yours.
Top Ten 
in 2019
More Popular Questions & Articles:
If BAPTIZED as an Infant, Do I Need to Be Baptized Again?
How was Jesus Like a Worm? What's the CRIMSON (OR SCARLET) WORM? Psalm 22
Is Satan's Real Name LUCIFER? Or Should We Call Him Satan?
What is the Significance of the Wise Men's THREE GIFTS? And were they kings? 
Was Jesus CRUCIFIED on Wednesday, Thursday, or Friday?
The Names of Jehovah hidden in Psalm 23! This will surprise you!
What Did Jesus Say About HEAVEN (and HELL)?
JESUS WEPT. Why? And…it's not the shortest verse in the Bible!
Is There a Remez (HIDDEN MESSAGE ) in Revelation 7? Why is Dan Missing?
What Does it Mean to Be A CHILD OF GOD?
Why Is PRAYER Important?
Is SUICIDE an Unforgivable Sin?
Something ALL Christians must know:  IVDARR
Our Top Three Videos
Christian Version of Leonard Cohen's HALLELUJAH
Memorial Day BAGPIPES TRIBUTE: Amazing Grace
RISE AND SHINE and Give God the Glory, Glory!

All resources on this site © Reasons for Hope* Jesus --  click for Republication Permissions or contact hope@reasonsforhopeJesus.com