AUTHOR: Ezekiel
DATE: 592-570 B.C.
From a priestly family (Eze 1:3), Ezekiel's name means "God strengthens."  He spent his early years in Jerusalem until he was deported with others to Babylon in 597 B.C. In Babylon, Ezekiel settled in his own house, in a village near Nippur on the river Chebar (Eze 3:15, 24). Ezekiel prophesied for at least 22 years (Eze 1:2, Eze 29:17-21). His wife died in 587 (Eze 24:16-18).
Ezekiel prophesied to the exiles in Babylon at the same time that of Jeremiah was prophesying to the Jews who remained in Jerusalem.  This was during the early years of the prophetic ministry of Daniel. For the important events of that period see Jeremiah Overview and Outline.
Ezekiel's ministry was to remind the exiles that their sins had brought God's judgment and to assure them of God's future blessing and His faithfulness to keep His covenant. Chapters 1-24 were written before the fall of Jerusalem prophesying of the coming judgment and chapters 33-48 contain prophecies of the still future restoration of Israel in the millennial kingdom.
Important Messianic sections in the book are Jer 17:22-24; Jer 21:26-27; Jer 34:23-24. The overthrow of Gog is described in chapters 38-39, and the Millennial Temple and worship in chapters 40-48. Some well-known passages include Jer 1:4-28; Jer 3:16-21; Jer 11:17-20; Jer 14:14; Jer 28:11-19; Jer 36:24-28; Jer 37:1-28.
OUTLINE OF EZEKIEL
I. Ezekiel's Call and Commissioning, 1:1-3:27
A. Ezekiel's Circumstances, 1:1-3
B. Ezekiel's Vision of God, 1:4-28
1. The four living creatures and the chariot, 1:4-14
2. The four wheels, 1:15-21
3. The radiant expanse, 1:22-28
C. Ezekiel's Call, 2:1-10
D. Ezekiel's Commissioning, 3:1-27
II. Prophecies Against Judah and Jerusalem, 4:1-24:27
A. Prophecies Through Symbols, 4:1-5:17
1. A brick: the siege of Jerusalem, 4:1-3
2. A posture: the duration of the Exile, 4:4-8
3. Bread: scarcity, 4:9-17
4. Shaving: destruction of the people of Jerusalem, 5:1-17
B. Prophecies Through Sermons, 6:1-7:27
1. The cause of coming judgment: idolatry, 6:1-14
2. The character of coming judgment: severe, 7:1-27
C. Prophecies Through Visions, 8:1-11:25
1. A vision of wickedness in the Temple, 8:1-18
2. A vision of the slaying of the inhabitants of Jerusalem, 9:1-11
3. A vision of the burning of Jerusalem, 10:1-22
4. A vision of wicked princes and departed glory, 11:1-25
D. The Certainty and Causes of Judgment Through Signs, Messages, and Parables, 12:1-24:27
1. The sign of the prophet's baggage, 12:1-16
2. The sign of trembling, 12:17-28
3. The message against false prophets and prophetesses, 13:1-23
4. The message against the idolatrous elders, 14:1-23
5. The parable of the fruitless vine, 15:1-8
6. The parable of the adulterous woman, 16:1-63
a. Her youth, 16:1-14
b. Her sins, 16:15-34
c. Her condemnation, 16:35-52
d. Her restoration, 16:53-63
7. The parable of the two eagles, 17:1-24
8. The proverb of the sour grapes repudiated, Ezek 18:1-32
9. The lamentation for the princes of Israel, Ezek 19:1-14
10. The message concerning Israel's unfaithfulness, 20:1-31
11. The promise of future restoration, 20:32-44
12. The forest fire, 20:45-49
13. The sword, 21:1-32
14. The smelting furnace of judgment, 22:1-31
a. The catalog of sins, 22:1-12
b. The certainty of judgment, 22:13-22
c. The classes of sinners, 22:23-31
15. The parable of the two sisters, 23:1-49
a. Their identification, 23:1-4
b. Their infidelities, 23:5-21
c. Their punishment, 23:22-49
16. The parable of the boiling pot, 24:1-14
17. The sign of the death of Ezekiel's wife, 24:15-2
III. Prophecies Against Foreign Nations, 25:1-32:32
A. Judgment on Ammon, 25:1-7
B. Judgment on Moab, 25:8-11
C. Judgment on Edom, 25:12-14
D. Judgment on Philistia, 25:15-17
E. Judgment on Tyre, 26:1-28:19
1. The overthrow of Tyre, 26:1-21
2. The lamentation over Tyre, Ezek 27:1-36
3. The fall of the leader of Tyre, 28:1-10
4. The lamentation over the king of Tyre, Ezek 28:11-19
F. Judgment on Sidon, 28:20-26
G. Judgment on Egypt, 29:1-32:32
1. The certainty of judgment, 29:1-21
2. The description of judgment, 30:1-26
3. The comparison between Assyria and Egypt, 31:1-18
4. The lamentation over Egypt, Ezek 32:1-32
IV. Prophecies of Israel's Restoration, 33:1-39:29
A. Ezekiel's Appointment as a Watchman, 33:1-33
B. Israel's Shepherds, 34:1-31
1. False shepherds, 34:1-10
2. The true Shepherd, 34:11-31
C. The Rebirth of the Nation, 35:1-36:38
1. The destruction of Edom, 35:1-15
2. The new covenant with Israel, 36:1-38
D. The Resuscitation of the Nation, 37:1-14
E. The Reuniting of the Nation, 37:15-28
F. The Victory of the Nation over Gog and Magog, 38:1-39:29
1. The invasion by Gog, 38:1-16
2. The victory over Gog, 38:17-39:29
V. Prophecies Concerning Israel in the Millennial Kingdom, 40:1-48:35
A. A New Temple, 40:1-43:27
1. Introduction, 40:1-4
2. The outer court and its three gates, 40:5-27
3. The inner court and its three gates, 40:28-47
4. The Temple itself, 40:48-41:26
5. The chambers in the inner court, 42:1-20
6. The return of the glory of the Lord, 43:1-12
7. The altar of burnt offering, 43:13-27
B. A New Service of Worship, 44:1-46:24
1. Those who may minister, 44:1-31
2. Support for those who minister, 45:1-17
3. Offerings, 45:18-46:24
a. Offerings at the feasts, 45:18-25
b. Offerings on Sabbaths, new moons, and daily sacrifices, 46:1-15
c. Regulations for the prince, 46:16-18
d. Places for preparing the offerings, 46:19-24
C. A New Holy Land, 47:1-48:35
1. The river giving life to the land, 47:1-12
2. The boundaries of the land, 47:13-23
3. The division of the land, 48:1-35
Videos and Charts Used By Permission of the Bible Project
Jesus is the Reason this Ministry Exists
Thank you to all who contributed in 2020. Your generosity is a blessing and encouragement to us.  We did not meet expenses in 2020 and still need your help to continue our global outreach in 2021.  Our mission is to glorify God by equipping, encouraging, and empowering YOU to understand the Bible and grow in faith. If our online resources have blessed you, we hope you will support Reasons for Hope* Jesus. Our ministry outreach has grown significantly and. . .
Please support Reasons for Hope* Jesus with a donation of $5, $10, $20, or more. A donation of any amount is needed and greatly appreciated.
CLICK TO DONATE
to Reasons for Hope*Jesus(a 501c3 Ministry)
Use a Credit Card or PayPal for safe, secure giving.
***A Hidden Message in Psalm 23?***  
Hidden in the six verses of Psalm 23 are 11 names for Jesus.
When you subscribe to our newsletter, we'll send you
The Names of God in Psalm 23 PDF
that reveals all 11 names and Scripture verses of comfort and hope (link will be sent in your confirmation email).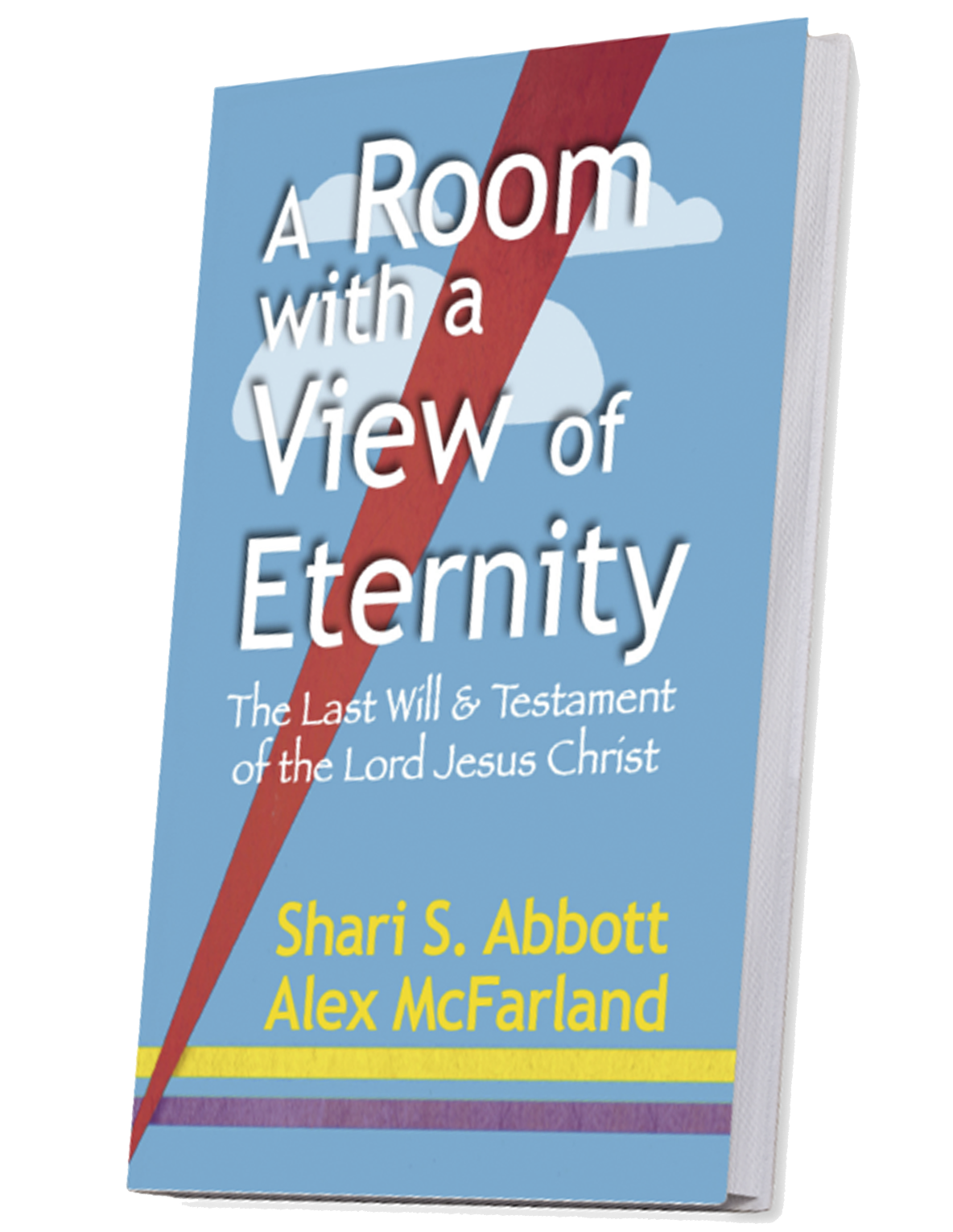 A Room with a View of Eternity—The Last Will & Testament of Jesus Christ
Take a seat at the Master's table. Learn about the riches He gives to all who are His. This book will bless and encourage you, give you hope, and help you live in the joy of your salvation and the riches of Christ that are yours.
Top Ten 
in 2019
More Popular Questions & Articles:
If BAPTIZED as an Infant, Do I Need to Be Baptized Again?
How was Jesus Like a Worm? What's the CRIMSON (OR SCARLET) WORM? Psalm 22
Is Satan's Real Name LUCIFER? Or Should We Call Him Satan?
What is the Significance of the Wise Men's THREE GIFTS? And were they kings? 
Was Jesus CRUCIFIED on Wednesday, Thursday, or Friday?
The Names of Jehovah hidden in Psalm 23! This will surprise you!
What Did Jesus Say About HEAVEN (and HELL)?
JESUS WEPT. Why? And…it's not the shortest verse in the Bible!
Is There a Remez (HIDDEN MESSAGE ) in Revelation 7? Why is Dan Missing?
What Does it Mean to Be A CHILD OF GOD?
Why Is PRAYER Important?
Is SUICIDE an Unforgivable Sin?
Something ALL Christians must know:  IVDARR
Our Top Three Videos
Christian Version of Leonard Cohen's HALLELUJAH
Memorial Day BAGPIPES TRIBUTE: Amazing Grace
RISE AND SHINE and Give God the Glory, Glory!

All resources on this site © Reasons for Hope* Jesus --  click for Republication Permissions or contact hope@reasonsforhopeJesus.com