Isaiah 45:7 (KJV)  "I form the light, and create darkness: I make peace, and create evil: I the LORD do all these things."
It couldn't be clearer. God told Isaiah that He creates evil. And what about Job's words?
Job 2:10 "…What? shall we receive good at the hand of God, and shall we not receive evil?" 
How should we understand these two verses?  If Job had wrongly attributed evil as coming from God's hand, he would have been sinning.  Yet we are told "In all this [Job's recorded words and actions] Job did not sin with his lips" (Job 2:10).
We also know that God is good and all that God does is good (Psalm 119:68, 1 Timothy 4:4).  And, we know that God cannot lie (Titus 1:2).  So what do God's words to Isaiah mean?  How do we reconcile God's statement that He creates evil?
The Bible Has the Answer
When we come to verses that are unclear or confusing, we must "dig deeper" and search the Scriptures to find verses and passages that offer clear teachings and clarify the verses that are difficult to understand. Let's start by determining what is meant by "evil."
We can't suggest that evil is an incorrect translation.  The Hebrew word for evil in both Isaiah and Job is ra' or rah.   It is defined in the Strong's Dictionary as adversity, affliction, bad, calamity, displeasure, distress, evil, grief, harm, hurt, ill, mischief, misery, sorrow, trouble, wickedness, wretchedness, and wrong.  In addition to the KJV, many other English Bibles translate this word as "evil," including early translations such as Geneva (1587), Bishops (1868), Darby (1889), Douay Rheims (1899), Young's Literal Translation (1898), and the Jewish Publication Society (1917).
Some modern translations have tried to "temper" the word in Isaiah 45:7 by using an alternative word, such as "calamity" (NKJV-1982, NASB-1963, ESV-2008), "disaster" (NIV-1978), or "woe" (NRSV-1989).  However, using a different word for evil does not settle the matter.  None of the alternative words fit with the creative works, nature, and character of our God.  God created the world in perfection and God's nature and character are to only do good.  So, God cannot create evil, calamity, disaster, or woe.  That would be against His nature, His character, and His purpose and plan in creation.
Perfect Creation
Because God created the world in perfection, and created man and woman to live in perfect harmony, one with the other, and with Him, no sin or evil was present at the creation.  However, God created two trees in the Garden:  the Tree of Life, from which they could freely eat, and the Tree of the Knowledge of Good and Evil, which was forbidden to them.  Note that this was not the Tree of Good and Evil, but rather the Tree of the Knowledge of Good and Evil.  In creating this tree and commanding that Adam and Eve not eat from it, God gave them free will.  And in order to have a free will, there needs to be an option of contrary choice.  In this case, obey God or disobey God.  
When man ate of the Tree of the Knowledge of Good and Evil, the perfect shalom (the perfect peace, the all-good) of the Garden ceased.  It was by this contrary choice (contrary to God's good will) that evil entered the world and that it exists.  Therefore, evil is not something created, but something that came about in the absence of choosing good.
Isaiah 45:7
Let's read God's words in  Isaiah 45:7 again, looking at each statement separately:
Isaiah 45:7a  "I form the light, and create darkness"
We know that in the beginning, God created light.  He brought it into existence by His Word:  Then God said, "Let there be light" and there was light. And God saw the light, that it was good: and God divided the light from the darkness.(Genesis 1:3-4)
Note that God only spoke the light into existence.   Returning to our verse in Isaiah:
Isaiah 45:7b  "I make peace, and create evil"
Just as darkness was not created and it exists only in the absence of light, so also evil is not created but exists in the absence of good (perfect peace/shalom).  The same is true of cold. Cold is the absence of heat.  Another illustration is a hole in the ground.  One can dig a hole, or "create" a hole, but the hole only exists because of the absence of the dirt that has been removed.
In summary, evil is not the opposite of good.  It is the absence of good.  Evil has no existence of its own.  You cannot have a bucket filled with evil.  In order for man to have free will and choice, God had to allow man to choose good (obey) or to choose to disobey (evil).  He gave them the command to eat from any tree in the garden with the one exception.  When they chose to disobey and chose not to do good, then evil/sin (the absence of good) entered our world.
God Allows Evil and He Uses Evil
While God does not create evil, as defined by bringing it into existence by His providential work and will, God does allow evil by His permissive will.  In other words, He could stop any evil but many times chooses not to do so.
Whenever God allows evil, we can be assured that He has a good purpose and perfect plan for doing so.  God can and will use evil to bring about good.  Jeremiah brings clarity to this.
Jeremiah 18:11  Now therefore go to, speak to the men of Judah, and to the inhabitants of Jerusalem, saying, Thus saith the LORD; Behold, I frame evil [or disaster] against you, and devise a device against you: return now every one from his evil way, and make your ways and your doings good.
Jeremiah 51:24  And I will render unto Babylon and to all the inhabitants of Chaldea all their evil that they have done in Zion in your sight, saith the LORD.
The evil comes from man, but God will allow, frame, or render evil in a way to bring about good.  In Jeremiah 18:11, when God says He "frames evil," it is to call His people to repentance and to restore them to good works and into a right relationship with Him.  In Jeremiah 51:24, when God "renders" unto Babylon "all their evil,"  this was God's use of man's evil as a way of judgment upon an evil nation.
Should we fear that God will use evil in our lives?
It is God's desire to bring about His plan and purpose in our lives through His blessings, and by His Spirit working in and through us.  The free will God has given us empowers us to choose light or darkness, peace or evil.  Let's read God's words of Isaiah 45:7 in the larger context of verses 8-13.
Isaiah 45:5-8  I am the LORD, and there is none else, there is no God beside me: I girded thee…That they may know from the rising of the sun, and from the west, that there is none beside me. I am the LORD, and there is none else. I form the light, and create darkness: I make peace, and create evil: I the LORD do all these things.… Drop down, ye heavens, from above, and let the skies pour down righteousness: let the earth open, and let them bring forth salvation, and let righteousness spring up together; I the LORD have created it.
Following this passage, and after inserting a woe to those who strive against Him (vss 9-11), God tells that He created everything and He created man in righteousness and that He will direct man's ways:
Isaiah 45:12-13  I have made the earth, and created man upon it: I, even my hands, have stretched out the heavens, and all their host have I commanded. I have raised him up in righteousness, and I will direct all his ways…
We have nothing to fear.
Anything that comes from God's hands is given in goodness to direct our ways. Even if God forms evil against us, it is only for His good purpose and to direct our ways.
We don't like the idea of God allowing evil in our lives or forming evil against us, but we know with all certainty that God is a loving Father and He will only do so with good intent.  We also know that God will not use or allow anything into our lives without providing everything we need to deal with it in a God-honoring way.
1 Corinthians 10:13  No temptation has overtaken you except such as is common to man; but God is faithful, who will not allow you to be tempted beyond what you are able, but with the temptation will also make the way of escape, that you may be able to bear it.
Flee Evil and Seek God
Paul's letter to Timothy commands that we flee from all evil and seek after God:
1 Timothy 6:11  But thou, O man of God, flee these things [all evil]; and follow after righteousness, godliness, faith, love, patience, meekness.
In order to flee from evil, we must be able to discern between good and evil.  We do that with knowledge.  God said of His people Israel, "My people are destroyed for lack of knowledge" (Hosea 4:6).  Therefore seek God by reading His Word to gain knowledge and wisdom:
Hebrews 5:14  But solid food [the meat of the Word] belongs to those who are of full age [those who study and gain knowledge], that is, those who by reason of use [reading the Word] have their senses exercised to discern both good and evil.
Keep your eyes focused on Jesus, your heart devoted to the Author and Finisher of your faith (Hebrews 12:2).  Make God-honoring choices in your thoughts, words, and actions. See through the darkness to the light, and beyond the evil to the good, and "let the skies pour down righteousness" from your Creator (Isaiah 45:8)
<*}}}><
Jesus is the Reason this Ministry Exists
We continue to reach people worldwide with the truths of God's Word and the gospel of the Lord Jesus Christ. Your generosity is both a blessing and encouragement. Our mission is to glorify God by equipping, encouraging, and empowering YOU to understand the Bible and grow in faith. If our online resources have blessed you, please support Reasons for Hope* Jesus. Our ministry outreach has grown significantly and . . .
Please support Reasons for Hope* Jesus with a donation of $5, $10, $20, or more. A donation of any amount is needed and greatly appreciated.
CLICK TO DONATE
to Reasons for Hope*Jesus(a 501c3 Ministry)
Use a Credit Card or PayPal for safe, secure giving.
***A Hidden Message in Psalm 23?***  
Hidden in the six verses of Psalm 23 are 11 names for Jesus.
When you subscribe to our newsletter, we'll send you
The Names of God in Psalm 23 PDF
that reveals all 11 names and Scripture verses of comfort and hope (link will be sent in your confirmation email).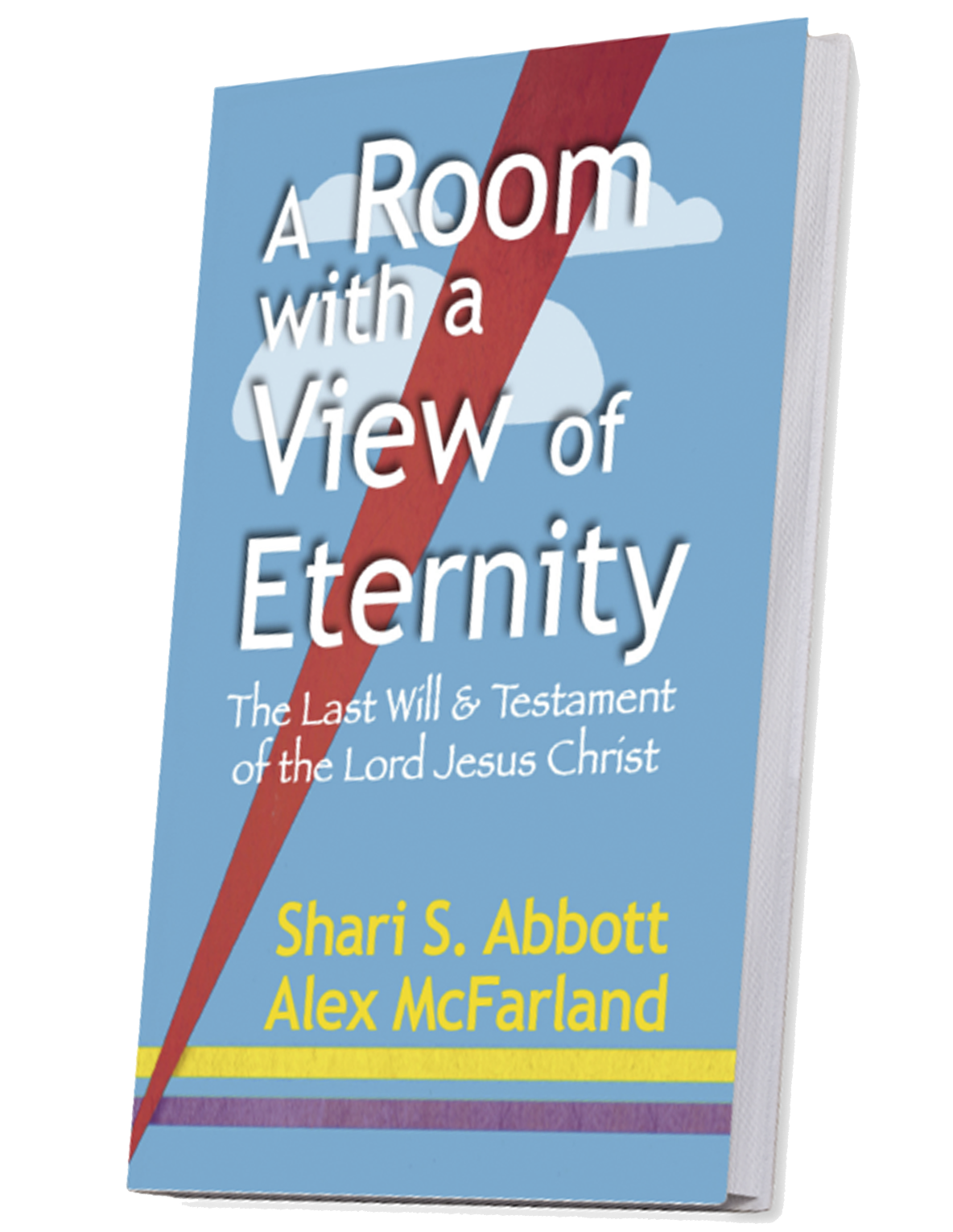 A Room with a View of Eternity—The Last Will & Testament of Jesus Christ   Take a seat at the Master's table. Learn about the riches He gives to all who are His. This book will bless and encourage you, give you hope, and help you live in the joy of your salvation and the riches of Christ that are yours.