Athanasius of Alexandria, also known as Athanasius the Great, Athanasius the Confessor, was a fourth-century defender of the faith. He focused on the scriptural doctrines of the Trinity (Trinitarianism) and the person of Jesus Christ (Christology).  The creed that bears his name teaches and proclaims these two precious doctrines of Christian faith.
Lines 1–28 focus on the doctrine of the Trinity, proclaiming the three Persons of the Godhead (Father, Son, and Spirit), their divine attributes (uncreated and eternal, limitless and omnipotent), and their unity (one God, yet three distinct persons). Lines 29–44 focus on the doctrine of Christology (who Jesus is: fully God and fully man).
Athanasius or Another?
There is a debate about whether Athanasius wrote this creed.  it is not mentioned in any of his, or his contemporaries', writings. Additionally, Athanasius was known to write in Greek and the creed was written in Latin and originally titled  "Whosoever Wishes" (from the first words in Latin, Quicunque vult). We cannot know for certain whether or not Athanasius authored this creed.  However, we do know that he proclaimed and what it teaches and defended these biblical truths. (for more information about Athanasius read our Gospel Hope Devotion: Athanasius)  
As you read the creed, remember that "catholic" means universal.  It is not speaking of a denomination (i.e. the Roman Catholic Church).  It is referring to a quality of faith. The true catholic (universal) church is made up of all who have trusted in Christ for salvation and have been saved by Him.  Also note that this creed, while it is an excellent teaching and defense of Trinitarianism and Christology, demands a salvation dependent upon believing everything that it proclaims.  While the doctrines are true, we know that salvation is only dependent on repenting and trusting in Jesus Christ, the Son of God who shed His blood to pay for our sins.  Many have been saved without fully understanding all the biblical truths this creed presents. 
The Athanasian Creed
Whoever desires to be saved should above all hold to the catholic faith. Anyone who does not keep it whole and unbroken will doubtless perish eternally. Now, this is the catholic faith:
That we worship one God in trinity and the trinity in unity,
neither blending their persons nor dividing their essence.
For the person of the Father is a distinct person,
the person of the Son is another,
and that of the Holy Spirit still another.
But the divinity of the Father, Son, and Holy Spirit is one,
their glory equal, their majesty coeternal.
What quality the Father has, the Son has, and the Holy Spirit has.
The Father is uncreated, the Son is uncreated, the Holy Spirit is uncreated.
The Father is immeasurable, the Son is immeasurable, the Holy Spirit is immeasurable.
The Father is eternal, the Son is eternal, the Holy Spirit is eternal.
And yet there are not three eternal beings;
there is but one eternal being.
So too there are not three uncreated or immeasurable beings;
there is but one uncreated and immeasurable being.
Similarly, the Father is almighty, the Son is almighty, the Holy Spirit is almighty.
Yet there are not three almighty beings;
there is but one almighty being.
Thus the Father is God, the Son is God, the Holy Spirit is God.
Yet there are not three gods;
there is but one God.
Thus the Father is Lord, the Son is Lord, the Holy Spirit is Lord.
Yet there are not three lords;
there is but one Lord.
Just as Christian truth compels us to confess each person individually
as both God and Lord, so catholic religion forbids us to say that there are three gods or lords.
The Father was neither made nor created nor begotten from anyone.
The Son was neither made nor created; he was begotten from the Father alone.
The Holy Spirit was neither made nor created nor begotten; he proceeds from the Father and the Son.
Accordingly, there is one Father, not three fathers;
there is one Son, not three sons;
there is one Holy Spirit, not three holy spirits.
Nothing in this trinity is before or after, nothing is greater or smaller;
in their entirety, the three persons are coeternal and coequal with each other.
So in everything, as was said earlier,
we must worship their trinity in their unity
and their unity in their trinity.
Anyone then who desires to be saved
should think thus about the trinity.
But it is necessary for eternal salvation
that one also believe in the incarnation
of our Lord Jesus Christ faithfully.
Now this is the true faith:
That we believe and confess
that our Lord Jesus Christ, God's Son,
is both God and human, equally.
He is God from the essence of the Father,
begotten before time;
and he is human from the essence of his mother,
born in time;
completely God, completely human,
with a rational soul and human flesh;
equal to the Father as regards divinity,
less than the Father as regards humanity.
Although he is God and human,
yet Christ is not two, but one.
He is one, however,
not by his divinity being turned into flesh,
but by God's taking humanity to himself.
He is one,
certainly not by the blending of his essence,
but by the unity of his person.
For just as one human is both rational soul and flesh,
so too the one Christ is both God and human.
He suffered for our salvation;
he descended to hell;
he arose from the dead;
he ascended to heaven;
he is seated at the Father's right hand;
from there he will come to judge the living and the dead.
At his coming, all people will arise bodily
and give an accounting of their own deeds.
Those who have done good will enter eternal life,
and those who have done evil will enter eternal fire.
This is the catholic faith:
one cannot be saved without believing it firmly and faithfully.

Words of Wisdom from the Cloud of Witnesses:  
"Cloud of Witnesses" refers to those in Heaven who have run their races and are now with the Lord. Their words of wisdom are filled with faith, hope, love, and joy that warm our souls. Their words present the eternal truths of God that grow us and give us joy. And their words strengthen our souls, equip our minds, encourage our hearts, and empower us to stand firm in our faith and be motivated, ready, and willing to share the hope we have in Jesus.
Therefore,
since we are surrounded by so great a

cloud of witnesses

, let us lay aside every weight and the sin which so easily ensnares us, and let us run with endurance the race that is set before us, looking unto Jesus, the Author and Finisher of our faith...(Hebrews 12:1-2) 
Jesus is the Reason this Ministry Exists
We continue to reach people worldwide with the truths of God's Word and the gospel of the Lord Jesus Christ. Your generosity is both a blessing and encouragement. Our mission is to glorify God by equipping, encouraging, and empowering YOU to understand the Bible and grow in faith. If our online resources have blessed you, please support Reasons for Hope* Jesus. Our ministry outreach has grown significantly and . . .
Please support Reasons for Hope* Jesus with a donation of $5, $10, $20, or more. A donation of any amount is needed and greatly appreciated.
CLICK TO DONATE
to Reasons for Hope*Jesus(a 501c3 Ministry)
Use a Credit Card or PayPal for safe, secure giving.
***A Hidden Message in Psalm 23?***  
Hidden in the six verses of Psalm 23 are 11 names for Jesus.
When you subscribe to our newsletter, we'll send you
The Names of God in Psalm 23 PDF
that reveals all 11 names and Scripture verses of comfort and hope (link will be sent in your confirmation email).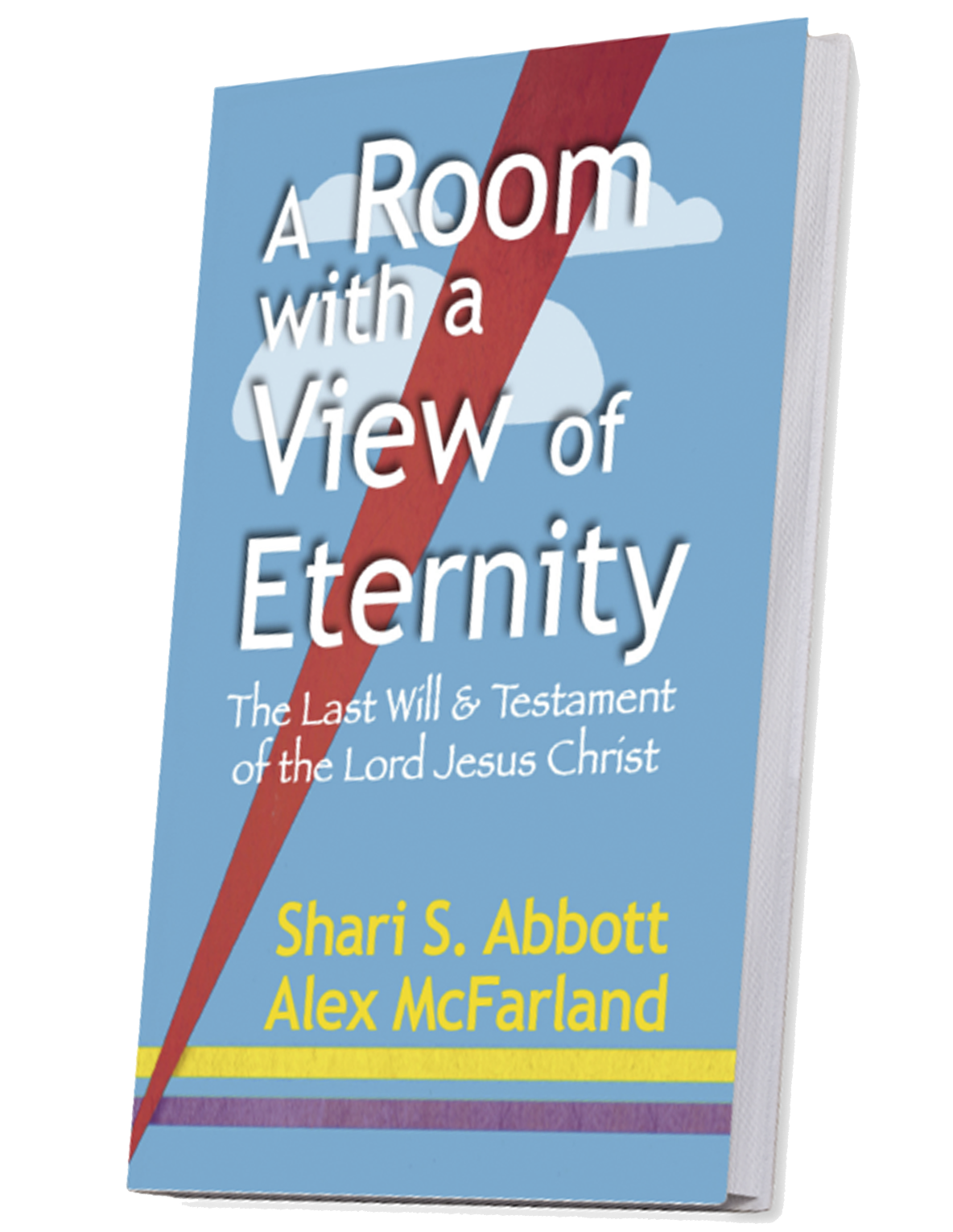 A Room with a View of Eternity—The Last Will & Testament of Jesus Christ   Take a seat at the Master's table. Learn about the riches He gives to all who are His. This book will bless and encourage you, give you hope, and help you live in the joy of your salvation and the riches of Christ that are yours.
Summaries of Warren Wiersbe's list of 77 questions abridged from
Fbcgodfrey.org.