The Romans Road, the John Road, and Revelation Road are "paths" of Bible verses that tell the way to become a new creation in Jesus Christ.  Perhaps there are more.  If you know of another, please let me know.
The most "well-traveled road" (most popular) is the Roman's Road.  It's been used for years as a simple way to witness and can be found in many tracts
The Romans Road to Salvation
There are many variations of this "road" and they're all wonderful.  Some are very short and others add more verse.  I wrote my own for Reasons for Hope* Jesus tracts.  This is my personal version of the Romans Road to Salvation:
1. The Diagnosis of Man
Romans 3:23: "For all have sinned and fall short of the glory of God."
Romans 3:10: "There is no one righteous, not even one."
Romans 6:23a: "For the wages of sin is death…"
2. The Desperation of Man
Romans 7:24 O wretched man that I am! who shall deliver me from the body of this death?
3. The Decision of Man
Romans 10:9-10: "if you confess with your mouth, 'Jesus is Lord,' and believe in your heart that God raised him from the dead, you will be saved. For it is with your heart that you believe and are justified, and it is with your mouth that you confess and are saved."
4. The Deliverance of Man
Romans 5:8: "God demonstrates his own love for us in this: While we were still sinners, Christ died for us."
Romans 6:23b:  "…the gift of God is eternal life in Christ Jesus our Lord."
Romans 10:13: "For everyone who calls on the name of the Lord will be saved."
5. The Grace of God
Rom 5:1-2  Therefore, having been justified by faith, we have peace with God through our Lord Jesus Christ, through whom also we have access by faith into this grace in which we stand, and rejoice in hope of the glory of God.
<*}}}><
The John Road to Salvation
1. Men love darkness and their deeds are evil.
John 3:18 "He who believes in Him is not condemned; but he who does not believe is condemned already, because he has not believed in the name of the only begotten Son of God. John 3:19 "And this is the condemnation, that the light has come into the world, and men loved darkness rather than light, because their deeds were evil.
Jesus is the light.
John 12:36, 46 "While you have the light, believe in the light, that you may become sons of light….I have come as a light into the world, that whoever believes in Me should not abide in darkness."
2. The world hates God.
John 7:7  "The world cannot hate you, but it hates Me because I testify of it that its works are evil."
God loves the world.
John 3:16-17  "For God so loved the world that He gave His only begotten Son, that whoever believes in Him should not perish but have everlasting life. For God did not send His Son into the world to condemn the world, but that the world through Him might be saved."
3. The devil wants to destroy you. Jesus laid down his life for you.
John 10:10  "The thief does not come except to steal, and to kill, and to destroy. I have come that they may have life, and that they may have it more abundantly.
John 10:11, 14-15   "I am the good shepherd. The good shepherd gives His life for the sheep. . . I am the good shepherd; and I know My sheep, and am known by My own."As the Father knows Me, even so I know the Father; and I lay down My life for the sheep."
Jesus wants to give you eternal life.
John 10:27-28   "My sheep hear My voice, and I know them, and they follow Me.  And I give them eternal life, and they shall never perish; neither shall anyone snatch them out of My hand."
Jesus is the way.
John 14:6  Jesus said to him, "I am the way, the truth, and the life. No one comes to the Father except through Me."
John 1:12-13  But as many as received Him, to them He gave the right to become children of God, to those who believe in His name:  who were born, not of blood, nor of the will of the flesh, nor of the will of man, but of God. 
5. What must you do?
John 3:3  Jesus answered and said to him, "Most assuredly, I say to you, unless one is born again, he cannot see the kingdom of God."
John 3:36  "He who believes in the Son has everlasting life; and he who does not believe the Son shall not see life, but the wrath of God abides on him."
<*}}}><
The Revelation Road to Salvation
The Revelation Road is not really a "salvation road" for people in this time period of the Church, the Body of Christ, the Bride of Christ, on earth.  This is the "road" that can be "walked" after the Bridegroom comes for His Bride (Read: What is the Rapture?  Why a Pre-Trib Rapture?)
We share it with you to illustrate the gospel of saving grace during the Seventieth Week of Daniel, also known as the Tribulation. A prophecy in Daniel 9 foretells of this seventieth week (Read: What is the Seventieth Week of Daniel?). It will be a time of God's judgment on the earth, yet even during this time God's mercy and grace will be offered to those who seek Him in faith in Jesus.
Sins of Man
Rev 21:8  "But the cowardly, unbelieving, abominable, murderers, sexually immoral, sorcerers, idolaters, and all liars shall have their part in the lake which burns with fire and brimstone, which is the second death."
Judgment Will Come
Rev 14:7  .."Fear God and give glory to Him, for the hour of His judgment has come..."
Jesus Can Save You
Rev 1:18  "I am He who lives, and was dead, and behold, I am alive forevermore. Amen. And I have the keys of Hades and of Death."
Rev 14:6-7  And I saw another angel fly in the midst of heaven, having the everlasting gospel to preach unto them that dwell on the earth, and to every nation, and kindred, and tongue, and people, Saying with a loud voice, Fear God, and give glory to him; for the hour of his judgment is come: and worship him that made heaven, and earth, and the sea, and the fountains of waters.
Rev 21:6-7  And He said to me, "It is done! I am the Alpha and the Omega, the Beginning and the End. I will give of the fountain of the water of life freely to him who thirsts. He who overcomes shall inherit all things, and I will be his God and he shall be My son."
<*}}}><
Another Road?
There's another road that we (Christians) are to walk after we have been saved by Jesus.  It's a path that takes us to our ultimate destination…Heaven.  On this road, we are never alone, for Jesus has promised, "I will never leave or forsake you" (Heb 13:5) and He has given us the Holy Spirit to indwell us, teach us, and guide us along this road.
The apostle Paul has given us a clear "road map" to follow as we journey to our heavenly home.
Romans 12 Road to Sanctification
God's mercy and grace in saving us leads us to worship God in sacrifice and service (Rom 12:1)
Our worship, sacrifice, and service are to be in humility and sober self-assessment (Rom 12:3)
Our humility and sober self-assessment is because of God's amazing grace—and all the gifts of our inheritance (Rom 12:6)
Therefore, we:
work harder than anyone else (Rom 12:11),
rejoice in hope (Rom 12:12), and
overcome evil with good (Rom 12:21).
As we walk worthy of our calling on the sanctification road, we will "not be conformed to this world, but [will] be transformed by the renewing of [our] mind[s]" and we will be able to "prove what is that good and acceptable and perfect will of God." (Rom 12:2)  And furthermore, we will be empowered by the Holy Spirit to share the reason for the hope that we have (1 Peter 3:15) with a lost and dying world.
<*}}}><
Jesus is the Reason this Ministry Exists
We continue to reach people worldwide with the truths of God's Word and the gospel of the Lord Jesus Christ. Your generosity is both a blessing and encouragement. Our mission is to glorify God by equipping, encouraging, and empowering YOU to understand the Bible and grow in faith. If our online resources have blessed you, please support Reasons for Hope* Jesus. Our ministry outreach has grown significantly and . . .
Please support Reasons for Hope* Jesus with a donation of $5, $10, $20, or more. A donation of any amount is needed and greatly appreciated.
CLICK TO DONATE
to Reasons for Hope*Jesus(a 501c3 Ministry)
Use a Credit Card or PayPal for safe, secure giving.
***A Hidden Message in Psalm 23?***  
Hidden in the six verses of Psalm 23 are 11 names for Jesus.
When you subscribe to our newsletter, we'll send you
The Names of God in Psalm 23 PDF
that reveals all 11 names and Scripture verses of comfort and hope (link will be sent in your confirmation email).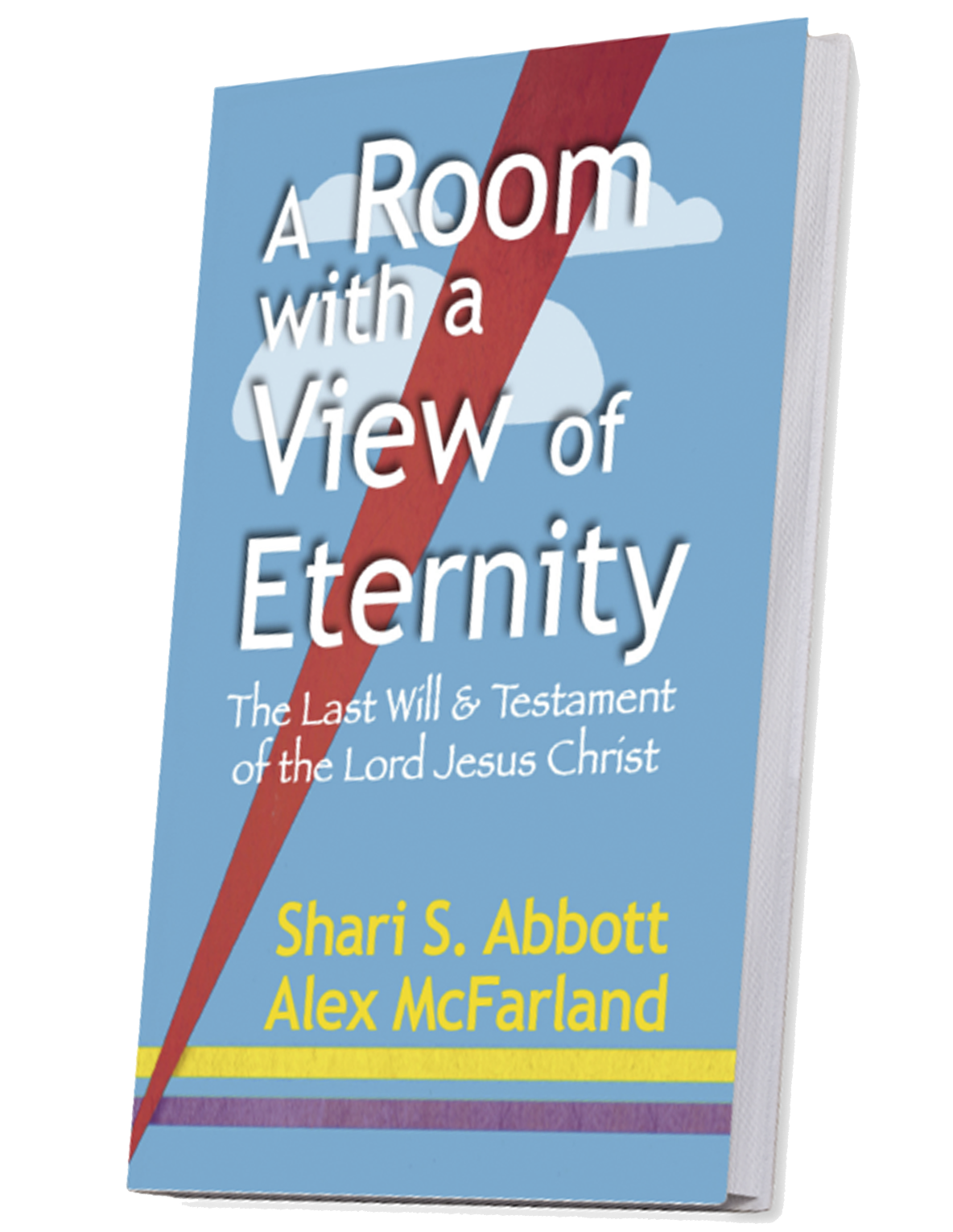 A Room with a View of Eternity—The Last Will & Testament of Jesus Christ   Take a seat at the Master's table. Learn about the riches He gives to all who are His. This book will bless and encourage you, give you hope, and help you live in the joy of your salvation and the riches of Christ that are yours.