AUTHOR: Various Authors
DATE: Probable 1060-444 B.C.
The Jews referred to this book of songs, laments, and praises as "The Book of Praises," while the Septuagint titled it "The Book of Psalms" (from a Greek word indicating songs sung to the accompaniment of stringed instruments). The book was the hymnal of the Jewish people.
Seventy-three of the various psalms are attributed to David, two to Solomon, 12 to the sons of Korah, 12 to Asaph, one to Heman (1 Kings 4:31), one to Ethan (1 Chron. 15:19), and one to Moses. Most of the psalms were written during the times of David and Solomon (tenth century B.C.).
Hebrew poetry is not based on rhyme or meter, but on rhythm and parallelism. The rhythm is not achieved by balanced numbers of accented and unaccented syllables, but by tonal stress or accent on important words.
In parallelism, the poet states an idea in the first line, then reinforces it by various means in the succeeding line or lines. There are four styles of parallelism:
Synonymous parallelism (most common) in which the second line essentially repeats the idea of the first (3:1).

Antithetic parallelism, in which the second line contains an idea opposite to that in the first (1:6).

Synthetic parallelism, in which the second or succeeding lines add to or develop the idea of the first (1:1-2).

Emblematic parallelism, in which the second line elevates the thought of the first, often by using a simile (42:1).
Parallelism is not restricted to two lines but can also extend to strophes (smaller units of a few lines) and stanzas (longer units). An alphabetical acrostic is used in Psalm 119.
Classification of the Psalms
the lament or petition psalms, either individual (Ps. 3) or communal (Ps. 44);

thanksgiving or praise psalms, either individual (Ps. 30) or communal (Ps. 65);

psalms of trust in God (Ps. 4); (4) hymns that include psalms on the enthronement of Yahweh (see notes on Gen. 2:4; Ps. 47), psalms concerning Jerusalem (Ps. 48), and royal psalms (some of which are messianic; Pss. 2, 110); and

didactic and wisdom psalms (Pss. 1, 37, 119)
Psalms may also be classified according to themes; e.g., creation (Pss. 8, 19), the Exodus (Ps. 78), imprecation (Ps. 7), penitence (Ps. 6), psalms of pilgrims (Ps. 120). Psalms that include important prophecies concerning Messiah include Psalms 2, 8, 16, 22, 40, 45, 72, 110, 118.
Titles were added to the psalms after they were written, but are considered to be historically accurate. All but 34 of the psalms have titles or superscriptions that normally comprise the first verse of the Hebrew text. T
The two most frequently used technical terms are:
"Selah" (occurring 71 times in the Psalms and three times in Hab. 3). Selah is probably a musical notation signaling an interlude (pause) or change of musical accompaniment, and

"For the choir director" is attached to 55 psalms (and Hab. 3:19).  This phrase suggests that a collection of psalms existed for the choir director, possibly for use on special occasions. 
Psalms, 7, 35, 55, 58, 59, 69, 79, 109, 137, 139, 140 are imprecatory psalms, meaning they invoke judgment or curses on one's enemies. These are not intended to instruct us to call judgment on others. They record the psalmist calling out to God, asking Him to punish the wicked and it for these reasons:
demonstrate God's just and righteous judgment toward the wicked (58:11),how the authority of God over the wicked (59:13), (3) to lead the wicked to seek the Lord (83:16), and (4) to cause the righteous to praise God (7:17). Therefore, out of zeal for God and abhorrence of sin, the psalmist calls on God to punish the wicked and to vindicate His righteousness.

show the authority of God over the wicked (59:13),  lead the wicked to seek the Lord (83:16), and (4) to cause the righteous to praise God (7:17). Therefore, out of zeal for God and abhorrence of sin, the psalmist calls on God to punish the wicked and to vindicate His righteousness.

lead the wicked to seek the Lord (83:16), and

cause the righteous to praise God (7:17).
The Book of Psalms is divided into five books with each section related to the Pentateuch in theme: 1-41 (Genesis); 42-72 (Exodus); 73-89 (Leviticus); 90-106 (Numbers); 107-150 (Deuteronomy). Each section ends with a doxology.  Psalms can also be understood as falling into these categories: Petition, Deliverance, Praise, Repentance/Confession, Promise/Blessing, and Other.
PETITION — These are prayers to God asking for His help or his favor: 
20, 22, 42, 57, 60, 61, 72, 85, 86, 90, 102, 119, 122, 130, 132, 139, 144
DELIVERANCE — These are petitions as well, but they mostly

plea

for God's deliverance from evil enemies: 

3, 4, 5, 7, 10, 11, 12, 13, 14, 16, 17, 25, 26, 28, 35, 40, 43, 44, 54, 58, 59, 64, 69, 70, 74, 76, 77, 79, 80, 82, 83, 88, 94, 109, 120, 124, 129, 140, 141, 142, 143;  

Imprecatory Psalms 69, 109 and 5, 6, 11, 12, 35, 37, 40, 52, 54, 56, 58,69, 79, 83, 137, 139, 143
PRAISE — 

These psalms express

God attributes and

thank

Him for his great deeds: 

8, 9, 18, 24, 27, 29, 30, 33, 34, 47, 48, 66, 67, 93, 95, 96, 97, 98, 99, 100, 101, 103, 104, 105, 106, 107, 108, 111, 112, 113, 115, 116, 117, 118, 134, 135, 136, 138, 145, 146, 147, 148, 149, 150
REPENTANCE/CONFESSION — These are prayers for forgiveness of sin: 
6, 32, 36, 38, 39, 41, 51, 55, 73
PROMISE/BLESSING — These tell how God has blessed or will bless his people: 
Psalms of Promise/Blessing 1, 15, 19, 21, 23, 31, 37, 46, 49, 50, 52, 56, 62, 63, 65, 68, 71, 75, 78, 81, 84, 89, 91, 92, 110, 121, 123, 125, 126, 128
OTHER — Don't ignore these. There are some classic verses here. They just don't fit clearly into one category.  

2, 45, 53, 87, 114, 127, 131, 133, 137
Videos and Charts Used By Permission of the Bible Project
Jesus is the Reason this Ministry Exists
Thank you to all who contributed in 2020. Your generosity is a blessing and encouragement to us.  We did not meet expenses in 2020 and still need your help to continue our global outreach in 2021.  Our mission is to glorify God by equipping, encouraging, and empowering YOU to understand the Bible and grow in faith. If our online resources have blessed you, we hope you will support Reasons for Hope* Jesus. Our ministry outreach has grown significantly and. . .
Please support Reasons for Hope* Jesus with a donation of $5, $10, $20, or more. A donation of any amount is needed and greatly appreciated.
CLICK TO DONATE
to Reasons for Hope*Jesus(a 501c3 Ministry)
Use a Credit Card or PayPal for safe, secure giving.
***A Hidden Message in Psalm 23?***  
Hidden in the six verses of Psalm 23 are 11 names for Jesus.
When you subscribe to our newsletter, we'll send you
The Names of God in Psalm 23 PDF
that reveals all 11 names and Scripture verses of comfort and hope (link will be sent in your confirmation email).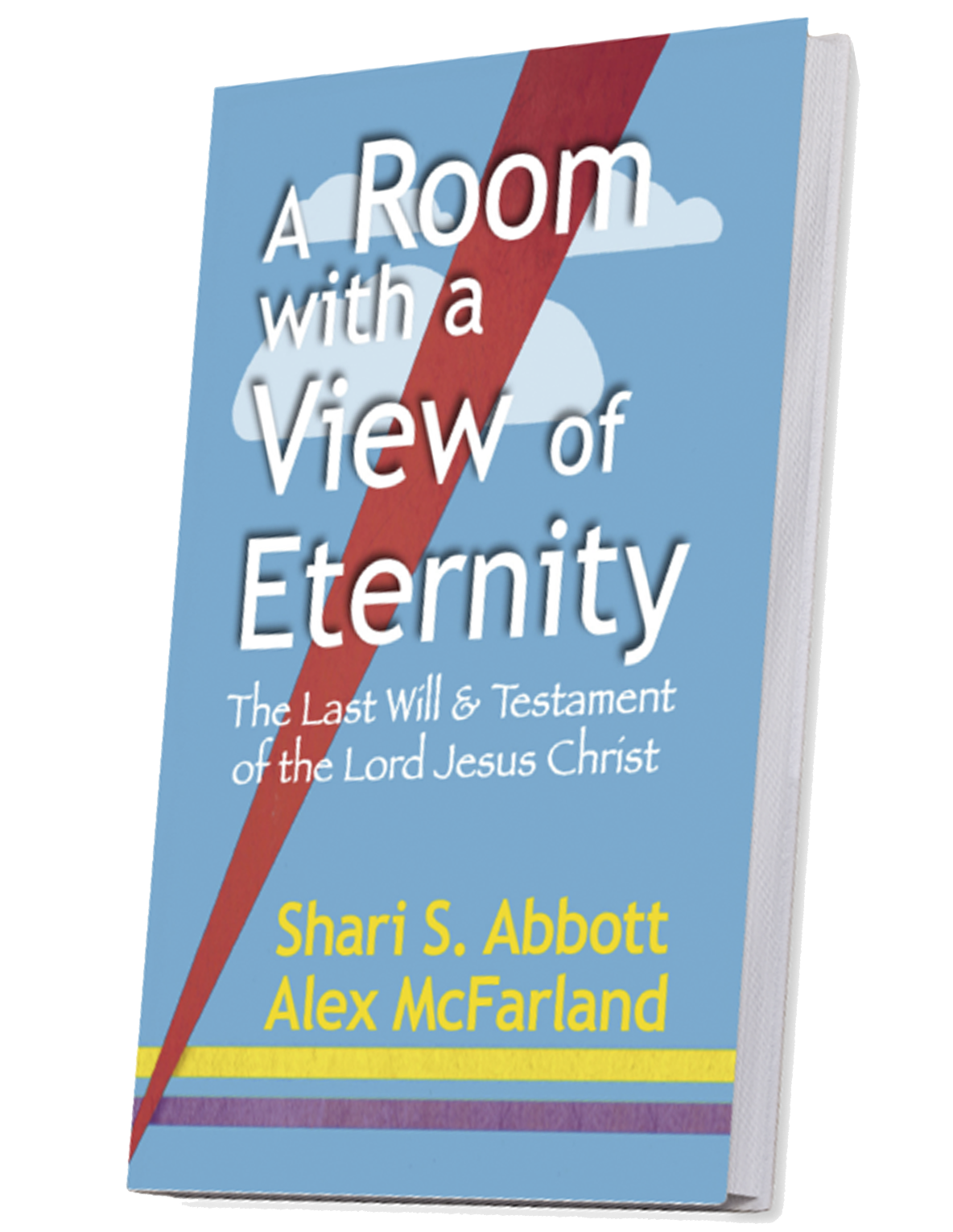 A Room with a View of Eternity—The Last Will & Testament of Jesus Christ
Take a seat at the Master's table. Learn about the riches He gives to all who are His. This book will bless and encourage you, give you hope, and help you live in the joy of your salvation and the riches of Christ that are yours.
Top Ten  in 2019
More Popular Questions & Articles:
If BAPTIZED as an Infant, Do I Need to Be Baptized Again?
How was Jesus Like a Worm? What's the CRIMSON (OR SCARLET) WORM? Psalm 22
Is Satan's Real Name LUCIFER? Or Should We Call Him Satan?
What is the Significance of the Wise Men's THREE GIFTS? And were they kings? 
Was Jesus CRUCIFIED on Wednesday, Thursday, or Friday?
The Names of Jehovah hidden in Psalm 23! This will surprise you!
What Did Jesus Say About HEAVEN (and HELL)?
JESUS WEPT. Why? And…it's not the shortest verse in the Bible!
Is There a Remez (HIDDEN MESSAGE ) in Revelation 7? Why is Dan Missing?
What Does it Mean to Be A CHILD OF GOD?
Why Is PRAYER Important?
Is SUICIDE an Unforgivable Sin?
Something ALL Christians must know:  IVDARR
Our Top Three Videos
Christian Version of Leonard Cohen's HALLELUJAH
Memorial Day BAGPIPES TRIBUTE: Amazing Grace
RISE AND SHINE and Give God the Glory, Glory!

Help us spread the good news and saving grace of the Lord Jesus Christ.

Please tell your friends about ReasonsforHopeJesus.com. If you have a website or blog, please link to ReasonsforHopeJesus.com.   All resources on this site © Reasons for Hope* Jesus --  click for Republication Permissions or contact hope@reasonsforhopeJesus.com