Every year on March 2nd is National Old Stuff Day. 
Really?  Is National Old Stuff Day a real day?  Well yes, it is — at least according to nationaldaycalendar.com. 
National Old Stuff Day is clearly more of a "made up" fun-day than a widely recognized holiday, but there are some very significant lessons that we can learn from this day. Before we consider what those lessons might be, here's an overview of what the day is meant to be.
NATIONAL OLD STUFF DAY
Always observed on March 2nd, National Old Stuff Day is a day to give notice to all that old stuff and try something new. Well, maybe not ALL the old stuff, but some of it. It's a day to break out of the old routines and try something new.
We have all heard the saying, "same old, same old." Well, this is the day to do things differently. There is no limit to how you can change up your day. Take a moment to recognize the things that you do each day. Is there a better way, more efficient way? Is there a better route to work? Is there a less stressful approach to a task?
Maybe it's just a way to brighten your day or someone else's day. Whatever it is, strive to make the day new, not the same old day it was yesterday.
HOW TO OBSERVE
Approach the day with a new attitude.  Consider alternatives to each of the choices you make each day.  Is there a better or equal alternative?  Try making a new choice when available.   
Hmmm… What Should Christians Think of This Day?
Let's "reframe" the day a little bit.  Instead of "National Old Stuff Day," with a focus on "old stuff," let's focus on  "new stuff" and call it "National New Stuff Day."   
The Bible clearly says that we are to apply some of the principles of this day.  Paul refers to it as the "putting off" of sin and the "putting on" of holiness.  But of course, it's not to be only on one day.  Paul speaks of putting off and putting on as a lifelong process of growing in the Lord.
Rom 13:12  The night is far spent, the day is at hand. Therefore let us cast [put] off the works of darkness, and let us put on the armor of light.
Eph 4:22  …put off, concerning your former conduct, the old man which grows corrupt according to the deceitful lusts,
Eph 4:24 …put on the new man which was created according to God, in true righteousness and holiness.
Col 3:9  Do not lie to one another, since you have put off the old man with his deeds,
Col 3:10  and have put on the new man who is renewed in knowledge according to the image of Him who created him,
The Sanctified Life is a Choice
The apostle John wrote a great deal about our sanctification, our growing in holiness, and our lives from the time Jesus saved us (and justified us) until the time we go to be with Him or He returns for His Bride.  John wrote of the choice every Christian has to make every day—to walk in light or in darkness.
1 John 1:6  If we say that we have fellowship with Him, and walk in darkness, we lie and do not practice the truth. But if we walk in the light as He is in the light, we have fellowship with one another, and the blood of Jesus Christ His Son cleanses us from all sin.  If we say that we have no sin, we deceive ourselves, and the truth is not in us. If we confess our sins, He is faithful and just to forgive us our sins and to cleanse us from all unrighteousness. If we say that we have not sinned, we make Him a liar, and His word is not in us.
Three Choices
Walking in light or walking in darkness is determined by how we deal with our sins. In recognizing our sin, there are two different ways in which we respond:
1) We can cover our sins by lying.   We lie to others. (1 John 1:6 ) We lie to ourselves. (1 John 1:8)  And we call God a liar. (1 John 1:10)
2) We can confess our sins.  This means that we must first examine ourselves (2 Cor 13:5) so we can confess, acknowledge our sins, and receive forgiveness.
Psa 32:5  I acknowledged my sin to You, And my iniquity I have not hidden. I said, "I will confess my transgressions to the LORD," And You forgave the iniquity of my sin.
2 Corinthians 5:20 he [God] made him [Jesus] who knew no sin to be sin on our behalf, so that we might become the righteousness of God in him. 
These two choices will produce very different lives.  Covering one's sins is foolishness, for God has told us, "…your sin will find you out." (Num 32:23) and it brings darkness.
Confessing our sins brings forgiveness (1 John 1:9) and, by the power of the Holy Spirit, the ability to conquer our sins and walk in light
Rom 8:13-14  For if you live according to the flesh you will die; but if by the Spirit you put to death the deeds of the body, you will live. For as many as are led by the Spirit of God, these are sons of God.
Rom 8:1  There is therefore now no condemnation to those who are in Christ Jesus, who do not walk according to the flesh, but according to the Spirit.
Gal 5:25  If we live in the Spirit, let us also walk in the Spirit.
Putting Off and Putting On
Take time to examine yourself.  Are you making God-honoring choices?  Are you seeking God and surrendering to His will so the Holy Spirit can teach and guide you?  Read our list of "putting off" and "putting on" and make "National New Stuff Day" a reminder that every day is a choice.  Choose to walk in light and love of the Lord!
Put off lack of love 1 John 4:7-8, 20 —–> 

Put on love John 15:12

Put off judging Matthew 7:1-2 —–> 

Put on let God search my heart John 8:9, 15:22

Put off unforgiving spirit Mark 11:26 —–> 

Put on forgiving spirit Colossians 3:13

Put off selfishness Philippians 2:21 —–> Put on self-denial John 12:24

Put off pride Proverbs 16:5 —–> 

Put on humility James 4:6

Put off stubbornness one Samuel 15:23 —–> 

Put on brokenness Romans 6:13

Put off disrespect for Acts 23:5 —–> 

Put on honor authority Hebrews 13:7 

Put off disobedience one Samuel 12:15 —–> 

Put on obedience Deuteronomy 11:27

Put off impatience James 1:2-4 —–> 

Put on patience Hebrews 10:36

Put off discontent Hebrews 13:5 —–> 

Put on contentment one Timothy 6:8

Put off murmuring Philippians 2:14 —–> 

Put on praise Hebrews 13:15

Put off strife Proverbs 13:10 —–> 

Put on peace James 3:17

Put off retaliation Proverbs 24:29 —–> 

Put on returning good for evil Romans 12:19-20 

Put off anger Proverbs 29:22 —–> 

Put on self-control Galatians 5:22-23 

Put off being easily irritated 1 Corinthians 13:5 —–> 

Put on not being easily provoked Proverbs 19:11

Put off hatred Matthew 5:21 to 22 —–> 

Put on love 1:13-3

Put off murder Exodus 20:13 —–> 

Put on love Romans 13:10

Put off gossip one Timothy 5:13 —–> 

Put on edifying speech Ephesians 4:29

Put off lying Ephesians 4:25 —–> 

Put on speaking truth Zechariah 8:16

Put off profanities Proverbs 4:24 —–> 

Put on pure speech Proverbs 15:4

Put off evil thoughts Matthew 5:19 to 20 —–> 

Put on pure thoughts Philippians 4:8

Put off laziness Proverbs 20:4 —–> 

Put on diligence Proverbs 6:6 to 11

Put off hypocrisy Job 8:13 —–> 

Put on sincerity one Thessalonians 2:3

Put off idolatry Deuteronomy 11:16 —–> 

Put on worship God only Colossians 1:18

Put off lack of rejoicing always Philippians 4:4 —–> 

Put on rejoicing always one Thessalonians 5:18

Put off worry and fear Matthew 6:25 to 32 —–> 

Put on trust one Peter 5:7

Put off unfaithfulness Proverbs 25:19 —–> 

Put on faithfulness Luke16:10  to 12

Put often neglected Bible study two Timothy 3: 14 to 17 —–> 

Put on Bible study and meditation Psalm 1:2

Put off carelessness Luke 18:1 —–> 

Put on praying Matthew 26:41

Put off your irresponsibility Luke 16:12 —–> 

Put on responsibility Luke 16:10

Put off being inhospitable one Peter 4:9 —–> 

Put on hospitality Romans 12:13

Put off cheating two Corinthians 4:2 —–> 

Put on honesty two Corinthians 8:21

Put off stealing Proverbs 29:24 —–> 

Put on working and giving Ephesians 4:28

Put off lack of moderation Proverbs 11:11 —–> 

Put on temperance one Corinthians 9:25

Put off from friends Psalm 1:1 —–> 

Put on godly friends Proverbs 13:20

Put off love of money and greed one Timothy 6:9-10 —–> 

Put on love God Matthew 6:33

Put off fornication one Corinthians 6:18 —–> 

Put on abstinence one Thessalonians 4:3

Put off adultery Matthew 5:27 to 28 —–> 

Put on marital fidelity Proverbs 5:14-19

Put off homosexuality Leviticus 18:22 —–> 

Put on moral purity one Thessalonians 4:4 to 5

Put off pornography Psalm 101:3 —–> 

Put on pure thoughts Philippians 4:8

Put off alcoholism Proverbs 20:1 —–> 

Put on abstinence Proverbs 23:30

Put off witchcraft astrology and horoscopes Deuteronomy 18:10-11 —–> 

Put on worship of God Deuteronomy 6:5
In Conclusion
Be honest and transparent about sins. God will reveal our sins, so we must keep our eyes open to see it. (Luke 12:2)

Seek God.  Confessing our sin, we receive forgiveness and God will cleanse us (1 John 1:9).  

Repent.  By the power of the power of the Holy Spirit, we are able to overcome all sins (Rom 8:37 …we are more than conquerors through Him who loved us.).
Those three steps are what Paul speaks of when he tells us to renew our minds for real transformation (Romans 12:2) and to experience the presence of God.
Phil 4:8-9  Finally, brethren, whatever things are true, whatever things are noble, whatever things are just, whatever things are pure, whatever things are lovely, whatever things are of good report, if there is any virtue and if there is anything praiseworthy; meditate on these things.  The things which you learned and received and heard and saw in me, these do, and the God of peace will be with you.
<*}}}><
Jesus is the Reason this Ministry Exists
At  Reasons for Hope* Jesus, we are committed to equipping, encouraging, and empowering Christians to know Jesus better, love Him more, and share their faith. We also reach the lost through our Salvation Page. 
With your support, we can continue to provide valuable resources and engaging content.  Please join us in our mission by donating today. Your generous contribution helps us expand our outreach of sharing biblical truths and hope in Jesus.  Thank you for your kindness and for being an integral part of our mission.
***A Hidden Message in Psalm 23?***  
Hidden in the six verses of Psalm 23 are 11 names for Jesus.
When you subscribe to our newsletter, we'll send you
The Names of God in Psalm 23 PDF
that reveals all 11 names and Scripture verses of comfort and hope (link will be sent in your confirmation email).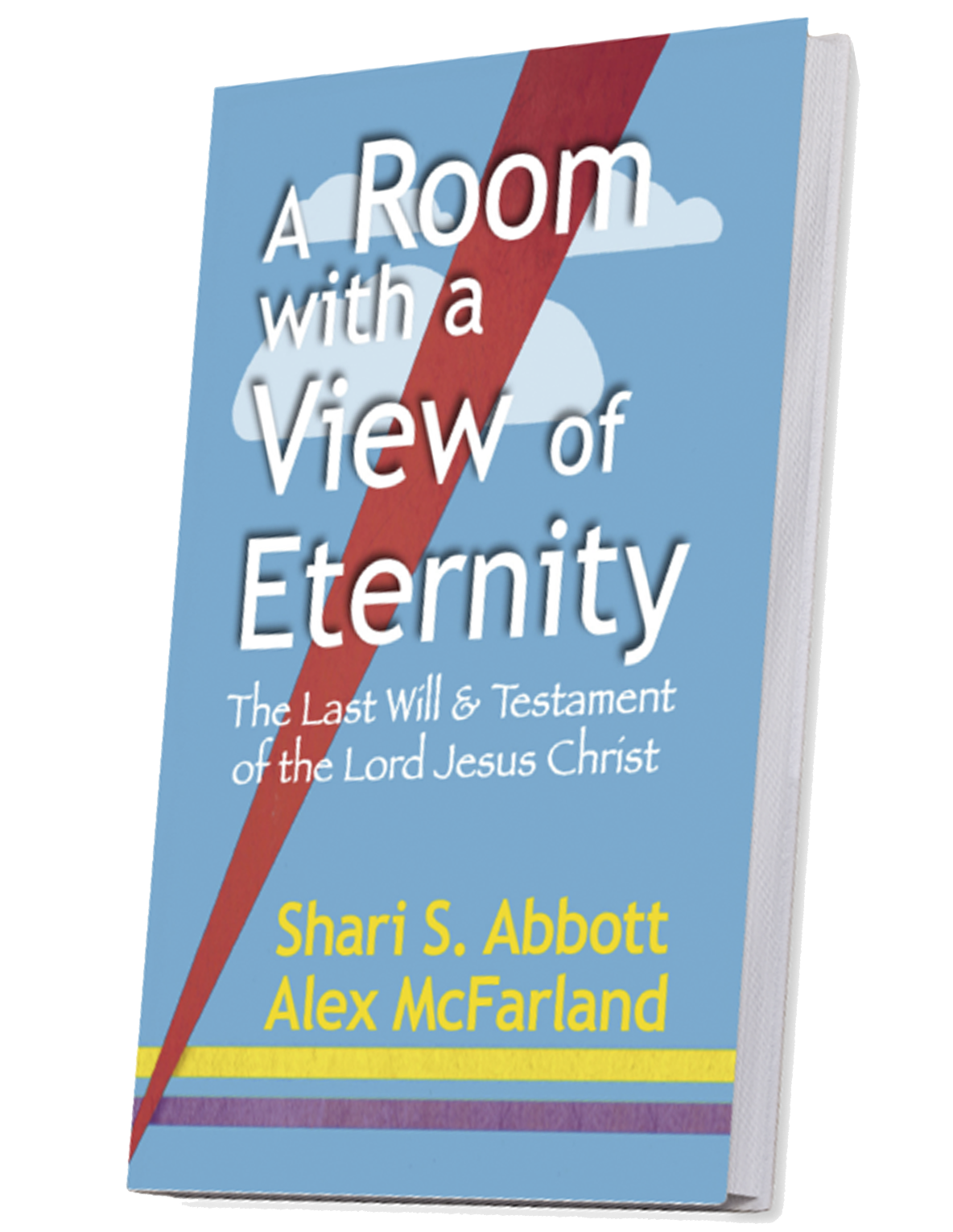 A Room with a View of Eternity—The Last Will & Testament of Jesus Christ   Take a seat at the Master's table. Learn about the riches He gives to all who are His. This book will bless and encourage you, give you hope, and help you live in the joy of your salvation and the riches of Christ that are yours.