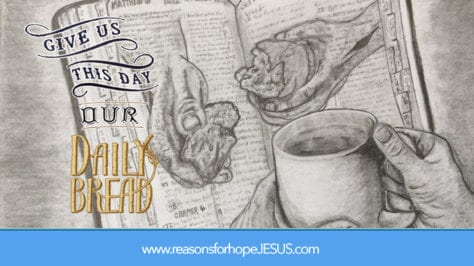 Daily Devotions with Pastor Chuck
From Peter's first letter we read,
"Blessed be the God and Father of our Lord Jesus Christ, who according to His great mercy has caused us to be born again to a living hope through the resurrection of the Jesus Christ from the dead, to obtain an inheritance which is imperishable and undefiled and will not fade away, reserved in heaven for you, who are protected by the power of God through faith for a salvation ready to be revealed in the last time." (I Peter 1:3-5 – NASB)
I would suppose that we can read passages such as these from the Word of God and reach a point where they seem to have little effect on us. So many things tend to occupy our time, our thinking, our interests, and being the people we are, routines and schedules and activities can tend to cloud out our attention to the Bible and what it has to say to us.
 
But what if . . . . . what if persecution were to come upon us? What if, because we are believers in Christ, direct challenges were to come at us, such challenges, such troubles that we would be shaken from our routines and schedules and activities? What if the culture we live in would start to say to us, "Hey, you Christians, stop! It's time you either abandon this manner in which you live, this doctrine you have embraced, or we're going to have to deal harshly with you! We just are not going to tolerate your practice if it is going to continue to go against what we as a world deem is the way things should be." In laymen's terms, "You are interfering with and challenging the very culture we are attempting to mold and shape into existence." 
 
Hillary Clinton, speaking on the issue of abortion at a feminist forum in April 2015 stated that, "deep-seated cultural codes, religious beliefs and structural biases have to be changed." Why? Well, it seems she is of the belief that they are getting in the way of societal progress as she sees it. They "have to be changed" she said to her large audience due to "reproductive health care and safe childbirth." In her support of women's rights, rights that would further the control of women over their own lives, Mrs. Clinton's made it known that it was her belief that "religious beliefs . . . have to be changed." And take note, the society that we are living in, as so many opinion polls indicate, is pulling alongside this ideology more and more, even churches. 
 
Peter wrote his epistle "to those who reside as aliens" in different provinces throughout Asia Minor. Persecution was a main reason for his writing. Confronted by a pagan world that said, "Hey, you Christians! Your practice is incompatible with our practice, and so it must stopped!" In other words, "cultural codes, religious beliefs and structural biases" that are at the very core of your doctrine "have to be changed." It was noted well by the culture of that time that Christian values served to inhibit pagan progress. 
 
So Peter wrote to his fellow-believers in Christ and gave them words of hope, words that they needed to take in and lean upon in times of persecution, in times when they were going to be challenged to change their beliefs or pay the consequences. (Note: I wonder if that is what Mrs. Clinton was suggesting in her strong words confronting "religious beliefs" and their need "to be changed:" consequences if you don't change?)
 
Hope amidst impending persecution, that's my title, for brethren hope abounds for us who are in Christ. And it is a "living hope," one that knows we have "an inheritance" that "is imperishable and undefiled and will not fade away," and that it is 'reserved in heaven for you." Hope amidst impending, even existing persecution. And the Word says, and we need to take this to heart, that we "are protected by the power of God" and this "protection" is sure as we hold fast the "faith for a salvation ready to be revealed in the last time." 
 
Peter says of this,
"In this you greatly rejoice, even though now for a little while, if necessary, you have been distressed by various trials." (I Peter 1:6 – NASB)
 
Hope amidst impending, even existing persecution. Don't let the world and the busy routines and schedules and activities blur your vision of this valuable counsel for every believer from God and His Word. Don't miss it and be caught off-guard and end up compromising with the world. 
 
Have a good day brethren . . . and I suggest you take these Scriptures in and let them be as they are intended to be, a balm to the soul amidst various trials.
If you do NOT know Jesus, click here.
###
***A Hidden Message in Psalm 23?***  
Hidden in the six verses of Psalm 23 are 11 names for Jesus.  Subscribe to our newsletter and we'll send you The Names of God in Psalm 23 PDF that reveals all 11 names and Scripture verses of comfort and hope (link will be sent in your confirmation email).  SUBSCRIBE NOW
Please Share this Article on Social Media to Equip and Encourage Others
+++
Do not be anxious about anything.  (Phil 4:6)
In the midst of the COVID-19 pandemic, we must rightly remember who is in control.  Our God is sovereign over all things, including COVID-19.  As Charles Spurgeon (1834-1892) said, "The sovereignty of God is a soft pillow on which weary people lay their heads." 
Remember also God's gracious promise, and that it is true and He is faithful to keep it:  Hebrews 13:5 …"I will never leave you, nor forsake you."  The next verse remind us of the power that comes in trusting God and how we can live:  Hebrews 13:6 So that we may boldly say, The Lord is my helper, and I will not fear what man [or COVID-19] shall do to me.
God loves us, and in Christ we find confidence and calm in times of uncertainty and trouble.  When we trust in God, fear is replaced with faith, stress is replaced with strength, anxiety is gone and hope abounds, problems become opportunities, and we are able to receive the blessings God has for us in the midst of difficult circumstances. Turn to Jesus. He will lead you to the still waters and give rest for your troubled soul.  
This hope we have as an anchor of the soul, both sure and steadfast…Hebrews 6:19
****************************
Be Ready Always...
to give a reason for the Hope that you have (1 Peter 3:15).  When you can't share the gospel with your words, share it by leaving tracts that tell people about God's grace.
When leaving a tract, always be diligent to pray about the short gospel message. Pray that it be found by someone who is in need of Jesus' saving grace, and pray that the person will have a tender heart and open ears to receive the gift Jesus desires to give them.  
By the power of the Holy Spirit, even a small tract can help in turning a broken sinner from darkness to light.
SHARE THE GOSPEL!
Click the Image to Read the Messages on the Tracts