To answer this, we must define what we mean by "saved."  Under the New Covenant, we define it as being born again.
Being saved or born again happens when one turns from sin, turns to Jesus in faith, and receives God's grace, the forgiveness of their sins.  Because the blood of Jesus has paid the penalty for sins, a repentant sinner is washed clean by  His blood. (Rev 1:5).  The person is then baptized with the Holy Spirit (Acts 1:5), his soul is regenerated (made alive) by the Holy Spirit (Eph 2:5),  the gift of eternal life is received (Rom 6:23), the righteousness of Christ is imputed to him 2 Cor 5:21),  he is declared justified by God (Rom 5:1), and the person is sealed unto the day of redemption (Eph 4:30). All of those things happen the moment Jesus saves a repentant sinner. (Read: What is eternal security/assurance of salvation?)
But was it that way under the Old Covenant?
Under the Old Covenant, salvation was different.  It was still by grace, through faith, but the atonement for sins was by the blood of animals, and animal blood was not sufficient to fully atone for human sin (Read  Why Did It Need to Be a Human-Blood Atonement?). They may have been washed clean when they sacrificed, but that didn't last. Animal sacrifices had to be done continually. Blood had to be shed over and over again.
Furthermore, there's no evidence that those under the Old Covenant were born again, regenerated (made alive) by the Holy Spirit, as we are.  So when did they receive the promise of eternal life?  To answer this, let's consider God's covenants.
The Covenants God Made Before the Cross
God made seven covenants with man before the New Covenant in Jesus. 
Adamic Covenant (Gen 3:15-19)
Noahic Covenant (Gen 9:9-16)

 

Abrahamic Covenant (Gen 12:1-3)

 

Mosaic Covenant (Ex  24:7-8, chapters 19-24; )
Levitic Covenant, (2 Sam 7:8,

 

Num 25:12-13, Mal 2:4-5)
Davidic Covenant.

 

(2 Sam 7:16, 2 Sam 23:5, 2 Chr 13:5)
Messianic/New Covenant (Jer 31:31-34; Isa 42:6)
The Adamic and Noahic Covenants
The Adamic Covenant included the promise of a rescuer to come, who would be the seed of the woman and conquer the serpent's seed (Gen 3:15).  The Noahic Covenant was God's promise to never again judge man's sins with total destruction by flood waters.
While God made the Adamic and Noahic Covenants with man, they were not made with the house of Israel. Those covenants were with all mankind.  A promised Redeemer would come to all the world, and God's mercy in judging the world of sin was promised.
 Israel "began" with the call of Abram (later renamed Abraham), and the next five covenants were made with the House of Israel alone, not all mankind.
The Abrahamic Covenant
When God called Abram to come out of the world (Ur of the Chaldees, Gen 12:1), God made a covenant with him that included three promises.  God said, I will make of you a great nation (Gen 12:2, 15:14). I will show you a land (Gen 12:1,13:15, 15:18). And I will bless you and make your name great, and you shall be a blessing  (Gen 12:3).
The Mosaic and Levitic Covenants
These covenants dealt with how God's people were to live, governed by the moral and civil laws,  and how they could atone for their sins as instructed in the ceremonial law. God gave these laws to Moses on Mt Sinai.
The Davidic Covenant
God's covenant with David established him as King of Israel and promised all succeeding kings would come through his line. (2 Sam 7:12-19; 23:5; 2 Chron 13:5)
The New Covenant
This covenant was prophesied through the prophet Jeremiah. It promised a new kingdom where all would know the Lord.
Jer 31:31-32  "Behold, the days are coming, says the LORD, when I will make a new covenant with the house of Israel and with the house of Judah; not according to the covenant that I made with their fathers in the day that I took them by the hand to lead them out of the land of Egypt, My covenant which they broke, though I was a husband to them, says the LORD. 
Jer 31:33-34 But this is the covenant that I will make with the house of Israel after those days, says the LORD: I will put My law in their minds, and write it on their hearts; and I will be their God, and they shall be My people.  No more shall every man teach his neighbor, and every man his brother, saying, 'Know the LORD,' for they all shall know Me, from the least of them to the greatest of them, says the LORD. For I will forgive their iniquity, and their sin I will remember no more."
While this covenant was made with Israel, they have not yet received it. But one day, God will fulfill his covenantal promises when believing Israel recognizes Jesus as their promised Messiah –the Rescuer promised in the Garden, and the King promised to come from the Davidic line.  In the tribulation, the Seventieth Week of Daniel, Israel will recognize Jesus as their Messiah. After that seven-year period, Jesus will return and set up His kingdom of righteousness on earth. Jesus' Bride, the Church, will reign with Him, and Israel will be the lead nation.
Salvation Before the Cross
With that brief overview of God's covenants, let's note that none of the covenants promised eternal life at death.  The people of Israel understood there would be life beyond the grave (Job 19:26-27, Ps 23:4,6, 2 Sam 12:23), but very little about it was revealed to them.
So how, and especially when, were ancient people saved?
First, understand that before the cross, the words "saved" and "salvation" had a meaning of "delivered" or "deliverance."  Those words do not suggest that God declared people to be justified by grace through a profession of faith, as we think of the words "saved" and "salvation." And the ceremonial practice of animal sacrifice to make atonement for their sins was insufficient to completely "wash" them clean.  Animal blood could never fully atone for man's sins, so it could not justify them once and for all time.  It's very different for Christians; we have the complete and final atonement of Jesus' blood (Heb 7:26-27, Heb 9:12, 10:10).
We are washed clean of all sins by Jesus' blood (Rev 1:5).  And thereby, God declares us to be justified (Rom 4:25)  Read:The Gift of Salvation: Justification & Imputation (Imputed Righteousness)
Not Righteous by Sacrificial Works
It was not their works of sacrificial offerings that made people under the Old Covenant righteous in God's eyes. Paul wrote, "…for if righteousness comes by the law, then Christ is dead in vain" (Gal 2:21). God declared them righteous because of their faith.  And that faith was demonstrated when they believed and obeyed God.   This is seen in God's declaration about Abraham being righteous.
Gen 15:6  And [Abraham] believed in the LORD; and he counted it to him for righteousness
Rom 4:3  For what does the Scripture say? "Abraham believed God, and it was accounted to him for righteousness."
What was counted as righteousness to Abraham?  It was that he believed in God and that he believed God.  God judges the heart, and He knew Abraham had faith. Therefore, He accounted it (his faith) to him as righteousness.
The Faith of Noah, Daniel, and Job
Two of these men lived before the nation of Israel was established — Job and Noah. Daniel, of course, was an Israelite. But the Bible tells us that all three were declared righteous based on their faith; and that their faith delivered their own souls:
Ezek 14:14  Though these three men, Noah, Daniel, and Job, were in it, they should deliver but their own souls by their righteousness, saith the Lord GOD.
Noah's faith was demonstrated when he built the ark as God commanded. Daniel's faith was demonstrated in the lion's den.  And Job's faith was demonstrated in the tribulations he endured. All three believed (trusted) God and their believing (their trusting) was counted to them as righteousness.
God declared righteousness in Abraham, Noah, Daniel, and Job based on their faith (believing God). But their faith, and God's declaration of their righteousness, did not deliver them from the burden of ceremonial laws, including sacrifices.  They all had to live by their faith. Although they were proclaimed righteous, they did not receive the gift of the Holy Spirit and the fruit that He works in those who are justified in Christ.
****Righteousness vs. Justification
Under the Old Covenant, being declared righteous because of believing is very different than under the New Covenant. where a repentant sinner is declared justified by the grace of God through faith in Jesus..  In justification, a forgiven sinner is redeemed (Gal 3:13), saved (Rom 5:9), born again (1 Pet 1:23).  And the forgiven sinner becomes a Christian (Acts 11:26) — a new creation (2 Cor 5:17), a child of God (Rom 8:16, Gal 3:26), and a joint heir with Christ (Rom 8:17).
As Christians, we have been regenerated (our souls made alive).  We have received eternal rest at the moment of our regeneration because of Jesus' finished work. We have received peace with God because Jesus paid the penalty of sin.  And we can have communion with God because Jesus tore the veil. Additionally, we have the imputed righteousness of Christ that makes us positionally worthy in God's eyes and eternal life because the Holy Spirit has sealed us (Eph 4:30b).  
Abraham, and all others before the cross, did not have that kind of justification. They had God's declaration of their righteousness based on their faith demonstrated by their works.
By Faith
God told the prophet Habakkuk that the "just shall live by his faith" ((Read Why "his faith" in Habakkuk 2:4).
And Hebrews 11 says,  "by [faith] the elders obtained a good report." (Heb 11:2) A good report of what?  Of living by faith.
Hebrews 11 gives examples:  By faith Abel, By faith Enoch, By faith Noah, By faith Abraham, By faith Isaac, By faith Jacob, By faith Joseph, By faith Moses, By faith the harlot Rahab… and Gideon, Barak, Samson, Jephthah, David, Samuel, and the prophets…. And then we read…
"these all died in faith…"

 

(Heb 11:13)
That's important.  The Old Covenant faithful persevered to the end — that is, to their deaths.  And when they died, they "died in faith."  At death, God delivered them into their eternal rest, the place of comfort — Abraham's Bosom.  And there they waited, until Jesus came, made the final and complete sacrifice for sins, and opened the way to Heaven.  (Read;  Where did OT Saints go at death? Abraham's Bosom? Where was that?)
In Summary:  When Were Old Testament People Saved?
When they were delivered into their eternal rest.  When they died in faith! (Heb 11:13)
Under the New Covenant, our salvation immediately delivered us into Christ's eternal rest.  Because Jesus lived and died for us:
our past, present, and future sins are forgiven;
the way to Heaven has been opened for us;
the righteousness of Christ has been imputed to us;
our citizenship is now in Heaven;
we have already passed from death to eternal life
and it's all guaranteed by our faithful God!  We are sealed!
This is the "great salvation" that Hebrews says was "first… spoken by the Lord," and then "confirmed unto us by them [the disciples] that heard him" (Heb 2:3) .
Our salvation is greater than that of the Old Testament saints.  Greater because…
Jesus is better than the angels, the prophets, and Moses (Heb 1:4-14, 1:1-3, 3:1-5).
His priesthood is better than Aaron's (Heb 5:1-10).
The New Covenant in His blood is better than the Old Covenant in animal blood (Heb 7:26-27) because atonement was final in pure human blood.
Jesus lived a sinless, righteous human life, fulfilling the demands of the Old Covenant Laws (Mat 5:17)
And He gives His righteousness to all who come to Him in faith (1 Cor 1:30, 2 Cor 5:21).
Therefore, we can "stand fast in the liberty by which Christ has made us free" (Gal 5:1).
Further reading:  What are the Doctrines of Imputed, Infused, and Imparted Righteousness?
<*}}}><
Jesus is the Reason this Ministry Exists
We continue to reach people worldwide with the truths of God's Word and the gospel of the Lord Jesus Christ. Your generosity is both a blessing and encouragement. Our mission is to glorify God by equipping, encouraging, and empowering YOU to understand the Bible and grow in faith. If our online resources have blessed you, please support Reasons for Hope* Jesus. Our ministry outreach has grown significantly and . . .
Please support Reasons for Hope* Jesus with a donation of $5, $10, $20, or more. A donation of any amount is needed and greatly appreciated.
CLICK TO DONATE
to Reasons for Hope*Jesus(a 501c3 Ministry)
Use a Credit Card or PayPal for safe, secure giving.
***A Hidden Message in Psalm 23?***  
Hidden in the six verses of Psalm 23 are 11 names for Jesus.
When you subscribe to our newsletter, we'll send you
The Names of God in Psalm 23 PDF
that reveals all 11 names and Scripture verses of comfort and hope (link will be sent in your confirmation email).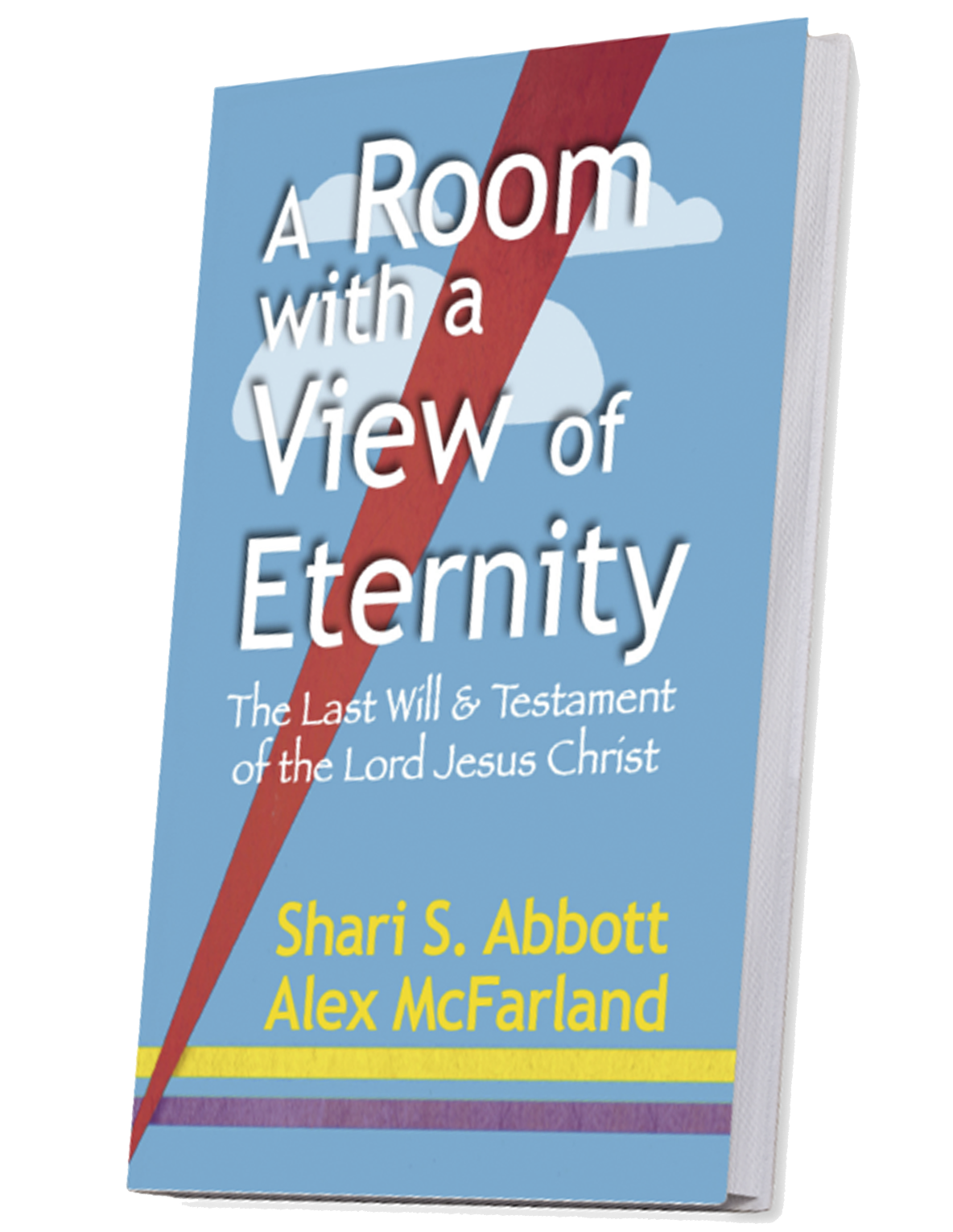 A Room with a View of Eternity—The Last Will & Testament of Jesus Christ   Take a seat at the Master's table. Learn about the riches He gives to all who are His. This book will bless and encourage you, give you hope, and help you live in the joy of your salvation and the riches of Christ that are yours.