We witness to Mormons the same way we witness to anyone.  We tell them what the Bible says about Jesus.  
Mormons will agree that Jesus died to pay for the sins of mankind. However, they believe that Jesus' death was not enough to get someone into Heaven.

 

Jesus' blood + their good works = salvation.

Mormons read the Bible, but they also add to what the Bible says with books from their founder and teachings from their church.
In order to better present biblical truths to Mormons, it's important to understand what Mormons believe. By knowing what Mormons believe, when they try to add something from their books or their church's teachings, you will recognize it and you can respond with biblical truths.  Let's review some historical background on Mormonism, including the doctrinal beliefs they hold, and the biblical doctrines they reject.
Background Information on Mormonism
Mormonism was founded by Joseph Smith, circa 1830.

 

The church is headquartered in Salt Lake City, UT with congregations worldwide and is known as the Church of Jesus Christ of Latter-day Saints, or LDS. In 1860, a denomination of the church known as Community of Christ (now called the Reorganized Church of Jesus Christ of Latter-Day Saints, or RLDS) was established by Smith's son, Joseph Smith III.

 

Mormons add to the Word of God.

 

While they claim to believe, and use, the King James Version of the Bible, they also adhere to three additional books:

 

The Book of Mormon, the Doctrines and Covenants, and The Pearl of Great Price.

 
The Book of Mormon was first published in 1830 by Joseph Smith.  It is claimed to contain the writings of prophets of God who tell of God's dealing with those who inhabited the American continent from approximately 2200 BC to 421AD. While Mormons accept the King James Bible as God's Word, they also claim the Book of Mormon as the word of God.
Doctrines and Covenants (aka D&C) was first published in 1835.  It contained two parts: lectures that defined church doctrine and important revelations, or covenants of the church.  The doctrine portion of the book was later removed by both the LDS and RLDS churches. What remains is the revelations, most of which were given orally by Joseph Smith, and supplemental material that was added, including letters, reports, statements, and other similar documents.
The Pearl of Great Price is a book of revelations, translations, and writings of Joseph Smith. It was published in 1851 to address faith and doctrines of the LDS church.
Biblical Doctrines that Mormons Reject
The Mormon church does not hold to these doctrines of the Christian faith:
Preservation of the Word:

 

While the KJV is the official English Bible of the LDS church, Mormons believe it has "suffered loss" in translation from the original manuscripts.

 

They also teach the way of understanding Scripture is not to cross-reference (allow the Bible to explain the Bible) but rather to compare KJV texts with the Book of Mormon and modern revelations.

 

The Mormon KJV Bibles have been footnoted to attribute Mormon doctrines to the texts.
Sufficiency of Scripture:

 

In the second book of the Book of Mormon, it is written, "Thou fool, that shall say: A Bible, we have got a Bible, and we need no more Bible." (2 Nephi 29:6)

 

The three additional books, The Book of Mormon, Doctrines and Covenants

, and 

The Pearl of Great Price

, are deemed necessary to the Mormon faith and are required books of the LDS Church.

Cessation of Special Revelation:

 

Special revelation is God's speaking to His people through His words recorded in the Bible. As Christians, we believe the Canon (the collection of sacred books accepted as genuine) is closed. We also agree with the Bible's warning that no words are to be "added to" or "taken from" the closed canon of Scripture.

 

Mormons believe the president of the church is able to declare further revelation from God and it is to be accepted by the church.

Triune God:  Mormons reject the doctrine of one God existing in three Persons.
What Mormons Believe
Both the Father and Son have a body of flesh and bones and Adam was formed in the physical image of God, who was, at one time, mortal and dwelt on the earth.

God has fathered spirit children.

 

Both Jesus and the Holy Spirit are spirit children of the Father and their divinity comes from their relationship to Him.
Jesus is Yahweh of the Old Testament.

 

Humans can become gods like the Father, Jesus, and the Holy Spirit because everyone was once a divine intelligence before becoming a spirit-child of the Father.

Prior to creation, humans existed and the Father's "plan of salvation" was that they would leave Heaven, take on human bodies, and be tested to prepare them to become gods.

Lucifer didn't like the Father's plan to redeem fallen man and offered his own plan.

 

Jesus then opposed Lucifer with His plan to take on flesh and live a sinless life so the Father's spirit-children could become gods. The Father accepted Jesus' plan and Lucifer rebelled and took a third of the hosts of Heaven with him to live on earth and oppose the Father.

Salvation by grace alone is claimed to be a Mormon doctrine, but they define it as universal salvation for everyone.

Hell is not an eternal destiny of any human being.

 

They believe that Hell is only for Satan, demons, and the sons of perdition who are defined as those who deny the Holy Spirit after receiving him.

 

D&C 76:30–38, 43–45
Mormons believe in a bodily resurrection unto glory for all people. The united body and spirit will go to one of three kingdoms according to their response to Mormonism, i.e. belief or rejection, and their good works as a Mormon.

 
These three kingdoms (three degrees of glory) are an eternal dwelling place D&C 76:50–113; 88:20–32.
1. Celestial Glory has two levels.  The highest is for faithful and devout married Mormons, who are defined as having kept all the commandments and the Celestial Laws.  Only these people can become gods. The lower level is for single Mormons who lived a good life according to Mormon teachings, and for all good people (other religions) who didn't hear about Mormonism and, therefore, were unable to become a Mormon. Although dwelling in Celestial Glory, these people cannot become gods.
2. Terrestrial Glory is for unworthy Mormons who failed to keep the commandments and laws of Mormonism, and for good people who knew about Mormonism on earth but rejected it until after their death. (Mormons can pray for the salvation of deceased loved ones).
3. Telestial Glory is for those who rejected Mormonism even after death. These are the wicked people who will suffer for their sins. It's similar to the Christian doctrine of Hell, only it is not eternal. 
Conclusion
Mormons claim they are Christians because they accept the King James Bible and follow Jesus.  And perhaps some of them have repented of their sins, turned to Jesus in faith, and trusted Him alone to pay for their sins and forgive them.  However, many of the beliefs and practices of the Mormon church are in direct contradiction to doctrines found in the Christian Bible.
By accepting the Book of Mormon's contradictory teachings, Mormons are rejecting the teachings of Jesus, the Word of God. Mormons claim to follow Jesus but not as He is revealed in the Bible. Rather, they teach that Jesus is the spirit child of God and the spirit brother of the devil (not the second Person of the Trinity, making Him God).
While Mormons do believe that Jesus died on the cross and rose again, their belief is that He atoned for our sins in the garden of Gethsemane (not on a hill called Calvary when the wrath of God was poured out in judgment for the sins of mankind). These and other false teachings make Mormonism a non-Christian cult (that is, a system of religious veneration and devotion directed toward a particular person or object, and in this case outside of Christian orthodoxy).
That said, most Mormons are wonderful, kind, and loving people who have been deceived into believing lies.  Mormons need to hear the truth as revealed in the Holy Bible.  They need to come to God through the true Lord Jesus Christ who IS God.  Mormons need to hear the true gospel of saving grace found in Jesus alone.  
<*}}}><
Jesus is the Reason this Ministry Exists
We continue to reach people worldwide with the truths of God's Word and the gospel of the Lord Jesus Christ. Your generosity is both a blessing and encouragement. Our mission is to glorify God by equipping, encouraging, and empowering YOU to understand the Bible and grow in faith. If our online resources have blessed you, please support Reasons for Hope* Jesus. Our ministry outreach has grown significantly and . . .
Please support Reasons for Hope* Jesus with a donation of $5, $10, $20, or more. A donation of any amount is needed and greatly appreciated.
CLICK TO DONATE
to Reasons for Hope*Jesus(a 501c3 Ministry)
Use a Credit Card or PayPal for safe, secure giving.
***A Hidden Message in Psalm 23?***  
Hidden in the six verses of Psalm 23 are 11 names for Jesus.
When you subscribe to our newsletter, we'll send you
The Names of God in Psalm 23 PDF
that reveals all 11 names and Scripture verses of comfort and hope (link will be sent in your confirmation email).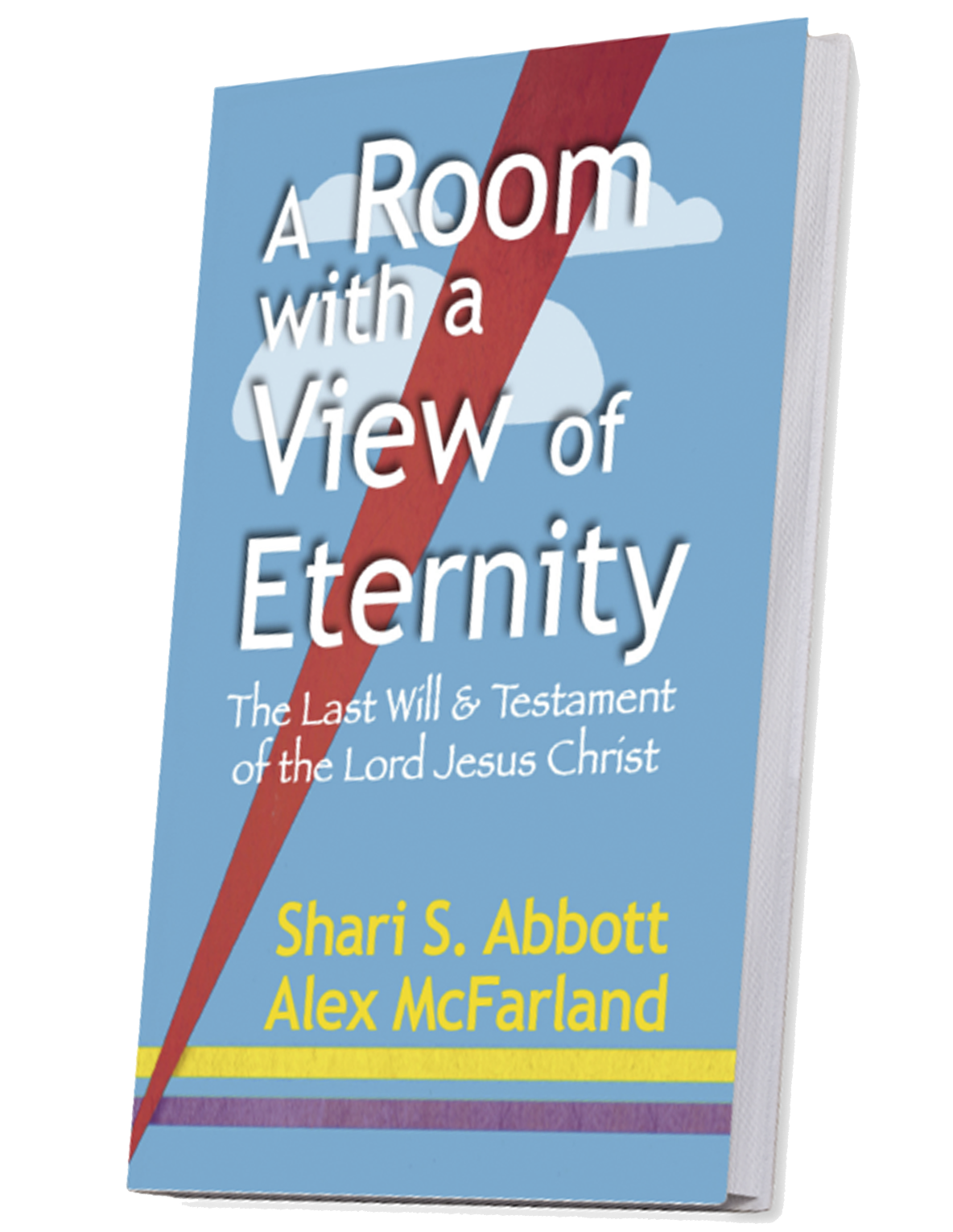 A Room with a View of Eternity—The Last Will & Testament of Jesus Christ   Take a seat at the Master's table. Learn about the riches He gives to all who are His. This book will bless and encourage you, give you hope, and help you live in the joy of your salvation and the riches of Christ that are yours.